UA Next Camp Series Miami: Eugene Wilson steals the show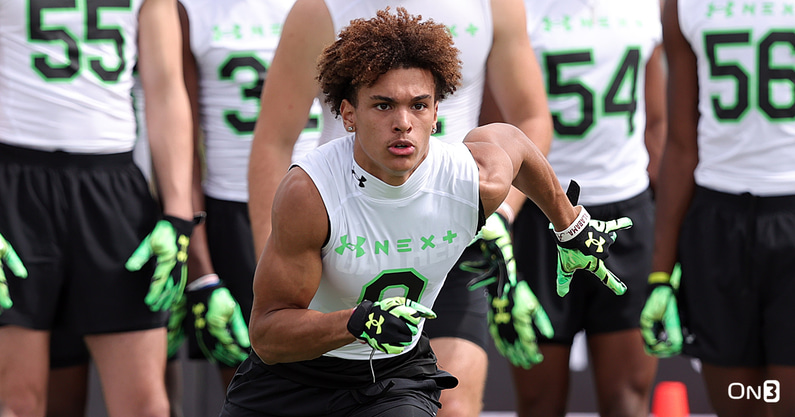 Miami, Fla. – The first stop in the Under Armour Next Camp Series began Sunday with the coming out party for Eugene Wilson III. 
The 5-foot-10, 175-pounder stood out at a camp that included more than 150 of the top prospects in the Sunshine State in the class of 2023, 2024 and 2025. 
Wilson has seen his recruitment take off since January 19 picking up eight offers, including Georgia and Alabama in the last week. Sunday, he showed the recruiting world that he will become one of the nation's most coveted prospects. 
Eugene Wilson in the On3 MVP
Wilson was quick, explosive and smooth in drills. He won every single rep at receiver against Power 5 offered defensive backs. Wilson is explosive in his initial movement skills and showed the understanding of setting up his route. When it came time to get in and out of cuts, the separation was instant. 
Wilson was just as impressive when the ball was in the air. He snatched the ball out of the air with soft hands, and arms extended. As impressive as the in play performance was, his workman like approach may have been most impressive. 
"Sir, I have just been working," Wilson told On3. "To be honest, all the recruiting stuff doesn't get to my head. Come game time, all the recruiting stuff doesn't matter. I'm just trying to win the game. I put in all the work to show out on the field." 
Wilson caught 62 passes for 925 yards and seven touchdowns in 2021. He added four interceptions on defense. His father is former NFL cornerback Eugene Wilson. 
Wilson projects to slot receiver long term, but also has offers at cornerback if he chooses to go that route. 
On3 Top Performers on offense
The talent on the offense was deep at receiver, as expected. Joining Wilson on the top performers list were Miami commitment Andy Jean, 2024 Jeremiah Smith and fast rising junior Kelton Henderson.
The 6-foot-0.5 Jean checked in Sunday at 180 pounds, and looked as smooth and explosive as he did on junior tape. Jean won multiple one-on-one reps with sneaky explosion off the line and very smooth double moves that turned defenders around. The No. 226 ranked prospect in the On3 Consensus rankings is a natural tracker of the ball. The ability to sell a route, sinks his hips, create separation and accelerate to track the ball set him apart from his peers. Jean showed Sunday why he gave IMG Academy fits during the season. 
Jeremiah Smith was another smooth outside receiver prospect that displayed elite ability Sunday. The drill work looked natural, smooth and without wasted motion for a young prospect. When it came time for one-on-one's, the 6-foot-2, 180-pounder won rep after rep with an ability to create separation on post routes and in routes. The nephew of NFL quarterback Geno Smith sold routes exceptionally well for a sophomore. When the ball was in the air, Smith made sure-handed receptions, as well as a tough snag or two in contested situations. Smith is closing in on 25 offers. He has picked up 12 offers since the end of the season with Oklahoma, Alabama and USC being the most recent. 
Kelton Henderson proved the recent offers from LSU, Ohio State, Florida State and Tennessee were well deserved Sunday. The 6-foot-0, 175-pounder is on the raw side as a wide receiver, but his talent is undeniable. He's great both off the line and out of breaks. Henderson has the ability to place a lot of pressure on cornerbacks throughout a route. He has the ability to win early against press coverage, in the intermediate game with acceleration out of cuts, and vertical quickness. Henderson has to improve getting his head and hands in position to more easily snatch the ball out of the air, but he has solid hands.
On the offensive line, On300 No. 193 Roderick Kearney was the best of a talented bunch. On3 got the thoughts of Under Armour All-America Game offensive line coach, college and NFL Draft prep coach Torian Wilson (@craftinglinemen) on Kearney. 
"Roderick is a big athlete," Wilson told On3. "I call him a dancing bear. He looks the part, and he has the big bubble butt and nice quads. But the biggest thing is he is smooth in all his transitions. He understands his angle, and getting to his spots and where he needs to be to intersect the defensive lineman between him and the quarterback."
On the recruiting front, Kearney has more than 20 offers. Georgia, Florida State, Tennessee, Auburn, Arkansas and South Carolina have the interior offensive line prospect very high on the board. 
Running back Javin Simpkins is built for the camp setting. He was the quickest and most decisive running back in drills. Initial quickness, reactive quickness, acceleration and ability to catch the ball were high-end. Simpkins has the skill set to be a change of pace back with big play ability, in the run game or passing game from the position. The On3 Consensus 4-star has unofficial visits scheduled to Georgia Tech March 5 and Arkansas March 12. Texas is also pushing for a spring visit. Longhorns running backs coach Tashard Choice was recruiting Simpkins for over a year while at Georgia Tech. 
On3 Top Performers on defense
As expected, the defensive line took home the strongest position group Sunday. That was expected with some of the nation's top prospects at the position on hand Sunday. 
On3 Consensus 4-star John Walker showed what he always has, a nonstop motor. Walker is much more than a motor, however. Under Armour All-America Game and camps, college and NFL defensive line instructor Nathan O'Neal (@FeetHipsHands) heaped plenty of praise on Walker. 
"John Walker is really powerful, and really twitchy for someone his size," O'Neal said. "John has really good hip level when we worked reach and gather in run game stuff. He has a really good strike, good bend, good eyes and has some bend to him. I like John a lot."
Walker's high school teammate and fellow On3 Consensus 4-star Derrick LeBlanc also took home a defensive line award Sunday. LeBlanc wants to be recruited as an EDGE prospect, but his frame and skill set will eventually take him inside. O'Neal believe LeBlanc can be as good as he wants to be. 
"Derrick has the chance to be special. He can bend like he's a 260-pound edge rusher, but at the same time he will be a 3-tech or 4i interior player. Great hip level, motor and shed ability. He has a repertoire of pass rush moves, and and understanding of how to use them." 
A third defensive line prospect that makes the top performers list is Wilky Denaud. The 6-foot-3, 230-pound On3 Consensus 4-star EDGE prospect flashed some tremendous first and second step movement, and an impressive long arm for a young prospect. Nathan O'Neal was effusive in his praise of Denaud. 
"Wilky is a potentially very special edge rusher. He can bend like no other. His first step and second step explosion is outstanding. The power out of the ground after the second step, I think is what I like most about him." 
Alabama safety commitment Elliot Washington was easily worthy of the top performers honor. Despite not being at 100%, the strongly build safety was both powerful and explosive out of breaks. He displayed very good patience in one-on-ones, with the ability to close on the ball. When he connects with timing on contact, receivers do not complete the catch. Combining explosive movement skills, patience and sound eyes makes the On3 Consensus 4-star one of the top safety prospects in the 2023 cycle. 
At cornerback, On3 Consensus 4-star Antonio Robinson showed why he is approaching 30 offers. Robinson makes up for lack of ideal height with a high-end combination of reactive quickness and strength. He plays bigger than his former and height. Robinson is a confident player that is both quick, and can turn and run vertically. Penn State and North Carolina are making strong moves for the South Florida cornerback.