Report: Big Ten officially approves additions of USC, UCLA for 2024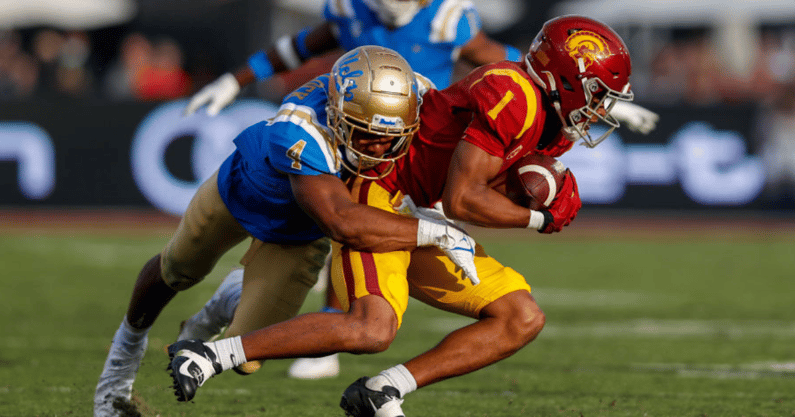 USC and UCLA are officially headed to the Big Ten, ESPN's Pete Thamel has confirmed. Commissioners in the conference met and voted on the move on Thursday evening. The decision to shake up the college sports landscape with the blockbuster move was first reported by West Coast insider Jon Wilner on June 30.
USC and UCLA are not only two of the Pac-12's most successful schools across athletics, but are two of the largest brands in the country which offer a new market opportunity for the Big Ten. While they fall far outside the current geographic landscape of the conference, the move promises to provide great financial benefit for all parties.
The move could serve as the next major domino to fall in conference realignment after Texas and Oklahoma announced their intention to join the SEC by 2025. As conference commissioners failed to come to a resolution on a College Football Playoff format last year, the race to stockpile blue-blood programs together seems to be heating up, with some believing super conferences are on the horizon.
Sports Illustrated's Ross Dellenger added that "teams are jockeying" to gain membership in the Big Ten and SEC. The move promises to set off more talks and more negotiations across college football as the moves of Texas and Oklahoma did last summer.
More about USC, UCLA and the Big Ten
USC and UCLA have been members of the same conference, while under many different names throughout the years, since the late 1920s. Over the years in what became the Pac-12, the city rivals have established themselves as two of the biggest brands in sports while dominating the Los Angeles – and by extension the West Coast – market.
A potential move to the Big Ten would unite the two programs with football powerhouse programs like Ohio State and Michigan, in addition to multiple perennial Top 25 programs across multiple sports which make up the remainder of the conference's 14-team membership.
More reporting by Jon Wilner has indicated that the Big Ten may not be done adding the fold as other Pac-12 teams scramble to find their next move.