Warren Easton High loaded with future Power 5 talent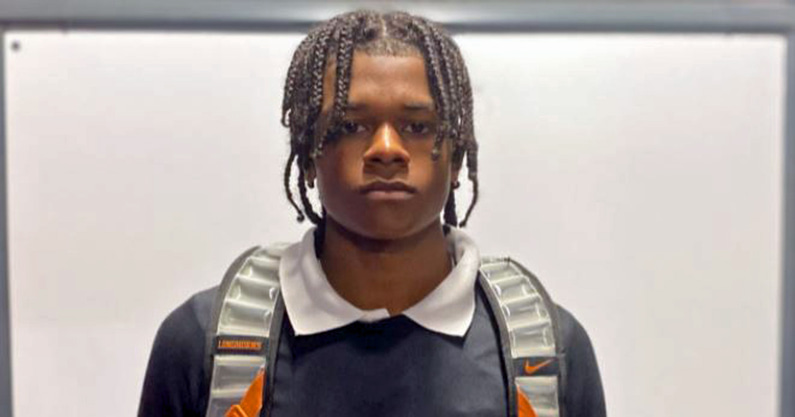 Warren Easton High in New Orleans is one of the most talented programs in the Pelican State on an annual basis. This year's team is no different. 
The 2022 class is headlined by Texas defensive back commit Ronald Lewis, Purdue IOL commit Malachi Preciado and defensive lineman Shon Washington.
But it may be the 2023 and 2024 classes that are the most talented in the program. On3 was at Warren Easton late last week and sat down with assistant coach and recruiting coordinator Alred Luke to get his thoughts on the talent in the program.
Texas commitment Lewis turns heads
Ronald Lewis, a longtime Longhorn pledge, tops the 2022 class for the Eagles. The near 6-foot-1, 170-pound ball hawk will head to Austin far from a finished product physically. 
"Ronald is a great player," Luke told On3. "He spends a lot of time perfecting his craft. Doesn't have any down time. I've known his dad a long time, and they put in a lot of work. I'm waiting to see what he does when he gets to college. When they put that weight program on him, and he gains that first 15. Watch him really fill out because his upside is awesome."
The range and finishing ball skills of Lewis has impressed the Warren Easton coaching staff the most. 
"He's rangy, and he's long," Luke said. "He runs hurdles for us. His range is impressive. When the ball is in the air, he finishes plays. Last year he finished with eight or nine interceptions. Not a lot of people have put the ball in the air against us this season."
The Longhorns plan to play Lewis at corner, but the Warren Easton staff loves him at safety.
"I know Texas wants to play him at corner," Luke said. "We like him over the top more, but we think he can play corner in their scheme."
Lewis committed to Texas over Colorado, Virginia, West Virginia, Purdue and Oregon State. 
2024 CB Wallace Foster IV already national recruit
The top prospect in the program may well be sophomore corner Wallace Foster IV. The 5-foot-10, 165-pound missile possesses the type of hyper-competitive nature needed to excel at corner, according to his assistant coach.
"Where do you start," LUke said. "Very aggressive. Plays with a chip on his shoulder. He has the speed. Another dual-athlete guy that spends all his time perfecting his craft. He's more of an in-your-face type of guy. He wants everything you have, and be on the best receiver all the time."
Wallace holds Power 5 offers from LSU, Florida, Florida State, Texas, Arkansas and Mississippi State.
2023 class has number of Power 5 prospects 
Linebacker Jirrea Johnson may not be the biggest linebacker prospect in the state, but he may be the best. The 5-foot-11 1/2, 210-pounder is blessed with tremendous instincts, feel, a high football IQ and physicality not matched by many. 
"He is hands down the best middle linebacker in the state of Louisiana," Luke said. "There are lot of guys that would second that notion. He's the leader of our team. Johnson is the play caller, and the brains of our defense. He's a student of the game. His physicality is second to none. He can move. Just plays the position very well."
Johnson has early offers from Louisville and Kansas, and interest from many in the SEC, ACC and Big 12. 
It is only a matter of time until EDGE/LB prospect Jeremiah Macklin begins picking up offers. The near 6-foot-2, 205-pounder with 4.55-second speed in the 40-yard dash flies around on tape with physicality. 
"Speed rusher," Luke said. "The best kept secret in Louisiana. He's a 4.5 guy coming off the edge, and a motor that doesn't stop. He's going to make plays that he had no business making. He has a killer instinct for the ball."
Interior offensive line prospect Carmello Crump starts on a line with three other future FBS players. The 6-foot-3, 275-pounder is blessed with quick feet and good length. 
"Carmello Crump's footwork work is the best thing about him," Luke said. "He has long arms with a good wingspan. He has good flexibility. I see him more as a guard on the next level, but his feet and footwork is that of a tackle. Very smart. Gives a lot of calls for our blitz pickups."
Crump taking his initial contact and physicality to the next level will be key in attracting Power 5 programs. 
Defensive lineman Jameian Buxton is another future Power 5 player in the 2023 class. The Thibodaux move in has early offers from Florida State, Tennessee, Ole Miss, Colorado and Virginia.