What's next for top programs without 2023 quarterback commitments?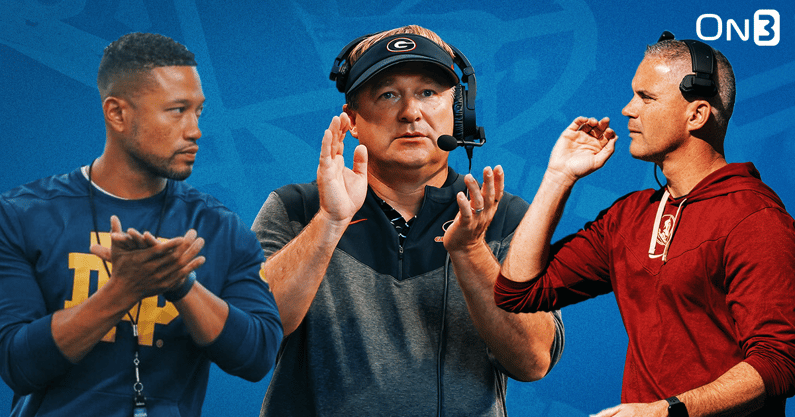 As we close the month of September, 24 of the top 25 quarterbacks — and 47 of the top 50 — in the 2023 On3 Consensus are already committed. That in and of itself isn't a shocker. Quarterbacks are some of the earliest commitments college programs receive, as nearly every team only takes one high school quarterback per cycle.
The more interesting fact is this: Seven teams ranked in the top 33 of the On3 Consensus Team Recruiting Rankings, including three in the top five, don't have a quarterback committed in the 2023 class. Among them are some of college football's biggest names: Georgia, Notre Dame, Texas A&M, Auburn, Florida State, South Carolina and Michigan, along with Kentucky, which currently resides in the AP top 10.
In the era of the transfer portal, quarterback recruiting has become equal parts simplicity and chaos. Gone are the days of holding onto a prospect and developing them behind your current starter for multiple years. But so is hoping that you hit on the right high school prospects with no secondary options if you don't.
And compared to other positions, quarterbacks flipping their commitments is somewhat rare. In the past four recruiting cycles, of the top 10 passers in the On3 Consensus each year (40 over the course of years), only nine have committed to more than one school before signing. It's not impossible we'll see some fireworks between now and December, but it isn't likely.
So where do these programs turn? On3's network of team site insiders helped us to break it down.
Georgia
On3 Consensus Team Recruiting Ranking: No. 2
2023 QBs offered: 12
Georgia currently has three scholarship quarterbacks expected to compete for the starting job this spring after Stetson Bennett's eligibility is up. But given that each of the three is a former blue-chip prospect, it wouldn't be a surprise to them look elsewhere if they don't win the job. Regardless, the Bulldogs will likely need to add another arm to the quarterback room.
Insider's Take: "Georgia's hunt for a 2023 quarterback was stifled heavily with Arch Manning's decision to ride with the Longhorns of Texas, but don't count out the Bulldogs just yet for a signal caller in the cycle. While we'd be stretching to point to a guy as the central focus, I'm told Georgia does want to keep the cupboard stocked. I'm expecting that means plenty of senior tape watching and exploring possible names who could be portal bound. No matter how they choose to address it, I do still look for the Dawgs to take a quarterback as of today. The real question is who." — Jake Reuse, DawgsHQ
Notre Dame
On3 Consensus Team Recruiting Ranking: No. 5
2023 QBs offered: 9
The Fighting Irish could return as many as three quarterbacks for next season with Tyler Buchner, Drew Pyne and Steve Angeli. But in a case similar to Georgia's, it wouldn't be a surprise if one decided to look for playing time elsewhere.
Insider's Take: "At this point, there are more questions than answers regarding what exactly Notre Dame will do at quarterback in the 2023 cycle. Dante Moore was the top target for much of the 2023 cycle, and following his commitment to Oregon, the Irish staff offered Austin Novosad and Kenny Minchey, but both prospects look locked in on their Baylor and Pittsburgh pledges, respectively. CJ Carr, who is Notre Dame's 2024 quarterback commit, remains an option to potentially reclassify to the 2023 cycle. The Irish could also offer new signal-callers and/or go the transfer portal route. There are no shortage of options for Notre Dame, but with less than three months until National Signing Day, the staff will need to make a move." — Mike Singer, BlueandGold.com
Texas A&M
On3 Consensus Team Recruiting Ranking: No. 15
2023 QBs offered: 8
Jimbo Fisher and Co. landed one of the country's best passers in the 2022 class with five-star Connor Weigman. Although he's yet to see the field in College Station, it's thought that he will be the leader to start for the Aggies next season. They pursued Dante Moore, Jaden Rashada and Austin Novosad to no avail, and at one point had four-star Eli Holstein committed before he opted to reopen his recruitment and commit to Alabama.
Insider's Take: "Texas A&M is certainly in a position to not take a quarterback in the 2023 class, which looks very possible at this given time. In regards to names left on the board, there are only two to know right now. No. 1 is Five-Star Plus+ QB and USC commit Malachi Nelson. The Aggies have been working to flip Nelson for quite some time and should continue to do so until signing day. It does not look likely right now but weirder things have happened in recruiting. The No. 2 option is Spring (Tex.) Westfield QB PJ Hatter, who the Aggies are monitoring. There has been no offer extended at this time but Hatter is proving to be a playmaker with some big time performances, including a 504-yard, eight-touchdown game last week. He visited Texas A&M once this summer and again this season on September 10." — Marshall Levenson, AggieScoop.com
Florida State
On3 Consensus Team Recruiting Ranking: No. 16
2023 QBs offered: 13
The Seminoles had one quarterback committed for much of the spring with four-star Brentwood (Tenn.) passer Chris Parson, but were looking to take a second in this class. They heavily pursued four-star Brock Glenn, but in the process, Parson ended up flipping to Mississippi State and Glenn committed to Ohio State.
Insider's Take: "FSU is certainly still looking for a high quarterback in this cycle. It's possible they also could go into the portal this year depending upon what decision QB Jordan Travis makes in returning to Florida State next season. Either way there are several HS quarterback options that FSU is looking at. They have already evaluated Miami commit QB Emory Williams in person. He has several connections to FSU that include his family having alums and the distance is good in regards to this recruitment.
I have not seen a strong push yet for Williams at this stage. Two other guys that could be possibilities here for FSU would be Kansas State commit Avery Johnson, and Louisville QB commit Pierce Clarkson. I have not heard there was  an in person evaluation there yet. The plan has been for FSU to evaluate some QB's early in the process of the season to decide who they are going to pursue. That is still on going but is expected to end soon with FSU making a push for some guys." — Michael Langston, Warchant.com
South Carolina
On3 Consensus Team Recruiting Ranking: No. 18
2023 QBs offered: 5
Shane Beamer and his staff only pursued one quarterback this cycle with much vigor: four-star Snellville (Ga.) Brookwood passer Dylan Lonergan. And at one point, the Gamecocks were thought to be the significant favorites to land him. But a late push from Alabama landed the Crimson Tide their second quarterback this cycle and largely ended South Carolina's pursuit at the position.
Insider's Take: "After taking a transfer quarterback in Spencer Rattler plus two freshmen and a preferred walk-on they're high on in 2022, the Gamecocks don't seem too concerned at this point about not having a quarterback committed for the 2023 class. They've monitored three-star in-state QB LaNorris Sellers, a Syracuse commit, for quite some time and have hosted him on several unofficials but have not offered to this point. The fact that four-star 2024 QB Dante Reno is already committed for the next recruiting cycle also helps alleviate some of the usual need to take a QB in every class. Like all programs, they'll probably monitor the portal in the offseason but quarterback doesn't appear to be a dire need." — Wes Mitchell, GamecockCentral.com
Michigan
On3 Consensus Team Recruiting Ranking: No. 26
2023 QBs offered: 4
After offering him all the way back in the eighth grade, Michigan pushed all its chips into the middle of table with Dante Moore and fell short. Since his commitment to Oregon, the Wolverines haven't put a ton of stock into 2023 QBs and are instead focused on the future.
Insider's Take: "Michigan is prepared to pass on a 2023 quarterback after losing Moore to Oregon. The Wolverines have fully turned their attention to 2024 prospect Jadyn Davis. The top-100 signal-caller from Charlotte has been on campus three times over the last four months and has a growing bond with head coach Jim Harbaugh. As it stands right now, Davis is the only active quarterback on the board. This approach, however, could be risky as both Alabama and Georgia are becoming increasingly interested in Davis. Michigan must find a way to close after taking two projects at the position last cycle." — EJ Holland, TheWolverine.com
Auburn
On3 Consensus Team Recruiting Ranking: No. 32
2023 QBs offered: 15
No program has more questions around its future right now than Auburn, and that's largely been the case since last winter when the Bryan Harsin saga kicked off in full force. With so much uncertainty, the Tigers have yet to land a quarterback this cycle, a huge position of need for a struggling program.
Insider's Take: "Auburn went all-in on Brock Glenn and Christopher Vizzina, but both ended up choosing elsewhere (Glenn to Ohio State and Vizzina to Clemson). Auburn continues to recruit the two, as well as Iowa State commitment JJ Kohl and Miami commitment Emory Williams, but it appears unlikely the Tigers flip any of them. It's more likely Auburn looks to the portal after the season and then signs two high school quarterbacks in the 2024 class. Four-star Adrian Posse already is committed and the Tigers continue to push hard for four-star Air Noland." — Jeffrey Lee, AuburnLive.com
Kentucky
On3 Consensus Team Recruiting Ranking: No. 33
2023 QBs offered: 18
The Wildcats dished out a bunch of offers this cycle, but never really gained traction or pushed hard for any of the more likely targets. Mark Stoops and Co. now seem content to find their next starter in the portal.
Insider's Take: "Thanks to the success of Will Levis, it might be a long time before Kentucky starts a quarterback that isn't from the transfer portal. In the immediate future it's all about the portal. Dane Key and Barion Brown's success at wide receiver as true freshmen will only make it a more desirable destination for transfer portal QBs that see Levis as a proof of concept. Naming potential names is difficult this early in the season, but KSR already has reason to believe that Boise State transfer Hank Bachmeier may be a candidate this offseason." — Nick Roush, KentuckySportsRadio.com