Where the five-star recruits in the 2023 class have signed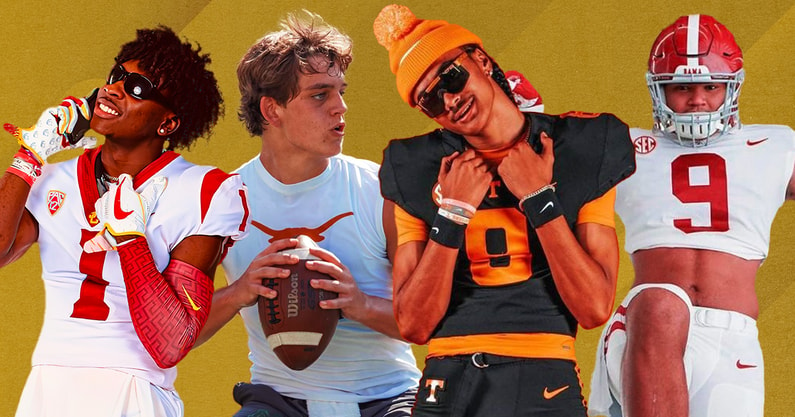 The On3 Consensus is a complete and equally-weighted industry-generated average that utilizes all four major recruiting media companies. The On3 Consensus increases the total number of fiver-star recruits throughout the recruiting cycle. This solves for the problem of awarding five-star ratings too early in the recruiting process.
National Signing Day is nearing its end and nearly all of the top recruits in this cycle have signed with their respective schools. Of the 32 five-star recruits, 31 have signed with Phoenix (Ariz.) Pinnacle tight end Duce Robinson as the lone exception.
Here is a look at where each of the 2023 consensus five-stars have signed.
Teams with seven five-star signees
Alabama
EDGE Keon Keeley 
Tampa (Fla.) Berkeley Prep
On3 Consensus: No. 2
Safety Caleb Downs
Hoschton (Ga.) Mill Creek
On3 Consensus: No. 5
Offensive tackle Kadyn Proctor
Des Moines (Iowa) Southeast Polk
On3 Consensus: No. 9
Cornerback Desmond Ricks
IMG Academy (Fla.)
On3 Consensus: No. 18
Defensive lineman James Smith
Montgomery (Ala.) Carver
On3 Consensus: No. 24
EDGE Yhonzae Pierre
Eufaula (Ala.)
On3 Consensus: No. 26
EDGE Qua Russaw
Montgomery (Ala.) Carver
On3 Consensus: No. 27
Teams with four five-star signees
Georgia
EDGE Damon Wilson
Venice (Fla.)
On3 Consensus: No. 20
Defensive lineman Jordan Hall
Jacksonville (Fla.) Westside
On3 Consensus: No. 25
Linebacker Raylen Wilson
Tallahassee (Fla.) Lincoln
On3 Consensus: No. 29
Offensive tackle Monroe Freeling
Mount Pleasant (S.C.) Oceanside Collegiate Academy
On3 Consensus: No. 32
Texas
Quarterback Arch Manning
New Orleans Isidore Newman
On3 Consensus: No. 1
Denton (Texas) Ryan LB Anthony Hill
On3 Consensus: No. 16
Running back Cedric Baxter Jr.
Orlando (Fla.) Edgewater
On3 Consensus: No. 30
Wide receiver Johntay Cook II
DeSoto (Texas)
On3 Consensus: No. 31
Teams with three five-star signees
Oklahoma
Quarterback Jackson Arnold
Denton (Texas) Guyer
On3 Consensus: No. 8
EDGE Adepoju Adebawore
Kansas City (Mo.) North Kansas City
On3 Consensus: No. 10
Safety Peyton Bowen
Denton (Texas) Guyer
On3 Consensus: No. 15
Teams with two five-star signees
Miami
Offensive tackle Francis Mauigoa
Bradenton (Fla.) IMG Academy
On3 Consensus:No. 12
Offensive tackle Samson Okunlola
Brockton (Mass.) Thayer Academy
On3 Consensus: No. 17
USC
Wide receiver Zachariah Branch
Las Vegas (Nev.) Bishop Gorman
On3 Consensus: No. 4
Quarterback Malachi Nelson
Los Alamitos (Calif.)
On3 Consensus: No. 11
CLICK HERE to subscribe to the On3 YouTube channel
Teams with one five-star signee
Clemson
Defensive lineman Peter Woods
Alabaster (Ala.) Thompson
On3 Consensus:No. 19
Colorado
Cornerback Cormani McClain
Lakeland (Fla.)
On3 Consensus: No. 13
LSU
Offensive tackle Zalance Heard
Monroe (La.) Neville
On3 Consensus: No. 22
Ole Miss
Linebacker Suntarine Perkins
Raleigh (Miss.)
On3 Consensus: No. 14
Oregon
Wide receiver Jurrion Dickey
Palo Alto (Calif.) Menlo-Atherton
On3 Consensus: No. 28
South Carolina
EDGE Nyckoles Harbor
Washington (D.C.) Archbishop Carroll
On3 Consensus: No. 21
Tennessee
Quarterback Nico Iamaleava
Long Beach (Calif.) Warren
On3 Consensus: No. 6
Texas A&M
Defensive lineman David Hicks
Katy (Texas) Paetow
On3 Consensus: No. 7
UCLA
Quarterback Dante Moore
Detroit Martin Luther King
On3 Consensus: No. 3