Angel Reese signs NIL deal with Mercedes-Benz of Baton Rouge, lands new car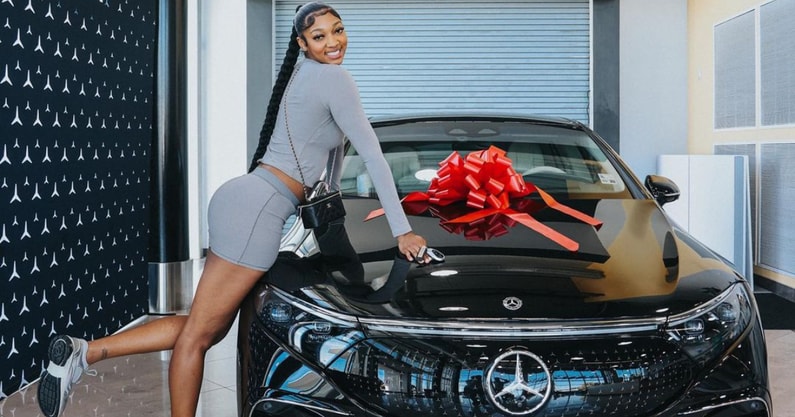 Angel Reese has landed a new set of wheels.
The LSU basketball star has had no shortage of opportunities thrown her way since winning a national title last month. Plenty of brands have approached her as she has carefully crafted a catalog of NIL deals. Growing her brand has not been hard, either, as her social media following has grown to more than four million.
Now she won't have any problem getting around Baton Rouge. Reese has signed a new endorsement deal with Mercedes-Benz of Baton Rouge with the help of the LSU-focused Bayou Collective. The deal was executed through the MatchPoint Connection marketplace.
She announced the deal Monday night on Instagram. While the full terms of the agreement were not disclosed, On3 confirmed part of the car was paid off in an NIL deal. Another piece was paid by Reese herself. She will be driving around a new EQS580 around town.
The LSU basketball star is represented in NIL dealings by her agent, Jeanine Ogbonnaya.
"Why not get a new car when it's your 21st birthday week," Reese wrote on Instagram. "Thank you Mercedes-Benz Baton Rouge for helping me purchase my new car! This is a gift to myself for everything that I've accomplished in 1 YEAR but I wouldn't be the Bayou Barbie without Bayou Traditions and MatchPoint Connection."
A first-team All-American this past season, she finished the year averaging a double-double with 23 points and 15.4 rebounds. LSU appears ready to make a run at a second consecutive title, too. The Tigers picked up Louisville transfer Hailey Van Lith, which could also be a win in NIL.
Angel Reese's growing NIL brand
Reese's celebration aimed at Iowa's Caitlin Clark in the final seconds of the championship game turned into a national story. She was unabashedly herself when First Lady Jill Biden talked about inviting the Hawkeyes to the White House along with LSU.
She joined her teammates at Raising Cane's as part of an endorsement deal days after the national title, serving LSU students during the lunch hour. Along with Flau'jae Johnson, the duo released limited edition jerseys through Campus Ink. She also recently had an appearance at Dick's Sporting Goods in Baton Rouge. Leaf Trading Cards released an autographed card as well.
The "Bayou Barbie" also inked an endorsement deal with Caktus AI. The company has dumped marketing dollars into the NIL space, previously working with LSU gymnast Livvy Dunne, Miami's Cavinder twins and San Diego State's Matt Bradley.
In a video dropped across her social media platforms, Reese explained how women's basketball has become one of the top sports in the country, in part thanks to NIL. A paid partnership, the Caktus logo flashed at the end of the video.
"She's not just a student-athlete anymore or a marketable women's basketball player where we're doing these one-off deals," Ogbonnaya previously told On3. "I think at this point, she's got the following to back it up where she can be doing long-term partnerships that truly align with her brand and her messaging, and finding those brands that align with that as well."
Massive On3 NIL Valuation
Angel Reese is one of just 22 athletes to have a valuation in the seven figures. The rise in her profile is a mix of the LSU star's persona and established brand.
It's really just a starting point, though. Only a sophomore, she'll be back with the Tigers for at least another season before leaving for the WNBA. A sneaker deal could be in the works.
Entering March Madness, the former Maryland transfer had a $371,000 On3 NIL Valuation. Her valuation now is $1.4 million, which is the top-ranked women's basketball valuation. Reese also ranks No. 10 in the On3 NIL 100, which is the first of its kind and defacto NIL ranking of the top 100 high school and college athletes ranked by their On3 NIL Valuation.
The On3 NIL Valuation is the industry's leading index that sets the standard market NIL value for high school and college athletes. A proprietary algorithm, the On3 NIL Valuation calculates an athlete's NIL value using dynamic data points targeting three primary categories: performance, influence and exposure.
About On3 NIL Valuation, Brand Value, Roster Value
While the algorithm includes deal data, it does not act as a tracker of the value of NIL deals athletes have completed to date, nor does it set an athlete's NIL valuation for their entire career. The On3 NIL Valuation calculates the optimized NIL opportunity for athletes relative to the overall NIL market and projects out to as long as 12 months into the future.