The 1890 Initiative inks NIL deal with Nebraska receiver Billy Kemp IV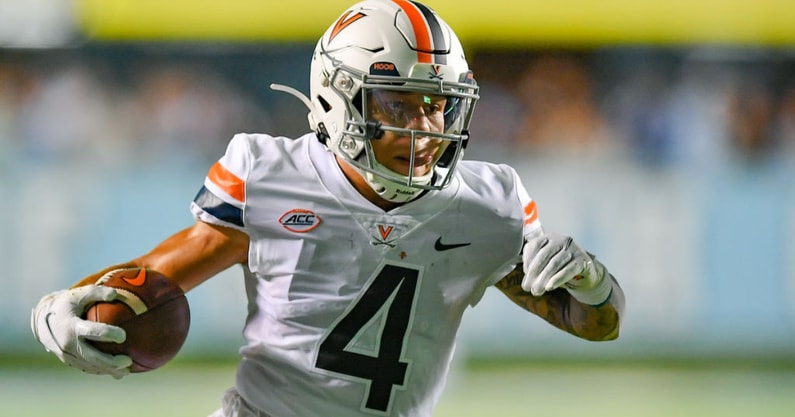 The 1890 Initiative has placed a high priority on roster retention this offseason.
The Nebraska-focused NIL collective has inked partnerships with a number of high-profile Cornhusker football players over the past few weeks. And on Monday, the organization agreed to terms on a deal with Virginia transfer Billy Kemp IV.
The wide receiver announced his commitment to Nebraska earlier this month. The need to add depth to the receiver room was made clear when Marcus Satterfield took the offensive coordinator job.
Kemp's addition gives Nebraska just that. One of the top wideouts in Virginia history, the sixth-year senior arrives in Lincoln with one year of eligibility remaining. During his time with the Cavaliers, he tallied 192 catches for 1,774 yards and eight touchdowns.
He also gives Nebraska another option in the punt return game. Kemp fielded 130 punts in 50 games with the Cavaliers and returned 64 for 371 yards.
"It was just them coming in and giving me the opportunity to be the No. 1 receiver," Kemp recently said on why he chose Nebraska. "I think with me and coach (Marcus) Satterfield, the opportunity — the sky is the limit."
There's no question that Nebraska needed to add a talented receiver through the Transfer Portal. His signing with The 1890 Initiative only finalizes his arrival.
The 1890 Initiative developing into top collective
The 1890 Initiative launched with much fanfare in October. But even then, collective leaders said it would take a little bit before its full game plan to assist Nebraska student-athletes came into the public eye. The collective is founded by former Husker great Matt Davison and Nebraska businessmen Tom Peed and Shawn Peed.
Davison helped raise $80 million for the program's new facility and was a member of Huskers' radio broadcasts for 19 years. The Peeds run Sandhills Global, a company that produces a diverse range of products and services from well-established trade publications and websites to hosted technology services.
Plus, Davison will also build a team of employees for 1890 that will include Joe Selig as vice president for development. Selig announced earlier this year his planned retirement from his position as senior vice president for development for the University of Nebraska Foundation.
The initiative has focused on Husker football and volleyball student-athletes so far. The plan is to assist them with NIL opportunities in Nebraska through local charities, partnerships and networking with local businesses. NIL opportunities, according to 1890, will include camps and clinics, community outreach, autograph signings, public appearances, nonprofit engagement, social media promotions and other activities.
Billy Kemp IV's On3 NIL Valuation
The Virginia transfer holds a $40,000 On3 NIL Valuation. Kemp has seen notable growth on his social media platform since his transfer commitment to Nebraska. He currently has more than 10,500 total followers.
The On3 NIL Valuation is the industry's leading index that sets the standard market NIL value for high school and college athletes. A proprietary algorithm, the On3 NIL Valuation calculates an athlete's NIL value using dynamic data points targeting three primary categories: performance, influence and exposure.
About On3 NIL Valuation, Brand Value, Roster Value
While the algorithm includes deal data, it does not act as a tracker of the value of NIL deals athletes have completed to date, nor does it set an athlete's NIL valuation for their entire career. The On3 NIL Valuation calculates the optimized NIL opportunity for athletes relative to the overall NIL market and projects out to as long as 12 months into the future.
The On3 NIL Valuation accounts for an athlete's roster value and brand value. Roster value is the value an athlete has by being a member of his or her team at his or her school, which factors into the role of NIL collectives. Brand value factors in an athlete's personal brand and the value it could bring to regional and national brands outside of the scope of NIL collectives.
The On3 NIL Valuation is publicly available. Performance, Influence, and Exposure ratings along with the athlete's personal Brand Value Index and Roster Value Index are available only to the athlete in the "Athlete Verified" private dashboard on the On3 Athlete Network.