Boston College QB Phil Jurkovec lands new Audi in NIL deal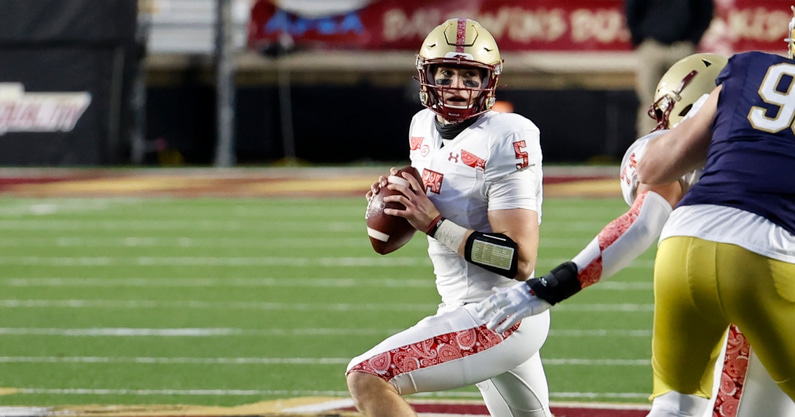 Boston College quarterback Phil Jurkovec, now going into his third season as a starter, announced a deal with McGovern Auto Group via Instagram.
The NIL deal lands him a brand-new Audi S7.
"Thanks to McGovern Auto Group and @bostonmotorsports for the Audi S7! Excited to partner with a Boston-based auto group for my new car," Jurkovec posted to Instagram.
He is the second Boston College player to land a NIL deal with McGovern Auto Group. Before Phil Jurkovec got his NIL deal, his favorite wide receiver, Zay Flowers landed a X6M BMW.
In return for the car, both athletes are promoting the McGovern Auto Group via social media.
In the new NIL era, schools like Miami, Clemson, and Florida State have tended to pull headlines away from the Eagles. Things like Phil Jurkovec and Zay Flowers' NIL deals help keep Boston College active in the NIL space and remind recruits of their potential opportunities in Chestnut Hill.
Jurkovec came to Boston College prior to the 2020 season after spending two seasons as a backup at Notre Dame. He spent a large chunk of 2021 sidelined, following an injury against UMass.
Phil Jurkovec and NIL
Along with both working out deals with McGovern Auto Group, Phil Jurkovec and Zay Flowers are using NIL to team up for a camp. The football camp, which is available for grades 5 through 12, is being advertised as an opportunity to learn from Boston College's best players.
Phil Jurkovec has an On3 NIL Valuation of $196,000. WIth 21,000 on his social media platforms, Jurkovec also has an On3 Per Post Value of $304. He is currently 168th in the college football NIL rankings. With more NIL opportunities and a strong 2022 season, that number will grow.
The On3 NIL Valuation is an index that looks to set the standard market value for both high school and college-level athletes. The NIL valuation does not act as a tracker of the value of NIL deals an athlete has completed to date. It rather signifies an athlete's value at a certain moment in time.
The NIL valuation is comprised of a number of dynamic data points that focus on two primary factors – an athlete's social media presence and their level of athletic performance.