Florida's Anthony Richardson signs NIL deal with Champs Sports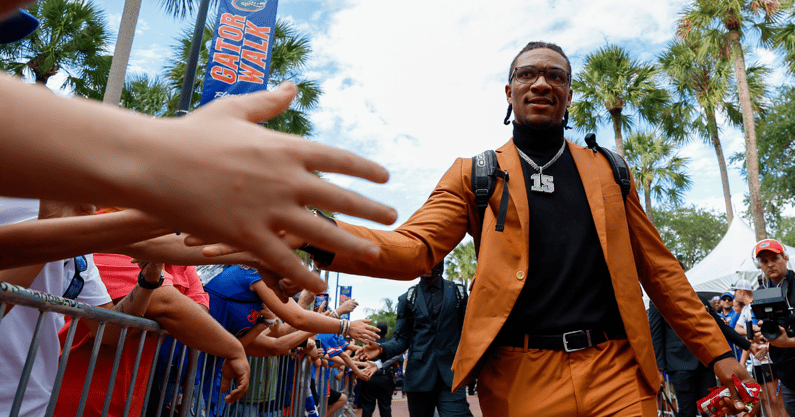 Florida quarterback Anthony Richardson has turned his Week 1 success into an NIL opportunity.
He announced Tuesday on Instagram he has signed with Champs Sports, expanding his roster of NIL deals. The Champs Sports deal was brokered by Richardson's agent, Deiric Jackson.
Richardson stole the spotlight in Week 1 of the college football season, pulling off an upset win over Utah. Since then, the Heisman Trophy talk has started to fizzle out. He struggled against Kentucky and South Florida, failing to throw a touchdown pass this season. But he has a major opportunity this weekend when the Gators head to Neyland Stadium for top-25 matchup with Tennessee.
"Play like a champion, elevate your game with Champion apparel," the quarterback said in an Instagram caption, advertising for the sports retail store.
Richardson has found plenty of success in NIL since July 1, 2021. He was part of the inaugural class of Outback Steakhouse's TeamMATES program. He appeared at the More Than An Athlete Camp, and he signed with the Gator Collective.
Champs Sports has taken an aggressive approach in the NIL space. It signed deals with Miami basketball players Haley and Hanna Cavinder and Minnesota wrestler Gable Steveson last December as part of a "We Know Game" campaign. The Cavinder twins have been heavily featured in the sports retailer's marketing campaigns, appearing in back-to-school advertisements.
The company also launched a "Run With Us" NIL partnership for National Running Day, inking agreements with college athletes Gee Scott Jr., Emily Sloan and Nico Felich.
Adding the Florida quarterback to its list of athletes gives Champs Sports a major presence in college football.
"We set off on a strategy saying, 'Look, this may take some time and you're going to have to prove yourself, but if and when that happens, you're going to be able to capitalize on it," attorney Darren Heitner, who reps Richardson in sponsorship and marketing agreements, recently told On3. "And don't be like so many of the other athletes out there jumping at every single opportunity. Focus on quality over quantity.'"
Anthony Richardson's On3 NIL Valuation
Anthony Richardson currently holds an On3 NIL evaluation of $435k, which ranks No. 72 in the college football NIL rankings. He also has a social media following of 109,000, thanks to more than 71,000 just on Instagram.
Richardson holds a per-post value of $1,300.
The On3 NIL Valuation is the industry's leading index that sets the standard market NIL value for high school and college athletes. A proprietary algorithm, the On3 NIL Valuation calculates an athlete's NIL value using dynamic data points targeting three primary categories: performance, influence and exposure
While the algorithm includes deal data, it does not act as a tracker of the value of NIL deals athletes have completed to date, nor does it set an athlete's NIL valuation for their entire career. The On3 NIL Valuation calculates the optimized NIL opportunity for athletes relative to the overall NIL market and projects out to as long as 12 months into the future.