Graduate Ann Arbor, MORE create college NFT gallery using NIL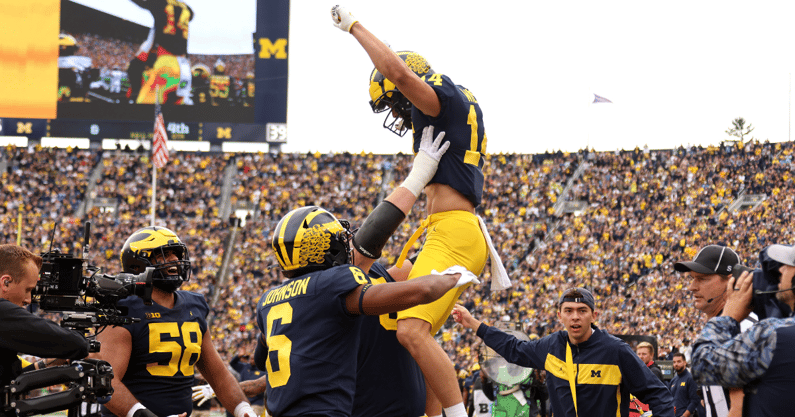 Michigan football players will be provided another opportunity Tuesday to cash in on their NIL.
Graduate Ann Arbor, part of the Graduate hotel network, and MORE Management have partnered to launch "Victors NFT," a digital art gallery and marketplace. MORE develops and markets cryptocurrency-based products.
Current Michigan stars Cade McNamara, Mazi Smith and Zak Zinter participated in the project and helped inspire the artwork. An announcement on the company's Instagram also indicated Tom Brady played a role in the exhibit.
Starting Tuesday, the artwork will be put on exhibit in the lobby of the Graduate Ann Arbor. The NFTs mark one of the firsts in non-fungible token space: A collaboration with the The Bored Ape Yacht Club and active collegiate athletes.
Current players will also be able to profit off their NIL with the exhibit. The website Bored on Campus is also set to launch, allowing fans to purchase the NFTs as apparel.
Sources told On3 the concept could be replicated and expanded to more schools.
"We are thrilled to partner with the creative and innovative team at MORE for this first-of-its-kind collaboration," Graduate Ann Arbor general manager Jason Nelson said in a statement. "The University of Michigan football program is beloved by the Ann Arbor community and we are excited to offer a new avenue for fans to engage with and support its players, both past and present."
Michigan joins crowded NFT market
Non-fungible tokens (NFTs) are blockchain-based assets allowing college athletes to easily monetize their NIL, build their brand and authentically connect with their fans in unique ways.
The Bored Ape Yacht Club (BAYC) is a collection of 10,000 Ethereum-based non-fungible tokens launched in 2021. Called "Bored Apes," these NFT illustrations feature various facial expressions, clothes, and unique elements.
The Bored Apes initially sold for hundreds of dollars and soared to millions. The average price is now in the hundred thousand range, per the NFT platform OpenSea. Owning one gains perks such as private online spaces, exclusive merchandise and members-only live events.
Trading volumes in NFTs have tumbled 97% from a record high this past January. They slid to just $466 million in September from $17 billion at the start of 2022, according to data from Dune Analytics. Per Bloomberg, the fading NFT mania is part of a $2 trillion wipeout in the crypto sector.
"We are beyond excited to partner with the Graduate Ann Arbor bring this innovative project to Ann Arbor," MORE president Peter Klamka said. "From classic Michigan images to a blue chip NFT collab, this installation is a first in crypto and athlete marketing."
This is not the first set of NFTs to launch benefitting Michigan athletes. Valiant Management previously launched a NFT marketplaces, where fans had access to signed trading cards. Michigan collective MGoDAO also launched this spring and dropped its first NFT in June.