Cavinder twins enter NIL partnership with Intuit TurboTax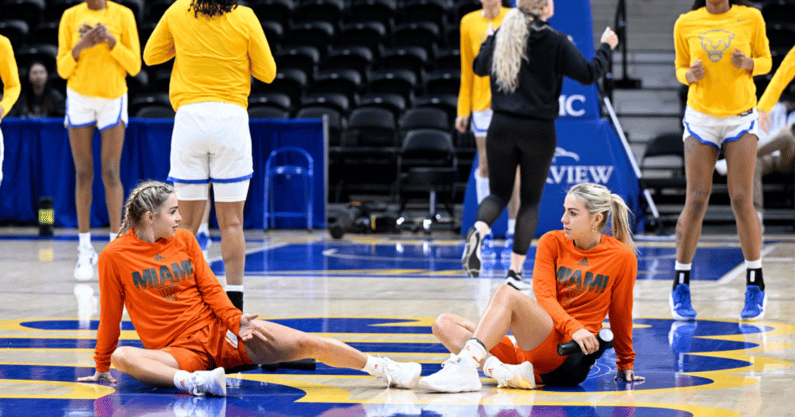 With the transfer from Fresno State to Miami this past offseason, Haley and Hanna Cavinder's taxes are going to take some heavy lifting this spring.
It is part of the reason behind their new NIL deal with Intuit TurboTax. The NIL stars and basketball players have inked an agreement with the company. While the terms of the agreement were not shared, they will receive access to TurboTax advisors.
The need for tax education has become clear in the first 19 months of name, image and likeness. This past May, the NCAA released the results of an association-wide survey of more than 9,800 athletes. Forty-nine percent of respondents indicated "a need for educational resources on tax and financial literacy." The apparent need for tax guidance is even stronger in Division I, too. Fifty-three and 55% of male and female athletes at the D-I level, respectively, said they need more tax resources.
Taxpayers have until April 18 to submit their returns from 2022. The IRS officially started accepting tax returns on Jan. 23.
The Cavinders have already posted a video on TikTok promoting their new partnership. They're set to promote the deal on Instagram, too.
"Whether you're getting started, have an established business or are trying a side gig, or you're a student-athlete like us, making additional money through brand deals, TurboTax experts will make sure to identify the deductions that apply to you and provide year-round guidance," Haley says in the TikTok video.
In the past three weeks, they've inked NIL deals with Victoria's Secret PINK and Raising Cane's. They also have a long-term agreement with Champs Sports.
The deal with TurboTax was facilitated by Everett Sports Management (ESM). Attorney Darren Heitner, who works with athletes and collectives, worked through the nuances of the agreement. TurboTax approached the Cavinder's team about the partnership.
"The twins' taxes could seem somewhat complicated, given their business success and variety of income they need to report," said Jeff Hoffman, who serves as the twins' agent and a partner at ESM. "For ESM, our evaluation was simple. Does our story align to the brand campaign? And does it align to the twins' real-life story? The confluence of these requisites made it an easy decision to partner."
Haley has started all 23 games for the Hurricanes. She's currently averaging 11.9 points and 4.6 rebounds per game. Hanna has come off the bench in each game this season for Miami, averaging 4.4 points.
Cavinder twins' massive On3 NIL Valuation
Hanna currently holds an $846,000 On3 NIL Valuation, while Haley's On3 NIL Valuation sits at $842,000. The twins sit at No. 26 and No. 27, respectively, in the On3 NIL 100. The rankings are the first of its kind and defacto NIL ranking of the top 100 high school and college athletes ranked by their On3 NIL Valuation.
Across Instagram, Twitter and TikTok, the twins have amassed more than 4.7 million social media followers. Their social following is one of the largest in the NCAA. LSU gymnast Livvy Dunne's 10.5 million is the highest.
The Cavinder's social following does not include their YouTube channel with more than 83,000 subscribers where they drop weekly vlogs.
The On3 NIL Valuation is the industry's leading index that sets the standard market NIL value for high school and college athletes. A proprietary algorithm, the On3 NIL Valuation calculates an athlete's NIL value using dynamic data points targeting three primary categories: performance, influence and exposure.
About On3 NIL Valuation, Brand Value, Roster Value
While the algorithm includes deal data, it does not act as a tracker of the value of NIL deals athletes have completed to date, nor does it set an athlete's NIL valuation for their entire career.
The On3 NIL Valuation accounts for an athlete's roster value and brand value. Roster value is the value an athlete has by being a member of his or her team at his or her school, which factors into the role of NIL collectives. Brand value factors in an athlete's personal brand and the value it could bring to regional and national brands outside of the scope of NIL collectives.
The On3 NIL Valuation is publicly available. Performance, Influence, and Exposure ratings along with the athlete's personal Brand Value Index and Roster Value Index are available only to the athlete in the "Athlete Verified" private dashboard on the On3 Athlete Network.