How smoothie company Clean Energy became one of most active brands in NIL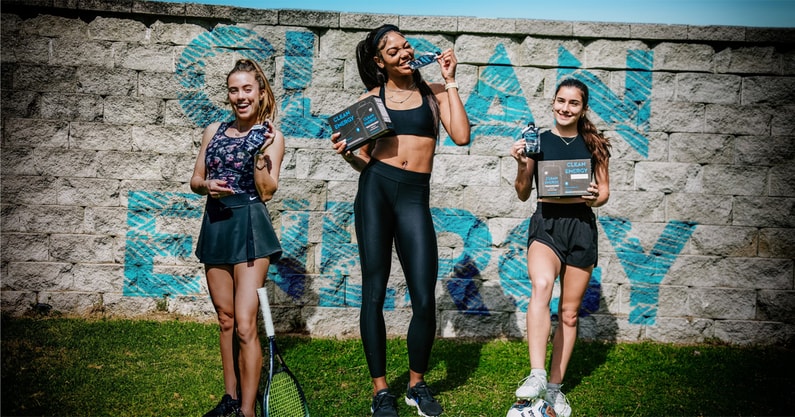 When Ted Volz founded Clean Energy, he never imagined his company would be one of the most active brands in the world of name, image and likeness.
Volz launched Clean Energy because he was not pleased with the sports nutrition offerings on the market that were loaded with sugar and lab-created ingredients. His smoothie, which comes in squeezable applesauce-like pouches, quickly built a massive following with runners and cyclists. In fact, Runner's World recognized the organic smoothie's mix of fruits, vegetables and flax seed as one of the best fuels to power a run.
Since launching in September 2021, Clean Energy has grown to where it can now be found in athletic departments across the ACC, Big Ten, Big 12 and Pac-12 conferences. The Green Bay Packers purchased cases of the product for the second season in a row. Additionally, the smoothies were stocked in the locker rooms at the 2022 Women's Final Four.
All of that has been great for Clean Energy's business. But that's nothing compared to the brand awareness that's been created by the company's more than 50 NIL deals.
NIL helps tell Clean Energy's story
Volz is the first to acknowledge Clean Energy doesn't have the same name recognition as some of the major players in the crowded sports nutrition industry. He jokes that he's the founder, the janitor, the chief salesperson and the HR department for Clean Energy. He employs a contract manufacturer and 3PL company to produce and ship the product to customers worldwide.
And like any emerging business, Volz looked for a unique way to get Clean Energy's name out there, tell the company's story and help people understand the product and the brand.
Enter NIL.
"It's a natural fit to get into the NIL space and try to work with athletes from a promotional perspective," Volz said. "We like to think the product is helpful to athletes from a short-term and a long-term perspective. We think the product is the best thing out there for student-athletes, professional athletes and recreational athletes.
"I'm a college football fan. I'm a college athletics fan. I had some familiarity with the space. You could see the reach and impact that college athletes have with NIL. So, I wanted to leverage that for their exposure, their reach and also get the brand name out there."
Volz also said it's important that Clean Energy agrees to NIL partnerships with student-athletes that believe in the product. It's why he sends out free smoothies to players across the country to see if they "can be an authentic ambassador for us."
"That's the starting point for an athlete or anybody that we work with," Volz said. "We want people that can promote the product genuinely. From there, it's been anything from, 'We'll send you more free product if you like it and want to promote it. Or we'll pay you for promotion.' That'll be for the athletes that love Clean Energy and have a bigger following. We've done both – free product arrangements and pay for promotional support on social media.
"But all of this starts with the gating questions of, 'Do you like the product? And can you genuinely support it and promote it?'"
What's the return on investment from NIL deals?
The list of student-athletes Clean Energy has partnered with is all over the country, touches almost every NCAA sport and taps into big-name programs all the way to the D-III level.
The first NIL deal Clean Energy executed was with University of Missouri-Kansas City volleyball player Odyssey Warren, its second was with a Hawaii tennis player Cody Castro and one of its most high-profile is with Duke All-America track star Emily Cole. Cole's post promoting the smoothie has been liked more than 7,800 times and has hundreds of comments.
"After every run, I love to get quick, high-quality nutrition in, and Clean Energy helps me do exactly that," Cole said. "I love to pop their easily portable packs into my bag for a delicious fruit smoothie post run or lift, or even between classes."
Clean Energy also signed deals with South Carolina high jumper Rachel Glenn, tennis player Sarah Hamner and soccer forward Corinna Zullo to agreements through an agreement that was facilitated by Everett Sports Marketing. Glenn won the national high jump title in 2021, while Zullo started in 17 games this past fall with two goals and five assists. Hamner was the SEC Freshman of the Year last season.
Plus, Notre Dame star receiver Tobias Merriweather signed a deal with Clean Energy nearly a year ago. He continues to promote the product to this day.
"There's no one face for Clean Energy on social media or anywhere," Volz said. "We're for all athletes. We're for all sports and for all genders and demographics."
Volz said it's hard to quantify the holistic return on investment the deals have created. But he's confident the results are nothing but positive.
"If we measured it strictly with a transactional digital marketing lens of how much revenue the posts bring in, then it's not a good investment," Volz said. "The posts, social media support and NIL deals are intended, from our perspective, to be a brand-building and brand awareness tool. From an old-school digital marketing transactional view, it's not the return on investment that we'd recommend. Instead of being transactional, we want more people to know about Clean Energy, so they can feel comfortable with it, learn about it, do their own research and decide if clean-label sports nutrition is the right thing for them.
"With that in mind, it's been a really good ad spend for us. It's the reason why we're talking. It's the reason why people are learning about Clean Energy. NIL deals have been a really great return on investment."
What's next for Clean Energy?
Currently, Clean Energy has only one flavor, but Volz said the company is working hard at developing multiple options. Regardless of what he comes up with, the focus is on doing things the right way from a sports nutrition standpoint.
"Clean-label sports nutrition is central to who we are, what we do," Volz said. "The initial goal is to roll out a bunch of new flavors. We have only one flavor and have been thrilled with the reaction to just having one flavor thus far. That's ultimately going to be a limiter if we don't expand flavors. Expanding flavor options is the near-term plan. Again, clean label is central to anything that we roll out."
Another thing he's certain of is that Clean Energy is not about to abandon its pursuits in the NIL space.
"We're proud to be involved in everything from gymnastics to cheerleading, to volleyball, to track and field, tennis, softball and soccer – all of them – including football and basketball," Volz said. "We will continue to be involved in the NIL space in the short term. And I expect in the long term as well. NIL helps us present an authentic story about who we are. And if it helps us help student-athletes along the way, then it's a win for everybody."