K-State NIL collective focuses on keeping Wildcats competitive in recruiting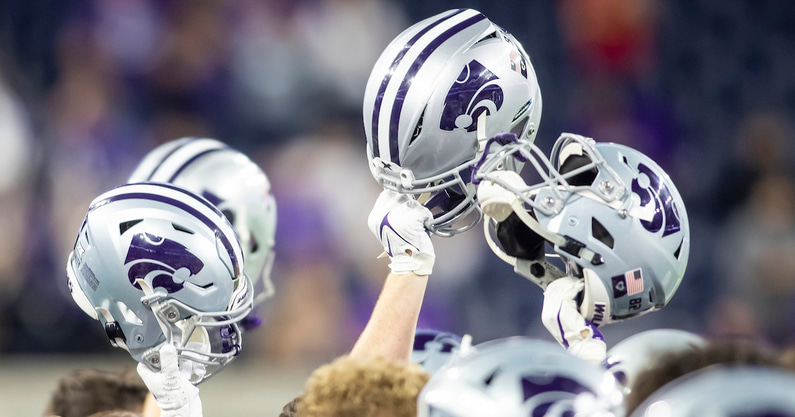 The list of donor-led collectives dramatically reshaping the NIL landscape has grown again and now there are two representing Kansas State.
Recently, former Wildcat stars Curry Sexton and Aaron Locket partnered to launch a NIL collective called The Wildcats' Den. On Wednesday, another EMAW collective popped up run by former K-Staters – Wildcat NIL.
Collectives, which are independent of a university, can serve a variety of purposes. Most often, they pool funds from boosters and businesses, help facilitate NIL deals for athletes. Collectives also create their own ways for athletes to monetize their brands. Industry sources expect every Power 5 school will have at least one NIL-related collective in a few months. 
New K-State collective run by former players
Now, there are two with links to K-State. Wildcat NIL is spearheaded by former K-State quarterback Jesse Ertz, former linebacker Ryan Henington, former defensive back Ross Elder, and former player and successful business owner Brad Fulner.
"Kansas State is a national brand that embodies the word Family," Wildcat NIL says on its website. "Wildcat student-athletes are ambassadors for the university and their success matters greatly. This is a cutting-edge opportunity to reward these players for their hard work and dedication to the university.
"The NCAA rules have changed, and every program is now racing to establish opportunities for their athletes. With open transfer rules, the competitive landscape is intense. Kansas State athletes need to know that their market opportunities will be supported by our vast Wildcat network of resources, and they can stay at Kansas State for the entirety of their college career.
"NIL opportunities are crucial for the nation's top recruits. For Kansas State to remain competitive and gain an advantage, it's important that recruits considering the program know that they will be able to maximize the value of their brand when compared to other programs."
Wildcat NIL focuses on high-end K-State donors
Unlike some other NIL collectives where fans can engage for as little as $25, Wildcat NIL appears to be targeting higher-end donors.
"The most unique opportunity we are presenting is called The Cat Family Club, a nonprofit initiative," the collective's website said. "This exclusive group of 100 supporters has each committed to donating $1,000 per month to a fund that is used for NIL opportunities for our players. Our goal with this $1.2 million-dollar annual fund is to remain competitive with what every other college program is doing nationally in NIL opportunities and ensure Kansas State Athletics has the resources to remain competitive."
Wildcat NIL said student-athletes that join them will receive:
Opportunities for corporate endorsements
Player appearances
VIP events
Player and team merchandise
Athlete engagements
Autograph sessions
Crowdfunding
Exclusive interviews.
Additionally, Wildcat NIL said fans that join the collective will receive:
Exclusive business opportunities
Cat Family Club polo
Ball signed by the team
Cat Family Club membership book for networking
Monthly newsletter
Annual event with the team
Listed as a partner on the group's website.
K-State latest to join large list of NIL collectives
The group at K-State is one of a growing number of collectives to help student-athletes attempt to monetize NIL. For example, N100 is a donor-driven collective helping Nebraska student-athletes monetize their NIL. Rising Spear – a Name, Image and Likeness collective focused on Florida State – announced a new partnership this week. Furthermore, earlier this week, LockerRoom Athletics announced the launch of UtahLockerRoom.com, and the list of collectives grows day by day.
"It's almost a must for any Power Five school that wants to remain competitive as far as recruiting and retention goes," Sexton told the Wichita Eagle about why it's important to have a collective at K-State. "We have seen these collectives popping up across the country. They started at your big, national-brand schools and now they have found their way down to the K-State level."