Campus Ink launches Maryland NIL Store for licensed apparel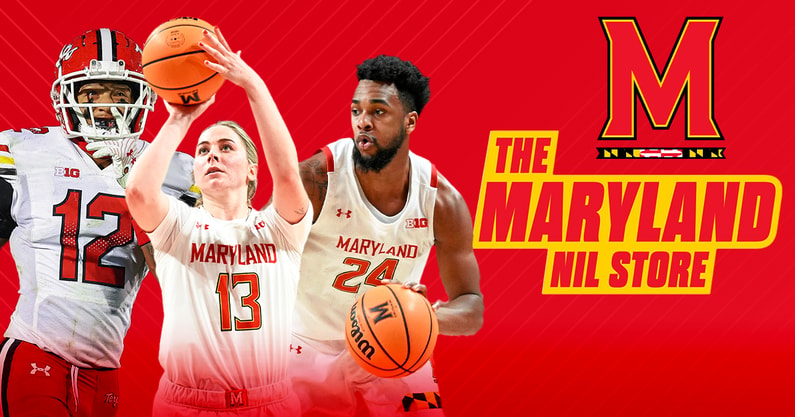 The apparel company Campus Ink announced Wednesday the launch of the Maryland NIL Store, which sells officially licensed, customized merchandise using the name, image and likeness rights of Maryland student-athletes.
A new release said merchandise is available for more than 60 athletes, including men's basketball forward Donta Scott, women's basketball guard/forward Faith Masonius and safety Dante Trader Jr., who also plays lacrosse for the Terrapins.
Campus Ink offers an NIL Store network that features school-specific online merchandise marketplaces for roughly 20 institutions, including Big Ten peers of Maryland, such as Indiana, Illinois, Michigan State, Northwestern and Penn State. Campus Ink also sells customized merchandise for athletes who attend institutions that don't have an official NIL Store.
Campus Ink Vice President Adam Cook previously told On3 that the company works with athletes from more than 40 schools. He said they receive between $8 and $15 per item sold.
Campus Ink previously announced the 10 college basketball players who earned the most money during March Madness from custom merchandise. In order, the players were: LSU's Angel Reese, Purdue's Zach Edey, UConn's Nika Mühl, LSU's Flau'jae Johnson, Indiana's Trayce Jackson-Davis, San Diego State's Lamont Butler Jr., UConn's Donovan Clingan, Indiana's Grace Berger and Jalen Hood-Schifino, and Virginia Tech's Elizabeth Kitley.
There were several elements to the popularity of the individual players' merchandise. Reese and Johnson, and Clingan each helped their team win a national championship. Butler and Kitley each played in the Final Four and the former sank an iconic buzzer-beater. Cook said Edey and Mühl, as international athletes, had strict rules about their involvement in their respective merchandise – "not a retweet," he said – yet they still cracked the list.
Donta Scott, Faith Masonius, Dante Trader Jr.'s NIL profiles
Last season, Scott earned All-Big Ten honorable mention honors after averaging 11.3 points and 6.0 rebounds. He's a former four-star recruit who was ranked No. 126 nationally in the 2019 recruiting class, according to the On3 Industry Ranking. Scott signed with Turtle NIL last summer.
In the 2022-23 season, Masonius was a team co-captain and she started every game. She averaged a career-high 6.9 points, 4.9 rebounds and 2 assists.
Masonius has more than 34,000 followers on TikTok and more than 21,000 followers on Instagram. She has partnered with brands such as Moolah Kicks, Keep It Squishy and Woxer.
Trader is a former three-star recruit who was ranked No. 663 nationally in the 2021 recruiting class, according to the On3 Industry Ranking. He has more than 15,000 followers between his Instagram, TikTok and Twitter accounts.