Meet 5 female student-athletes that are crushing NIL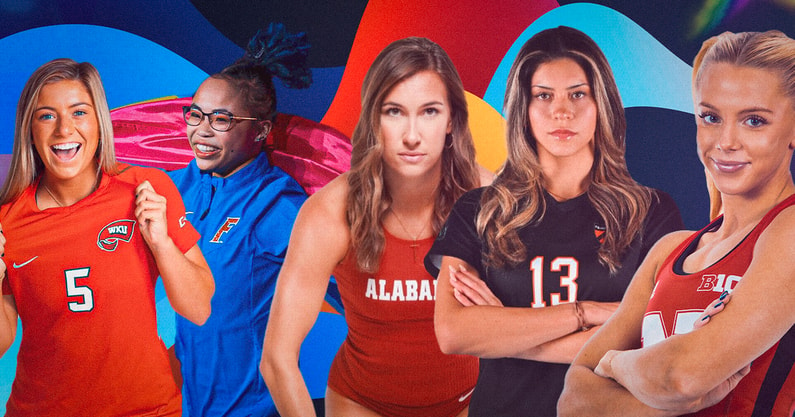 Livvy Dunne, Angel Reese, Flau'jae Johnson, Caitlin Clark and Paige Bueckers are household names because of their success in competition but also with victories in NIL.
All five have struck numerous and noteworthy NIL deals with major brands since the NIL Era started in 2021, complimenting All-America status, national championships and Final Four Runs in their respective sports. Each also has some of the strongest On3 NIL Valuations in all of college sports. In fact, Dunne ranks third overall in the On3 NIL 100. Reese is not far behind at No. 8.
Yet, there's also another group of female student-athletes that have yet to generate national headlines like Dunne and Reese but are also crushing it with NIL success. On3 introduces you to five female student-athletes who have established strong NIL brands beyond Livvy and Bayou Barbie.
Lexi Hiltunen – Princeton soccer
On3 NIL Valuation: $203,000
Social media followers: 1.4 million
Princeton senior forward Lexi Hiltunen has played significant minutes in all of the Tigers' matches so far in 2023. She scored a goal against La Salle and had an assist in the 4-3 victory over Army. Away from the pitch, Hiltunen has built one of the strongest NIL brands in all of college sports.
She has the No. 1 On3 NIL Valuation in college soccer at $203,000, which ranks No. 11 overall in the On3 Women's NIL 100. She's executed deals with Walmart, Alba Botanica, Reign Body Fuel, Coinbase, Target and numerous others in 2023 alone.
As a teenager the West Palm Beach, Florida, native modeled swimsuits for catalogs. Her social media following has taken off and is now at 1.4 million followers. The social following, combined with her athletic success at Princeton, has created a perfect NIL storm for Hiltunen. She now basically has three full-time jobs – student, athlete and influencer.
"I usually lay out my weeks quite early in advance and then block out times to do quick filming," Hiltunen told The Trentonian recently. "It doesn't usually take me hopefully too long to film, but kind of getting all of those done because deadlines are often quite strict with a lot of these campaigns.
"I would say take advantage of your opportunities because there are a lot out there and a lot of companies that want to work with athletes. Don't be fearful of doing it or partaking in it or what people would say, because it can end up being extremely lucrative as well."
Riley White – Alabama track-and-field
On3 NIL Valuation: $141,000
Social media followers: 729,000
Not only is Alabama's Riley White a successful pole-vaulter for the Crimson Tide, she's become a social media sensation – particularly on TikTok.
White has nearly 600,000 followers on the social media platform, and when combined with the 129,000 followers on Instagram, she's created a powerful influencer brand that has attracted top companies.
The Hoover, Alabama, native, has executed more than 25 NIL deals. Her resume includes agreements with American Eagle Outfitters, Target, '47, Nair, Kroger, Bumble, crocs, WWE and many, many other companies. Just last week, she launched a new partnership with Allstate, promoting the Allstate Crossbar Classic between Bama and Texas.
Riley's $141,000 On3 NIL Valuation ranks second in women's track and No. 20 overall in the Women's NIL 100. With one more season ahead for the Crimson Tide and a growing NIL brand, don't be surprised if her valuation climbs.
Kenlee Newcom – Western Kentucky soccer
On3 NIL Valuation: $117,000
Social media followers: 677,000
Western Kentucky redshirt junior defender Kenlee Newcom has battled through a number of ankle injuries in her soccer career. But she's worked back to become a solid role player for the Hilltoppers. Newcom has yet to play in a match this season. But she played in 12 matches in 2022 and even scored the game-winning goal against FIU.
Newcom has seen plenty of success off the pitch through her social media presence of more than 677,000 followers. She's used her following, including 577,000 on TikTok, to build strong NIL partnerships with top companies like Hey Dude, Raising Cane's, Alba Botanica and others. In fact, the Owensboro, Kentucky, native's promotions of Hey Dude shoes in late August and early September received more than 100,000 social media impressions – a solid return on investment for the company.
Those are key reasons why she has an On3 NIL Valuation of $117,000. That number ranks No. 24 in the On3 NIL Women's NIL 100 and No. 2 in college soccer behind Hiltunen.
Morgan Hurd – Florida gymnastics
On3 NIL Valuation: $100,000
Social media followers: 234,000
Morgan Hurd arrived at Florida in 2022 as one of the most decorated gymnasts in the world.
Hurd was the all-around champion in the 2017 World Championships, and she also took silver on the balance beam. She was also a silver medalist on uneven bars at the 2019 U.S. Championships. Hurd was also a member of the 2016-2017, 2017-2018, 2019-2020 and 2021 U.S. Senior National Team. However, injuries to her elbow and a torn anterior cruciate ligament kept her from qualifying for the U.S. Olympic trials and, subsequently, the Tokyo Games.
After sitting out in 2022, she returned to competition for the Gators in 2023. She finished with a best of 9.825 on the floor and 9.775 on the beam.
Her resume as one of the best in the world created an impressive social media following and a long list of NIL opportunities. It's also helped her build an On3 NIL Valuation of $100,000 – which is eighth in college gymnastics. She's partnered with Target, Intuit TurboTax, Nissan, Nudy Rudy, Alba Botanica and several other brands. The post promoting Nissan in March generated more than 5,500 likes.
"I think because of the injury, it's definitely helped me kind of break out of my shell because I think if I had come to college just kind of ready to compete, I would have stayed in the elite mindset," Hurd told Olympics.com. "I had that like everything I do is for gymnastics mindset. My whole life revolves around gymnastics. And every decision I make is for gymnastics. But, then, because I was injured, I had so much free time, so much pent-up energy. It really helped me kind of put myself out there and get more comfortable with doing things I'd never done before."
Jess Gardner – Nebraska track-and-field
On3 NIL Valuation: $104,000
Social media followers: 350,000
It's safe to say Jess Gardner is a dual threat at Nebraska. She is a standout pole vaulter on the Cornhuskers' track and field team. Yet, she's also transcended athletics and used her platform to create a massive social media presence.
She has more than 127,000 followers on Instagram, and her TikTok has ballooned to more than 225,600 followers with 4.2 million views. Her posts have also been featured recently on a number of sports and entertainment websites.
On the track, Gardner has been recognized as a Big Ten Distinguished Scholar in 2021 and 2022. She also received academic All-Big Ten honors in 2021, 2022 and 2023. This indoor season she finished 10th in the pole vault in the Big Ten Indoor Championships, clearing 13-1 (3.99m). She also won the Mark Colligan Memorial with a mark of 12-7 1/4 (3.84m). With her massive platform, she's executed NIL deals with adidas, Steve Madden, grey street., Scooter's Coffee and others. She also became the first track-and-field student-athlete featured on a trading card through her NIL deal with Leaf Trading Cards. So, it's no surprise that her On3 NIL Valuation is at $104,000 and fourth in college women's track.
About the On3 NIL Valuation
The On3 NIL Valuation is the industry's leading index that sets the standard market NIL value for high school and college athletes. A proprietary algorithm, the On3 NIL Valuation calculates an athlete's NIL value using dynamic data points targeting three primary categories: performance, influence and exposure.
About On3 NIL Valuation, Brand Value, Roster Value
While the algorithm includes deal data, it does not act as a tracker of the value of NIL deals athletes have completed to date, nor does it set an athlete's NIL valuation for their entire career.
The On3 NIL Valuation accounts for an athlete's roster value and brand value. Roster value is the value an athlete has by being a member of his or her team at his or her school, which factors into the role of NIL collectives. Brand value factors in an athlete's personal brand and the value it could bring to regional and national brands outside of the scope of NIL collectives.