NBC Sports Athlete Direct offers NIL opportunities at scale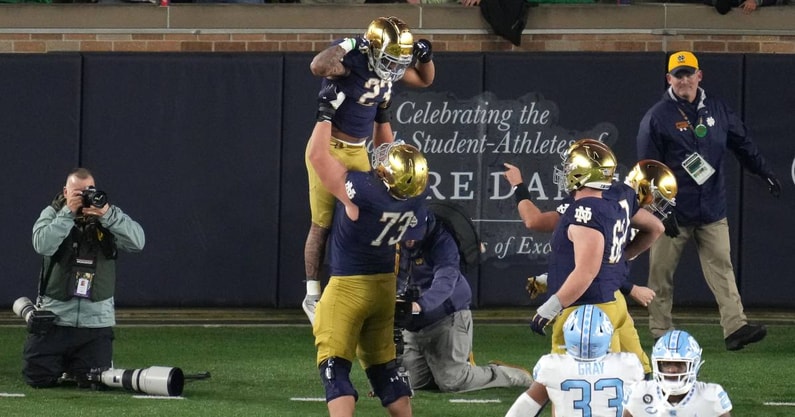 The most prominent connection between NBCUniversal and college athletics is "Notre Dame Football on NBC" — a TV relationship from which Notre Dame could reportedly seek as much as $75 million annually — but the NBC Sports Athlete Direct NIL pilot program is focused on "the other 99%" of athletes.
The pilot program launched in April for athletes at Notre Dame, Temple and Vanderbilt. NBC Sports Athlete Direct provides mutual benefits for advertisers and athletes, including those with only a few thousand social media followers.
"Compared to what we're seeing as reported influencer engagement rates, we are very pleased with how the athletes are performing," Damon Phillips, NBC Sports Group's senior vice president of strategic initiatives, told On3. "There are smaller audiences but they're highly engaged audiences. We're looking at this as more of a scale opportunity that if we can aggregate athletes from across the country — and maybe they only have 2,000 followers or they have 3,000 followers — now you're talking about a national Gen Z influencer network that's highly engaged. And that's what advertisers want.
"They want to find how to reach Gen Z and engage them."
NBC Sports Athlete Direct has two approaches. Phillips referred to one as a turnkey solution and another as a more premium solution, referring to the number of athletes involved in a marketing campaign and the size of their respective social media followings.
"We are very different than a lot of the companies in the space because not only are we coming to you with this Gen Z influencer network, we have the ability to integrate into other sales packages," Phillips said. "We can sell you TV. There's video advertising that we can do on top of what we're doing with NIL. There's digital. There's all these other things that we can do so we can come to you with multiple solutions and NIL is a part of that package."
NBC Sports Athlete Direct pays for analytics
As an example of one NIL opportunity through NBC Sports Athlete Direct, Phillips mentioned MLB Sunday Leadoff. It's the presentation of MLB games that are available on the streaming service Peacock. In advance of a recent game between the Chicago Cubs and Philadelphia Phillies, college athletes from the two markets promoted the game on social media.
"They're authentic fans of the teams," Phillips said.
In exchange for posting on Instagram, TikTok or Twitter, athletes can earn $100 — $70 for a social media post, $20 for posting a story and $10 for sharing the analytics of how their post performed.
"Your question probably is about, 'Why the $10 for analytics?' right?" Phillips said, laughing.
"When we bring advertisers on, they want to understand the return on investment," he explained. "So we are providing a service for our clients and advertisers. The student-athletes — this is also, I think, the really neat thing about NIL — they're learning about business. They're learning about marketing. They're learning about awareness. They're learning about customer acquisition. So it's a great learning experience. They're mini entrepreneurs, right?
"The advertisers that we work with, the brands, they want to know what the performance is."
Phillips said NBC Sports examines the engagement, reach and number of impressions from the posts.
"We have a responsibility, and so does the student-athlete, to make sure that they're maximizing the dollars for the advertiser," Phillips said.
'Not many brands have asked for the metrics'
The strategy from NBC Sports Athlete Direct around gathering social media metrics — and specifically, offering compensation for them — is far from ubiquitous.
Do businesses or brands ever ask for an athlete's metrics from a social media post?
"Not really," said Indiana tight end AJ Barner, "but I feel like when they come to you with the contract it's for, a lot of the money will fluctuate based on how many followers you have. It's definitely something you want to build up just because it's easy to make money off that."
Roughly two-thirds of NIL activities in the first 12 months of the NCAA's NIL era were based around posting content on social media.
According to a survey conducted by NIL consultant Bill Carter of Student-Athlete Insights that received responses from 1,019 college athletes, only 29 percent said they have been asked or required by a company to provide metrics from their promotional social media posts. However, 81 percent of athletes said they check their metrics, whether they're required to or not as part of an NIL deal.
Among those 1,019 athletes, about 70 percent compete at the Division I level. Roughly 61 percent of respondents are men and 39 percent are women. Based on previous data Carter collected, roughly 82 percent of college athletes have personal social media accounts, rather than business, creator or free "pro" accounts.
Former Rutgers men's basketball player Geo Baker told On3 this summer that, "There's been a couple of brands that have asked me for the metrics, like Instagram views and stuff like that, or how many people shared it or clicked the link or whatever it may be. For the most part, honestly not many brands have asked for the metrics."
Today, Baker has roughly 29,000 Instagram followers, plus more than 12,000 followers on Twitter. Yet for some of Baker's past NIL activities, the contractual obligations may have ended the moment he pressed "Share" or "Tweet."
NBC Sports' Phillips: 'Is that curiosity out there?'
NBC Sports Athlete Direct works with CNBC to provide financial literacy resources to athletes. Whether athletes' interest in the business behind a brand is innate or inspired by their newfound economic freedom, it's a valuable trait.
"When you're trying to hire people, you're looking for people with curiosity," Phillips said.
He said it again for emphasis: "Curiosity."
"And you're seeing with some of the student-athletes, is that curiosity out there?" he asked rhetorically. "They want to get better. They want to know how things work. Best practices are a big piece of this. Going back to NBC Sports, we have experts in social media. We have experts in marketing and brand. We're trying to make sure that we can bring these best practices to student-athletes and that's important.
"But it all starts with curiosity. Again, the best NIL programs are going to be learning experiences for student-athletes and so we're hoping we can be a part of that process."