Senators Richard Blumenthal, Cory Booker, Jerry Moran draft bipartisan NIL bill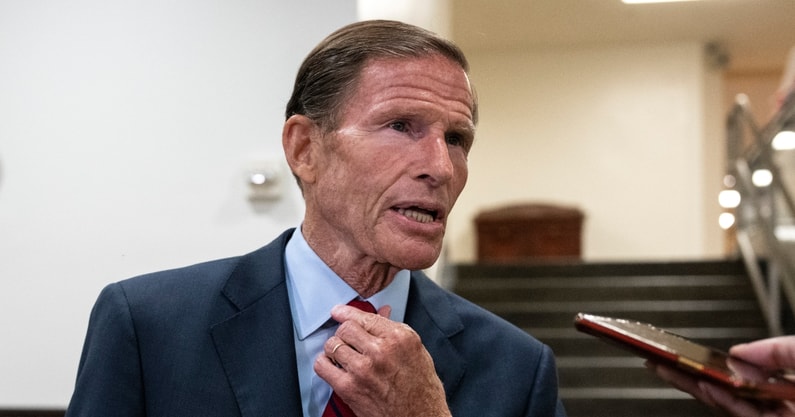 U.S. Senators Richard Blumenthal (D-CT), Cory Booker (D-N.J.) and Jerry Moran (R-KS) released a discussion draft of a bipartisan federal bill to regulate NIL deals and offer medical protections. Yahoo! first reported the news.
The bill's title is the "College Athletes Protection and Compensation Act of 2023." It has not been officially introduced to Congress.
Friday, July 28 marks the last day the Senate is in session before its August recess. The Senate will reconvene on Tuesday, Sept. 5.
None of the previously introduced or drafted federal bills that would regulate NIL deals have gone to a vote.
The discussion draft provides the NCAA with several items on its wish list for the federal legislation first-year NCAA President Charlie Baker has lobbied for.
The "College Athletes Protection and Compensation Act of 2023" would preempt "most if not all" state laws, according to Yahoo!, while also establishing a database and "affording the association a degree of legal protection."
Sens. Blumenthal and Booker, the latter of whom played football at Stanford, previously introduced the "College Athletes Bill of Rights" in August 2022, along with Sens. Brian Schatz (D-HI), Ron Wyden (D-OR) and Alex Padilla (D-CA). The senators drafted the bill to provide health care for athletes and protect women's sports, in addition to providing NIL regulations.
Sen. Moran introduced the "Amateur Athletes Protection and Compensation Act of 2021" in February 2021. In addition to regulating NIL deals, the bill would have required colleges and universities to cover the costs of athletic injuries or illnesses, as long as cover scholarship costs for the duration of time it takes an athlete to complete an undergraduate degree.
The senators' latest, bipartisan bill with Sen. Moran also provides lifetime scholarships and long-term medical coverage, according to the Yahoo! report. It reportedly doesn't address the issue of athletes being classified as employees of their institutions.
Examining the NCAA's aggressive push for federal NIL laws
What else is in the NIL bill's discussion draft?
Yahoo! reported the College Athletes Protection and Compensation Act creates the College Athletics Corporation (CAC) to "serve as an NIL clearinghouse in charge of administering the bill, creating specific policy and regulating and certifying NIL agents."
A major issue with any proposed federal legislation is which entity is tasked with regulating the NIL market – a current federal agency, a newly created one, or the NCAA itself through legal protections provided through a bill.
A 15-member board would serve the CAC, which would be provided with subpoena power.
The bipartisan bill's discussion draft also prohibits NIL deals from being used as recruiting inducements or to retain players currently on a team's roster, according to the Yahoo! report. If the bill is passed, college athletes would be required to disclose their NIL deals to their schools within seven days of entering a deal. High school recruits must disclose all past and present NIL deals prior to enrolling in college.
Institutions would be required to submit an annual report of their athletes' NIL deals, including the total value and average value of their athletes' contracts, for the database the bill would create.
Yahoo! reported athletic departments that earn at least $20 million in revenue would be required to cover athletes' medical expenses for at least two years after their last athletic competition. Departments that report at least $50 million in revenue will be required to provide coverage for at least four years post-competition.
The bill would also create a medical trust fund to cover long-term coverage of athletic-related injuries.