Examining the NCAA's aggressive push for federal NIL laws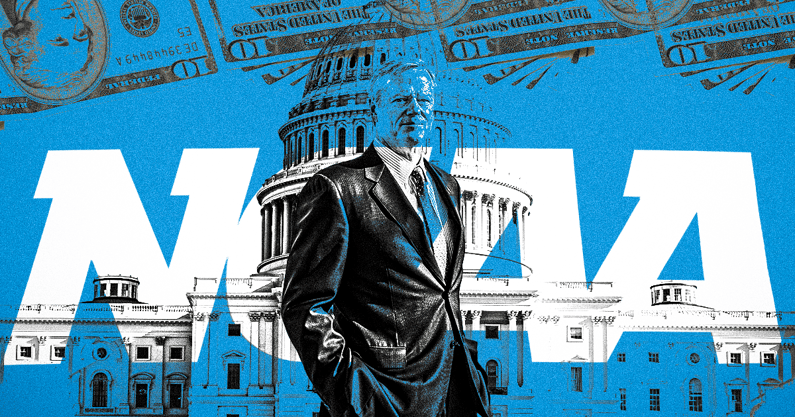 The NCAA is aggressively pushing for federal NIL legislation that checks three very important boxes on its wish list:
A uniform national NIL standard to preempt the patchwork of state laws that have been passed or proposed over the past 23 months, ever since student-athletes have been allowed to monetize their brands.
At the bare minimum, limited antitrust protection at a time when the association is increasingly vulnerable to legal challenges.
A designation that student-athletes are not employees of their schools, conferences or the NCAA.
The intensifying lobbying on Capitol Hill, as well as the flurry of bills whose drafts have been introduced or floated, reflects a college athletics landscape undergoing change at a dizzying pace.
All of this is occurring at the same time states nationwide, most notably Arkansas, Colorado, Missouri, Montana, New York, Oklahoma and Texas, have recently passed or are considering reform squarely aimed at bypassing NCAA NIL oversight.
More legal challenges, specifically Johnson v. NCAA, are working their way through the courts. And the National Labor Relations Board's Los Angeles office has filed its unfair labor practice complaint against USC, the Pac-12 Conference and the NCAA. These machinations are viewed as a slow march toward student-athletes being designated as employees. That scenario would dramatically reshape college athletics.
In pursuit of a palatable federal bill, the NCAA faces a steep climb. Some stakeholders view their efforts in Congress as a "Hail Mary." There is little consensus among Democrats and Republicans on specifics that bills should entail. Republicans generally seek a more narrowly tailored bill. Democrats are pushing for broad reform. And a critical point to keep in mind: Not a single bill related to NIL in the past four years has even gone to a vote. No substantive movement has occurred on any of them.
This high-stakes pursuit of a federal lifeline is playing out as the NCAA is mindful of the clock. With an election cycle looming on the not-so-distant horizon, time is running out. Here are the pieces of potential legislation to follow as the process intensifies. 
College Athlete Economic Freedom Act
Sponsors: Sens. Chris Murphy (D-Connecticut), Lori Trahan (D-Massachusetts)
This is a bill aimed squarely at protecting student-athlete NIL rights.
Among the most noteworthy items is, if passed, the bill would also require schools and athletic associations to obtain a group license from athletes in order to use their NIL rights in any kind of promotion, notably including media rights deals.
Schools and athletic associations would be required to inform athletes how their NIL rights were used and how much revenue those group licensing deals generated. The bill would also prevent NIL collectives and the institutions they support from discriminating based on gender, race or sport.
Also notable, the bill would allow international athletes to earn NIL compensation without jeopardizing their visa status.
Additionally, the Act would prohibit schools, conferences or the NCAA from restricting or colluding on college athletes' earning potential through NIL deals, according to a press release. It would also protect athletes' ability to retain representation, notably including through potential players' associations.
The bill would provide "robust enforcement" if a school, conference or the NCAA restricts athletes' NIL rights, according to the release. The enforcement could include civil action, allowing the Federal Trade Commission to issue "unfair or deceptive practice" penalties and "per se antitrust penalties."
The bill would require collectives to "register with the Federal Trade Commission (FTC) and report the NIL deals they have facilitated so athletes and stakeholders asserting discrimination have all the information they need to address it," according to the release.
The bill would mandate institutional support for all athletes, as well as the commissioning of a report that would provide an analysis of the NIL market.
Sen. Trahan said in a statement: "Rather than trying to turn back the clock, the College Athlete Economic Freedom Act addresses real issues in the current NIL landscape by strengthening athletes' rights, addressing gender disparities in collectives, and closing the international athlete loophole. Congress should look forward – not backward – for policy solutions that prioritize athletes who have long been denied a voice in a billion-dollar industry built on their talent and hard work."
Sen. Murphy said in a statement: "This legislation would enshrine unrestricted NIL rights into federal law and ensure athletes are treated fairly and start getting their fair share."
Ted Cruz's NIL legislation (Unnamed)
Sponsors: Sens. Ted Cruz (R-Texas)
The details in the yet-to-be-named bill would check off nearly every item on Baker's wish list for federal legislation. 
Along with a section focused on liability – all but granting the NCAA an antitrust exemption – the proposed legislation states athletes are not employees and includes a state law preemption. The proposed bill ensures states are barred from enacting laws on compensation, employment status, athlete eligibility or NIL.
The state law preemption is striking because Cruz resides in a state that has recently enacted a new, school-friendly NIL law that football coaches outside the state believe gives Lone Star schools a competitive advantage. Cruz endorses negating that perceived advantage. 
The legislation would create a stricter version of NIL. The final clause of the eight-page document outlines athletes are not employees. 
"Notwithstanding any other provision of Federal or State law, a student-athlete shall not be considered an employee of an institution, conference, or interstate intercollegiate athletic association for purposes of (or as a basis for imposing liability on or awarding damages or other monetary relief under) any Federal or State law based on the student-athlete's participation in, or status as a member of, any varsity sports team," the bill states.
Also important: The draft gives institutions, conferences and the NCAA cover from any fallout from enforcement, stating the parties that, "complies with this Act and the amendments made by this Act shall not be subject to liability under Federal or State law."
For various reasons over time, certain industries and organized groups have been exempted from the operation of US antitrust laws. These include organized labor, insurance companies, and baseball. The NCAA has long pushed for the same exemption, which would not limit the governing body's power in the collegiate market.
The NCAA would be given the power to establish and enforce rules around recruiting and the transfer portal while knowing state laws would not preempt its ruling. Cruz outlines that the NCAA can remove member institutions, plus restrict an athlete's participation in competition and eligibility.
The bill also hits on the need for market transparency, a point of emphasis for Baker. NCAA member institutions would be required on an annual basis to provide anonymized data on all NIL deals, specifically the description of services rendered and the amount of compensation provided. 
From there, a database would be constructed. As the drafted bill states, "An interstate intercollegiate athletic association shall use the anonymized data provided by member institutions … to establish and maintain a publicly accessible, searchable database for student-athletes and their agents to estimate the fair market value for name, image, and likeness agreements."
The NCAA would be required to "take reasonable technical measures" to ensure athletes would not be identified. 
Agents would also be required to register with an intercollegiate athletics association. Any representation that does not register would be required to receive written consent from the athlete.
Protecting Athletes, Schools and Sports Act of 2023
Sponsors: Sens. Tommy Tuberville (R-Alabama) and Joe Manchin (D-West Virginia)
Described as a way to create, "common-sense guidelines for the NIL system across the country," one of the most consequential elements in the bipartisan legislation is that athletes would be prohibited from entering the transfer portal during their first three years of eligibility (with some exceptions). Athletes would have to conform to a uniform standard contract, too. 
Also notable: legislation would ensure, "nothing in the bill would impact the employment status of a student-athlete." The NCAA would be allowed to revoke school licenses to participate in NIL or send violations to the Federal Trade Commission (FTC) or other federal agencies. The FTC could commence investigations if the NCAA violates the act, along with the power to revoke the governing body's tax-exempt status.
Among other highlights: The Pass Act, as it is nicknamed, would force boosters and collectives to be affiliated with a school. It would also prohibit NIL from being used as an inducement in recruiting and the transfer portal. 
It would provide coverage for sports-related injuries for uninsured athletes for eight years following graduation from a four-year university. Larger schools – Power 5 programs – would be required to pay for expenses even after athletes leaves the school. 
Collectives can promote their program, assist in recruiting and assist in providing benefits to recruits, athletes or parents of athletes, but only if the organization is formally associated with the school through an official contract. Contracts would be required to be made public for any non-athlete parties involved in NIL. This would make it ideal for the FTC to launch investigations. NIL deals involving athletes or institutions would be prohibited in specific industries, including drug paraphernalia, dangerous weapons and gambling.  
The Senators signaled last summer their intentions to draft NIL legislation. They've solicited feedback from an array of stakeholders, including administrators and athlete groups. Last fall, they also sought feedback from more than two dozen collectives.
Importantly, Tuberville told Sportico in December that he did not foresee federal legislation being enacted during this Congressional session to include an antitrust exemption for the NCAA. Last August, the Senators wrote a letter to SEC Commissioner Greg Sankey that said in part: "U.S. Congress must act to set clear ground rules for student-athletes and institutions alike. Like you, we have the common goals of protecting student-athletes, ensuring fair competition and compensation, and preserving the time-honored traditions of college sports." 
College Athletes Protection and Compensation Act of 2023
Sponsors: Sens. Cory Booker (D-New Jersey), Richard Blumenthal (D-Connecticut), Jerry Moran (R-KS)
Blumenthal, Booker and Moran released a discussion draft of a bipartisan federal bill to regulate NIL deals and offer medical protections. It has not been officially introduced to Congress.
The draft provides the NCAA with several items on its wish list for the federal legislation that NCAA President Charlie Baker has lobbied for. It would preempt "most, if not all" state NIL laws, while also establishing a database and "affording the association a degree of legal protection."
Blumenthal and Booker previously introduced the "College Athletes Bill of Rights" in August 2022, along with Sens. Brian Schatz (D-HI), Ron Wyden (D-OR) and Alex Padilla (D-CA). The senators drafted the bill to provide health care for athletes and protect women's sports, in addition to providing NIL regulations.
The senators' latest bipartisan bill with Sen. Moran also provides lifetime scholarships and long-term medical coverage. An important note: It reportedly doesn't address the issue of athletes being classified as employees of their institutions. The NCAA, ideally, wants that formal designation in a federal bill.
The bill creates the College Athletics Corporation (CAC) to "serve as an NIL clearinghouse in charge of administering the bill, creating specific policy and regulating and certifying NIL agents." An issue with any proposed federal legislation is which entity is tasked with regulating the NIL market – a current federal agency, a newly created one, or the NCAA itself through legal protections provided through a bill. A 15-member board would serve the CAC, which would be provided with subpoena power.
The bipartisan bill's discussion draft also prohibits NIL deals from being used as recruiting inducements or to retain players currently on a team's roster. If the bill is passed, college athletes would be required to disclose their NIL deals to their schools within seven days of entering a deal. High school recruits must disclose all past and present NIL deals prior to enrolling in college.
Institutions would be required to submit an annual report of their athletes' NIL deals, including the total value and average value of their athletes' contracts, for the database the bill would create.
Athletic departments that earn at least $20 million in revenue would be required to cover athletes' medical expenses for at least two years after their last athletic competition. Departments that report at least $50 million in revenue will be required to provide coverage for at least four years post-competition. The bill would also create a medical trust fund to cover long-term coverage of athletic-related injuries.
The College Sports NIL Clearinghouse Act of 2023
Sponsor: Sen. Lindsey Graham (R-South Carolina)
This bill would establish an NIL clearinghouse with teeth. The clearinghouse would oversee NIL activity, thus eliminating the NCAA's central office from this responsibility. It would be empowered to fine, sue and even ban anyone from participating in college sports, if necessary. The clearinghouse would also be given an important antitrust exemption, enabling it to create more NIL-centric rules. The purpose behind the clearinghouse: monitor compliance, establish and enforce penalties and provide educational information to athletes. The legislation provides some protections to athletes, including prohibiting institutions from limiting playing time or making changes to scholarships as retaliation for an NIL deal. However, universities would possess the power to prohibit their athletes from entering into agreements that would violate state law or the student conduct code.
The clearinghouse would provide any relevant information to the Federal Trade Commission, the Department of Justice or the attorney general of any state. The drafted bill states the attorney general can, "bring a civil action for a violation of this Act in any appropriate district court of the United States." The bill hands significant power to institutions and leagues while it attempts to limit collectives. Missing from the draft of the bill is a proposed designation that student-athletes are not employees. 
The Fairness, Accountability, and Integrity in Representation (FAIR) of College Sports Act
Sponsor: Rep. Gus Bilirakis (R-Florida)
For stakeholders who endorse a narrowly focused NIL bill, this is it. A discussion draft of the 24-page bill was revealed last month by Bilirakis, who chairs the House Energy and Commerce Subcommittee on Innovation, Data and Commerce. The subcommittee held two NIL-focused hearings, most recently in late March. 
The narrowly focused bill aims to protect the rights of student-athletes to earn compensation and sign with agents to monetize their NIL. It would ban so-called pay-for-play schemes by prohibiting boosters, donor-driven collectives and other third parties from offering inducements to recruit or retain athletes. The bill would require transparency and registration for agents, boosters, collectives and third-party licensees when NIL deals are signed to ensure compliance. 
It establishes an independent U.S. Intercollegiate Athletics Commission (USIAC) to oversee, set rules, enforce and provide guidance to student-athletes and collectives. A 21-member board of directors would be appointed by members of Congress. The USIAC would create a registration process, create a database for NIL information and provide quarterly transparency reports. The USIAC would refer enforcement to existing agencies and state attorneys general for agents and third parties, while the NCAA retains enforcement authority for student-athletes. The bill does not address employee status for athletes – a key focus for the NCAA – antitrust protection nor health and medical benefits for athletes. 
The Student-Athlete Level Playing Field Act
Sponsors: Initially Reps. Emanuel Cleaver, II (D-Missouri) and Anthony Gonzalez (R-Ohio)
The bipartisan legislation was initially introduced by Gonzalez in April 2021. However, was revised and released last month by Representatives Mike Carey (R-Ohio) and Greg Landsman (D-Ohio) to include an NIL clearinghouse. 
The Act would create an FTC clearinghouse for each endorsement deal that exceeds $500. It would establish the Covered Athletic Organization Commission to make recommendations to Congress. It would also be charged with "recognizing credentialed athlete agents." The 13-member commission would consist of athletic directors, administrators, coaches, former athletes and sports marketing professionals. Members would be appointed by leaders in the House and Senate. The FTC would also be expected to create a program to register agents who work with student-athletes. Agents would be required to register through the FTC before entering into working relationships with athletes. 
The bill would provide some protections to athletes, including prohibiting institutions from limiting participation as retaliation for an NIL deal or agency agreement. Importantly, the draft specifically outlines that "no state may enforce a state law or regulation" regarding an endorsement or agency contract in college athletics. The legislation calls for a statute to preempt state laws. However, it could still encounter issues related to states' rights of publicity.
This is also notable: The May 24 news release announcing the bill states it would ensure that student-athletes aren't employees, which is protection the NCAA is aggressively seeking. But the actual text of the bill states "nothing in this Act, or the amendments made by this Act, may be construed to affect the employment status of student-athlete who enters into an endorsement contract with respect to a covered athletic organization or an institution of higher education."
The bill has been endorsed by Ohio State Athletic Director Gene Smith, the Big Ten Conference's longest-tenured athletic director. He said in a statement: "NIL laws and regulations remain inconsistent from state to state. Representative Carey's work to bring forth consistent, national NIL regulations will further protect student-athletes and bring order to NIL policies and procedures nationwide."