Kentucky's Oscar Tshiebwe announces NIL deal with Donatos Pizza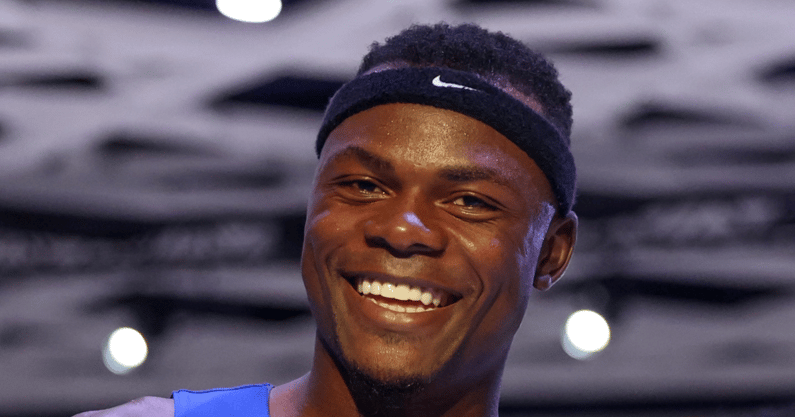 Kentucky forward Oscar Tshiebwe, the reigning Naismith Men's College Player of the Year, announced an NIL deal with Donatos Pizza on Wednesday.
"When I moved to this country from Congo, one of my first English words was pepperoni and cheese," Tshiebwe wrote in a tweet. "I love pizza and I'm excited about this partnership with Donatos Pizza."
In a follow-up tweet, Tshiebwe tagged the Twitter accounts for six Donatos Pizza franchises in Kentucky.
Tshiebwe, who's from the Democratic Republic of Congo, capitalized on Kentucky's foreign tour to the Bahamas in August, when he was able to participate in the filming and photography of promotional material for NIL deals. Individuals who are in the U.S. on an F-1 student visa are only allowed to earn passive income when they're in the country.
Passive income is that in which an individual isn't actively participating in a business or trade.
Multiple NCAA Division I athletic department employees and attorneys have told On3 they believe some forms of group licensing income, such as replica jerseys and t-shirts, could potentially qualify as passive income. However, guidance from universities will typically err on the side of caution given the stakes.
During Kentucky's tour of the Bahamas, The Athletic reported, "Until this week, he'd only been able to license his name, image and likeness — a lucrative loophole that is netting him about $20,000 a month in just apparel sales, one source said." The Athletic also reported Tshiebwe applied for a different visa status — one meant for international celebrities rather than students.
Oscar Tshiebwe navigates visa hurdles
Tshiebwe is the first Naismith Men's College Player of the Year to return to school since North Carolina's Tyler Hansbrough in 2008. In Tshiebwe's first season in Lexington, where he arrived after starting his college career at West Virginia, he averaged 17.4 points and 15.2 rebounds per game — the kind of rebounding numbers that are extraordinary in the modern era.
With an On3 NIL Valuation of $915,000, Tshiebwe ranks No. 25 on the On3 NIL 100 and third among current men's college basketball players.
The On3 NIL Valuation is the industry's leading index that sets the standard market NIL value for high school and college athletes. A proprietary algorithm, the On3 NIL Valuation calculates an athlete's NIL value using dynamic data points targeting three primary categories including an athlete's performance, exposure and influence.
The On3 NIL 100 is the first of its kind and the defacto NIL ranking of the top 100 high school and college athletes ranked by market valuation.
Tshiebwe will earn about $500,000 from NIL deals in which he participated in promotional activities while in the Bahamas, according to The Athletic, including the photo of him with a pizza book that he tweeted Wednesday.