Pac-12 players to become first group to monetize personal highlight videos on Twitter
Come this fall on the West Coast, Pac-12 football players will be utilizing a new way to monetize their NIL. Athletes will be able to share their personal video highlights on Twitter postgame and receive income for their performance on the field.
It's a first-of-its-kind product. There's never been a program like this at any level of sports.
Next to the technology of Tempus Ex Machina, Pac-12 athletes will have their commissioner to thank. While the league has stumbled in recent weeks with the news of USC and UCLA heading to the Big Ten in 2024, George Kliavkoff has spearheaded the initiative. He made sure to craft the Pac-12's deal for its highlights rights to allow this.
Opendorse and Twitter are partnering to provide the needed infrastructure to execute the partnership.
"Athletes monetizing video highlights on Twitter is something we've had conversations about with Twitter for years," Opendorse CEO and founder, Blake Lawrence, told On3. "Before NIL, this is something we discussed. What would it take for athletes to monetize their own highlights on Twitter?
"With NIL, with our partnership with Twitter over the past year, and with a desire for innovation, the Pac-12, Tempus Ex, Twitter and Opendorse worlds all came together at the right time. It's pretty cool."
While Opendorse is established in the NIL space as a marketplace for athletes, Tempus Ex is new to the scene. The technology, data and media company previously announced a partnership with the Pac-12 in March. The startup was founded by former Alliance of American Football head of technology Erik Schwartz. Former NFL receiver Larry Fitzgerald Jr. is an investor, too.
The San Francisco-based company's proprietary FusionFeed technology delivers low-latency data and video, which Pac-12 athletes will be benefitting from. Beginning with football and men's and women's basketball, all Pac-12 student-athletes will have the opportunity to earn income from their personalized game highlights, immediately after a game on their social media accounts.
Sources also told On3 that this could mark the start of video highlights being monetized in college and professional sports.
"It's agnostic," Tempus Ex's co-founder and COO Annie Gerhart told On3. "If the Big Ten called tomorrow, they could have a server in stadiums in 48 hours. If the players in the Big Ten came to us and said 'We want to do this,' the technology does not care if it's Big Ten basketball or SEC softball. All that needs to happen is placing a server in the stadium."
How Pac-12 athletes will monetize highlights
When athletes are playing in the games, Tempus Ex Machina's technology will be capturing film from every angle of every play. This service will not only be available to quarterbacks and wide receivers; offensive and defensive linemen will receive individualized highlight packages.
Following the game, Opendorse will be tasked with making sure the players receive the tape and publish them on Twitter. Twitter Amplify will install pre-roll advertising of the highlights. Student-athletes will receive a flat fee for their participation from Opendorse. They could also see a check come in after the video debuts, dependent on the number of views it receives.
No exact contract numbers were disclosed.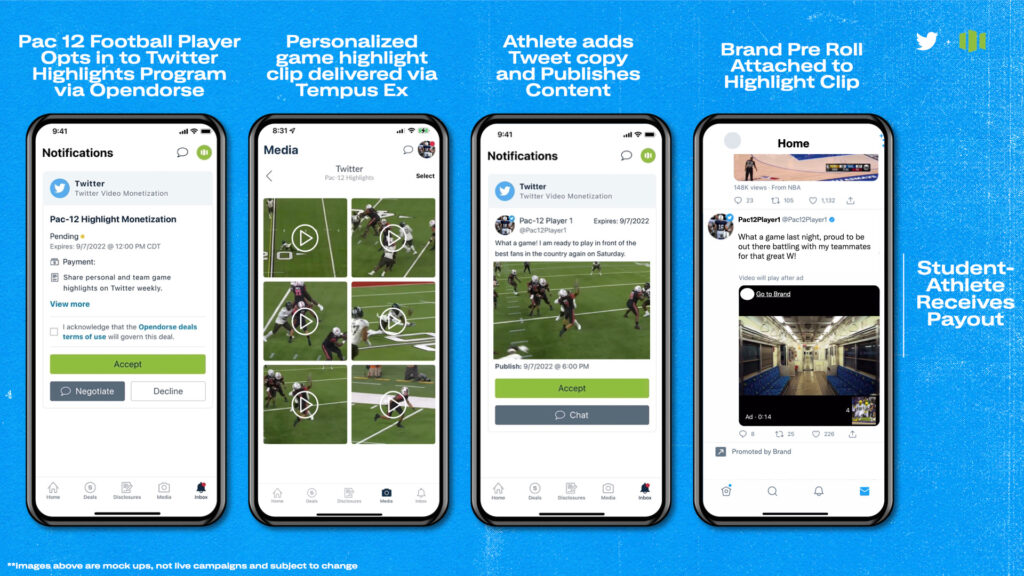 "The Pac-12 is committed to providing our student-athletes with best-in-class technology, tools and promotional platforms that support their individual brands," Kliavkoff said in a press release. "Our partnership with Tempus Ex is focused on enhancing our student-athlete and fan experiences, and today's announcement is another important step in positioning the Pac-12 as a leader when it comes to student-athlete promotion and brand building."
What this means for future of NIL
In the first fiscal year of NIL, the driving force has been deals that have occurred on marketplaces or with major name brands. There has been close to no NIL innovation at the league-wide level — until now.
What the Pac-12, Twitter, Opendorse and Tempus Ex have announced Thursday is something that gives access to all players. And it allows athletes to truly profit from the work they execute on the field versus spending time at a photoshoot or signing autographs.
It's unprecedented. And it could change how the college sports world thinks of NIL.
"It is true innovation and it's new to all of sports and athlete media. Video highlights are kept off of lock and key," Lawrence said. "This is something — we've got a breakthrough here. The Pac-12 is the first conference. It says a lot about how they've handled their video highlights rights. They've always been a leader in social media and digital media monetization.
"We think there's a world where — it's difficult for conferences to lend a helping hand in creating NIL monetization opportunities for student-athletes in their conference. Conferences and media monetization. That's where conferences can make a major impact and give athletes access to their own media."