Rival Iowa, Iowa State student-athletes join 'Team Kum & Go' through NIL deal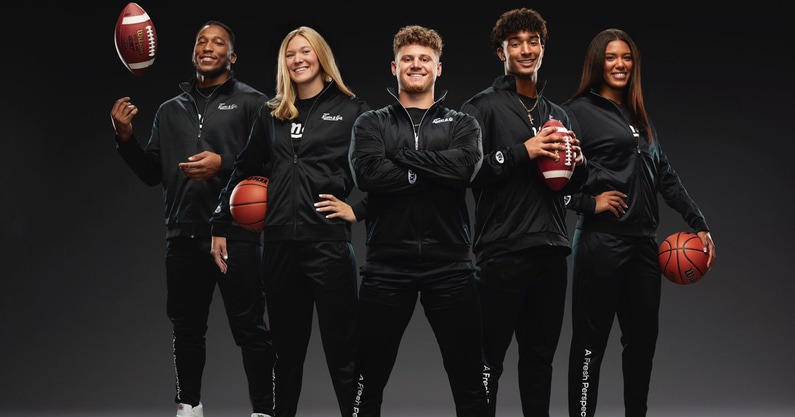 Iowa walk-on wide receiver Jordan Kumm has some new teammates thanks to his NIL deal with gas station chain Kum & Go.
Kumm, a walk-on transfer from Iowa Central Community College, garnered national attention when he sent a direct message to the convenience store on Twitter earlier this summer. Kum & Go replied, asking for contact information to talk before, ultimately, sending him a contract for a NIL deal.
Now Kumm is the "captain" for "Team Kum & Go." He is joined in a NIL partnership with four other athletes from Iowa and in-state rival Iowa State. Also joining the team through NIL deals are:
What makes the deal even more special is that most of the student-athletes have deep local ties throughout Iowa. That's important because the convenience store that prides itself as a "restaurant that serves gas" with locations throughout the Midwest is headquartered in Des Moines.
Nwankpa was the top recruit in the state last season. Joens was a five-star recruit out of Iowa City High School. Plus, Gyamfi was the star on the Class 5A Iowa state championship team during her senior year.
The terms of the new NIL deals were not released. But the reception to the deals was met with a lot of positive attention on social media – much like when Kumm originally landed his deal in April.
"When they hit me back I was just like in awe really," Kumm told ABC 9 in Cedar Rapids, Iowa. "Being a walk-on, you don't really get the NIL opportunities that scholarship athletes get."
Kumm gets free gas and merchandise for the deal with Kum and Go.
The Iowa and Iowa State football teams face each other Saturday in Iowa City for their annual CyHawk Showdown.