The 1890 Initiative signs NIL deal with Nebraska quarterback Casey Thompson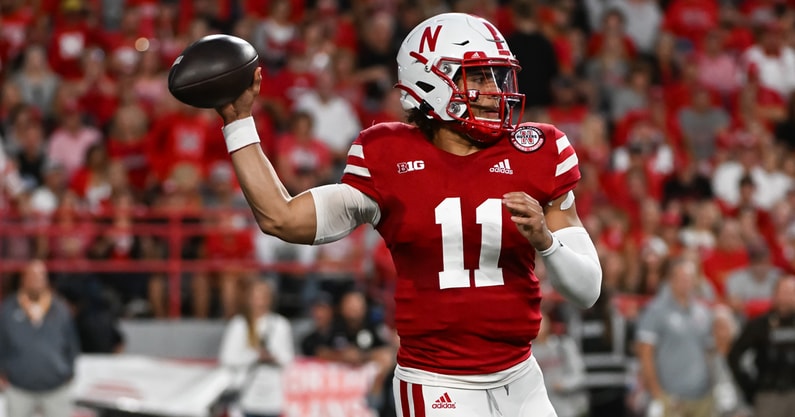 Simply put, when you're the starting quarterback at Nebraska, you're one of the most important people in the Cornhusker State. So, it's no surprise to see that returning senior quarterback Casey Thompson has signed a NIL deal with The 1890 Initiative, the Husker-focused collective that has been working hard over the past few weeks to help new coach Matt Rhule with roster retention.
The terms of Thompson's deal with 1890 were not released. But this is the 11th NIL deal 1890 has announced with key returning football players on the Cornhusker's roster since the start of the new year.
The collective, founded by former Husker great Matt Davison and Nebraska businessman Tom Peed and Shawn Peed, has also agreed to NIL partnerships with defensive backs Quinton Newsome and Myles Farmer, running backs Ajay Allen Jr. and Anthony Grant, offensive linemen Turner Corcoran and Teddy Prochazka, receiver Marcus Washington, defensive lineman Ty Robinson and linebackers Nick Henrich and Luke Reimer.
The collective is also helping support roster retention with the nationally respected Cornhusker volleyball program.
Casey Thompson ready to battle for starting job in 2023
But make no mistake, Casey Thompson is a key piece of 1890's focus on helping keep the top playmakers in Lincoln.
Thompson battled through injuries to start 10 of 12 games at quarterback in his first season at Nebraska in 2022. He missed the Minnesota and Michigan games because of an injury.
He completed 63% of his passes (173-of-274) for 2,407 yards and 17 touchdowns while adding five rushing touchdowns. Thompson had three 300-yard passing games in 2022, becoming only the fifth quarterback in Husker history with three 300-yard passing games in a season. He also threw at least one touchdown pass in each of his 10 games.
Thompson will be a sixth-year senior in 2023. He recently underwent a procedure on his throwing shoulder that likely will sideline him during spring ball, Nebraska's first spring season under Rhule and new offensive coordinator Marcus Satterfield.
As it stands, Thompson could be one of six scholarship quarterbacks on the roster for spring ball. Another will be Jeff Sims, the former Georgia Tech starter who recently announced he'll transfer to Nebraska. But Thompson's father recently told On3's HuskerOnline's Steven Sipple his son plans to be the starter in 2023.
"Listen, his thinking is he left the season as a starter and he expects to return and start next season," Charles Thompson said. "That's where his mindset is. There's been no doubt what Casey is planning to do. The coaches have been fully aware of that. Everybody's on the same page."
Thompson's On3 NIL Valuation
Casey Thompson has an On3 NIL Valuation of $312,000, which ranks second on the Huskers' roster.
The On3 NIL Valuation is the industry's leading index that sets high school and college athlete's projected annual value (PAV).
A proprietary algorithm, the On3 NIL Valuation establishes the overall NIL market and projected 12-month growth rate by measuring two categories, Brand Value Index and Roster Value Index.  
The Brand Value Index measures the national licensing and sponsorship market. The Roster Value Index collects data from all school Collectives into a proprietary Roster Management software. Brand Value and Roster Value are combined to create the overall NIL market.
Using the overall NIL market size, the On3 NIL Valuation calculates an athlete's Brand Value and Roster Value by using dynamic data points targeting three primary categories:
+ Performance
+ Influence
+ Exposure
While the algorithm includes deal data, it does not act as a tracker of the value of NIL deals athletes have completed to date, nor does it set an athlete's NIL valuation for their entire career. The On3 NIL Valuation calculates the optimized NIL opportunity for athletes relative to the overall NIL market and projects out to as long as 12 months into the future.
The On3 NIL Valuation is publicly available. Performance, Influence, and Exposure ratings along with the athlete's personal Brand Value Index and Roster Value Index are available only to the athlete in the "Athlete Verified" private dashboard on the On3 Athlete Network.