The Players' Lounge launches first ever LSU digital player cards through NIL deals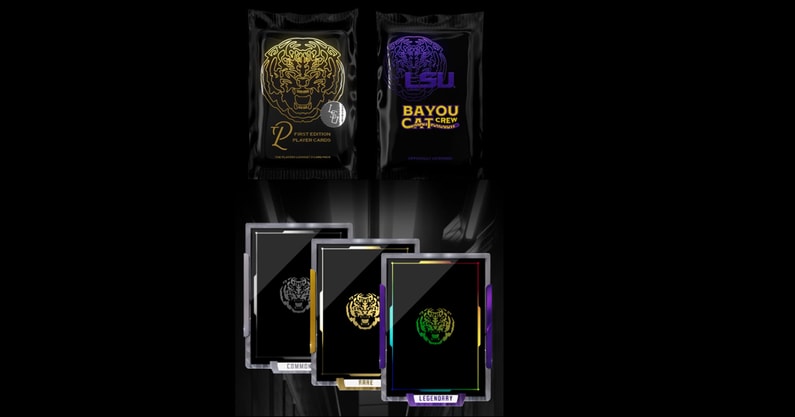 The Players' Lounge continues to find creative ways for players to maximize their NIL partnerships and engage fans in new ways. Tigers' receiver Kyren Lacy announced one of the newest ways – an LSU digital player card.
While NFTs are becoming more and more common in the NIL space and other companies like OpenLocker are experiencing success with digital collectibles, this digital card is the first to support Lacy and his teammates at LSU. Plus, the cards are officially licensed and feature LSU's logo and official colors.
How can fans purchase them?
Here's how it works: Fans sign up for an account with The Players' Lounge and create a Dapper wallet, otherwise known as a "smart digital wallet" that securely stores NFTs and other digital collectibles. From there, fans can then purchase the card pack from The Players' Lounge and each pack mints for $29.
Inside the drop are three cards to start the collective and only 4,000 cards were released on the launch date. An additional 6,000 packs will be released throughout the season with three players cards in each pack. Drops will also include three card rarities – common, rare and legacy. The Players' Lounge also says player cards will evolve with badge upgrades all season long.
"All season long players will receive badges based on reaching set milestones," the company's website says. "Each badge will then evolve as new milestones and stats are achieved. Start with a bronze badge and watch it grow into a legendary. There is plenty of room for your collection value to grow. There are badges for every position including gunslinger, Pick Magnet and Griddy just to name a few."
Proceeds from sales are split evenly between the players and The Players' Lounge to "support their college football journey through NIL." The deal was brokered on the Icon Source marketplace.
Why are NFTs linked with NIL?
When laws changed allowing student-athletes to make money off NIL, student-athletes began to explore different ways to monetize their brands. Some turned to traditional forms of brand building through commercials and other endorsement deals.
But some savvy student-athletes and collectives have gravitated toward the booming NFT market as ways to make money.
The actual NFTs come in two different types:
Student-athletes work with companies to create collectible digital artwork that features the player's name, image or likeness, much like a baseball card. Their value will fluctuate on the collectability. But student-athletes can also benefit in perpetuity from sales of NFTs featuring their intellectual property.
A collective or a third-party company like The Players' Lounge sells a limited number of non-player-specific NFTs, then split the profits with student-athletes in that market. Deals like this were wildly successful with 13 Georgia football players after the Bulldogs won the national championship. Those NFTs featured an artist-rendered bulldog.
The Players' Lounge reshaping NIL with NFT experiences
Overall, there are currently 1,259 NFT cards available for purchase on The Players' Lounge website with the lowest going for $4 and multiple going for six figures and even one for $1 million. They also have agreements with players from all over the country, including at top programs Alabama, Oklahoma, Texas, Georgia, Tennessee and Clemson. The company is also working to reshape NIL with NFT experiences.
The Players' Lounge Experiences offers fans the chance to bid on unique, memorable and interactive experiences with their favorite athletes.
The first experience took place this summer at the BMW Performance Center in Greer, S.C. with Georgia running back Kendall Milton. Members of The Players' Lounge DGD Mafia bid on one of five NFT experiences at the course. The top bidder got to drive with Milton on the track. The remaining four winners were paired with UGA lettermen.
"At The Players' Lounge, we are committed to bringing fans one-of-a-kind experiences they can't find anyplace else," said Aaron Murray, Co-CEO of The Players' Lounge and former UGA quarterback. "Never has a company allowed fans this type of access and interaction with their favorite athletes. As I think back to my playing days, most of my interactions with fans were brief and surface-level. The Players' Lounge – Experiences allow for fans to have in-depth conversations and interactions they simply would not be able to have otherwise. "We are so excited to facilitate these memories of a lifetime for loyal fans."