Athletes explain what causes them to turn down an NIL deal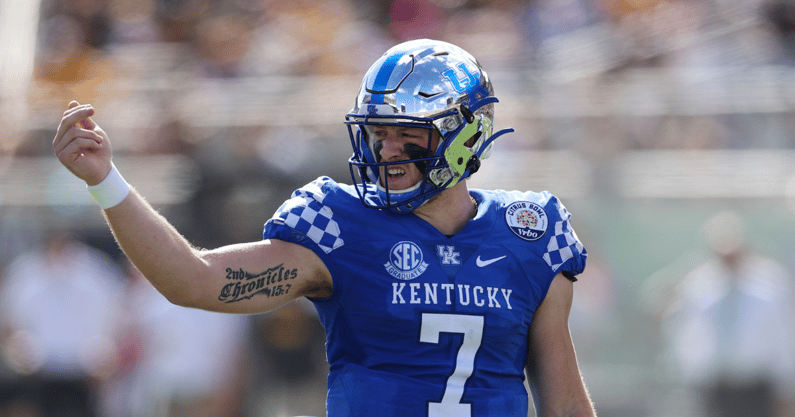 ATLANTA — College athletes say pitfalls in NIL deals can take many forms. They might reject an offer due to too little compensation. They may not have a seat at the table in a marketing campaign or if they do, they might interact with a serial mansplainer. Or, they might have to pay for supposedly free products with the hope that they'll later be reimbursed.
On social media, billboards and even cable TV, you'll see the proof of NIL contracts that have been signed and executed. But what went wrong in the offers or negotiations for NIL deals that never materialized?
On3 asked athletes at the inaugural NIL Summit what causes them to turn down an offer and what contractual clauses are potentially the most dangerous to athletes.
Kentucky QB Will Levis on rejected NIL deals: 'Quite frankly, compensation is usually the one that…separates it'
When asked why they've turned down past offers, athletes most often pointed to compensation.
"I mean, quite frankly, compensation is usually the one that ends up being the one that separates it," said Kentucky quarterback Will Levis. "Based on previous deals that I've done, I kind of have a set idea of what my rate looks like, and a lot of companies, it makes sense that they don't want to reach that and it's just kind of like, whatever."
Like Levis, several athletes described the learning curve of determining their worth, a process that began July 1, 2021.
"When I was starting off slow, I was doing it for the product and wasn't really worried about the money," said Norfolk State two-sport athlete Rayquan Smith. Smith has been dubbed the "King of NIL."
"But now as I grow my business and grow my platform, market myself," he said, "it's a business. I ain't going to say I need the money, but I'm not going to short myself of the money because I know what I'm worth now."
"First thing is obviously compensation," said Aquinas College volleyball player Chloe Mitchell, a co-founder of the marketplace PlayBooked. "I'm not going to lower my rates just because I want to work with this brand, as much as I want to. Word's going to get around that you lowered your rates and then it's just going to be [a] downhill trajectory. I understand that. It took me a while to get that."
Florida A&M's Destini Pickens on being asked to pay for products upfront: 'It sounds really good until you get to the end'
While UCLA quarterback Chase Griffin exclusively agrees to NIL deals where he's paid in cash rather than compensated in free product, the latter is common in the current NIL market.
A specific type of deal that offers free product, or "in-kind payment," can be especially unappealing.
Florida A&M track and field athlete Destini Pickens, who runs the 400-meter dash, has agreed to several NIL deals through Mitchell's PlayBooked marketplace and she said she signed one with ZipRecruiter. Pickens said she doesn't mind receiving free products as compensation. However, she has encountered companies, typically through Instagram, that asked her to front the money to pay for the product, then the companies say she'll be reimbursed later.
That's when she'll say no to a deal.
"It sounds really good until you get to the end," Pickens said. "It's like, 'OK, well now you just have to pay for these things and you will be reimbursed,' and it's like, 'Oh, never mind.'"
She said those potential deals have typically involved beauty products. The companies didn't inform her until she had already started the process. The deals initially sounded promising. She picked out the products she'd like to try and then boom. She learned she's supposed to pay for them in order to complete the deal, which would've left her hoping for full and fast reimbursement.
"I wouldn't say all athletes have a lot of money to pick 10 or 20 products that are already expensive," she said, "for it to end up being like maybe $80 and you have to already pay that to maybe get it back [in] three to five days."
It's not a common practice but it does exist.
"Paying upfront," Mitchell said, "that's not necessarily normal but that has happened to me twice."
Chloe Mitchell on NIL: 'If you're paying me to do something and talk about something, don't undervalue my expertise'
Guest speakers at the NIL Summit encouraged athletes to approach NIL activities with the big picture in mind. The compensation is important, especially when it's cash or equity, but beyond that, they asked athletes, how can you make connections, build your brands and develop skills that will hopefully last a lifetime?
Mitchell, who was a trailblazer in the athlete-as-influencer market, acts as her own agent with the help of her mother. She previously signed with Digital Brand Architects, or DBA, a Los Angeles-based agency. After studying her former agent, she learned the lingo of the industry and what connections she should make. Mitchell said she closed her three biggest deals in the last year because of her self-education.
When Mitchell is negotiating a deal, she wants to have hands-on involvement.
In addition to not being offered enough compensation or simply not liking a product, Mitchell says no to an NIL deal "if the people I'm working with don't give me a seat at the table and don't want to hear what I have to say."
"If you're paying me to do something and talk about something, don't undervalue my expertise," she said. "I'm trying to say that in the most humble way possible but having a seat at the table, especially when working with businessmen. I've had the incredible opportunity to meet a lot of incredible businessmen but some of them are serial mansplainers and that's hard. That's hard to deal with."
Chloe Mitchell: 'Everyone says there's no stupid questions. I'm the queen of stupid questions'
Athletes told On3 the most important clauses to look for in contracts relate to exclusivity (or non-competes) or perpetuity. Either one can provide a company with more of an athlete's NIL rights than desired.
"Anything that has a hold of you for a certain amount of time," said Griffin, the UCLA quarterback. "I think it's important that you to remember A, the deal better be paying what's worth that time, and then B, don't get locked into something that you think you can do better than, potentially, in three to four, five months."
Duke cross country and track and field athlete Emily Cole said athletes should keep an eye out for contracts that don't list an end date. Don't grant a company exclusivity, she said, or else an athlete might end up asking, "OK, well, what if I want to work with another brand in a year and I forget that this exists?"
She said to be careful when signing contracts that list hourly rates, which could prove to be vague in application. Specific, flat-rate prices allow for more clarity. However, on the other end of the spectrum, Cole said to be wary of language that gives companies too much control.
"There have been a few companies that'll try to slip it in to where they can put my image on all of their promotional things and on their website and things like that," she said. "I'm like, 'That's a whole separate thing.' They're going to have to either add more into (the contract) or negotiate that differently."
Athletes should be in a good position "if you have a good lawyer and you know what to look for," Mitchell said, before adding, "and you also ask stupid questions."
"Everyone says there's no stupid questions," Mitchell said. "I'm the queen of stupid questions. Ask the stupid questions and don't be afraid to make a fool of yourself because people will like you when you're trying to educate yourself."