Athletes lean on family, friends to navigate representation in NIL era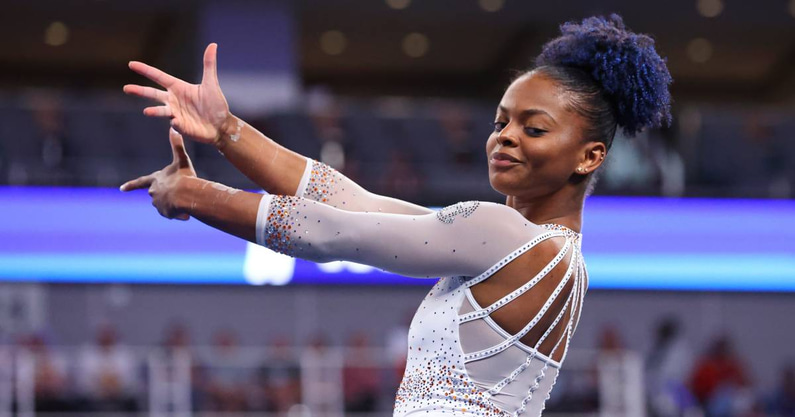 ATLANTA — Florida gymnast Trinity Thomas knows a thing or two about good vibes. As a senior, Thomas was the NCAA champion in all-around, uneven bars and floor exercise. She had 12 perfect 10s on the season, including seven in floor exercise, where gymnasts can really let their personality shine. Twelve times last season, the judges might as well have said Thomas' vibes were perfect. When navigating the process of finding representation in the first academic year of the NIL era, Thomas kept track of good and bad vibes.
Like some other marquee athletes (and brands), she didn't rush into her first NIL deals on July 1, 2021.
"I definitely sat back and watched for a little bit because I was concerned and a little bit unsure about everything," Thomas said at the inaugural NIL Summit. Michael Raymond, the founding president of Raymond Representation, was the first agent Thomas interviewed. She said Raymond made her feel comfortable. She met his team. She trusted him.
"I'm a vibes person and I got great vibes right away," Thomas said. "My mom was like, 'OK, we like them. OK, that's great. Let's talk to some other people,' and so I ended up talking to one other person and I was just like, 'I don't like him.' I was like, 'I'm not getting good vibes,' and so I ended up going with Raymond Representation."
Duke cross country and track and field athlete Emily Cole also signed with Raymond Representation. "There was actually a TikTok competition that I ended up winning. It was like a $10,000 TikTok competition and one of his athletes got like fourth place, so he reached out to me afterwards. … I'm really grateful that kind of ended up falling into my lap, thanks to TikTok."
When pressed to describe the "bad vibes" of the second agency she interviewed, Thomas said, "Honestly, kind of arrogance. Not really so much, like, saying, '[Here's] what I can do for you.'"
She said the agency seemed to be more focused on money and not her as a person.
DePaul's Jalen Terry: 'I realized I'm worth more than what they tried to give me'
In the NIL era, where seemingly everyone is selling something, including agents, attorneys, athletes, coaches, brands, and technology and compliance partners, athletes told On3 that they often leaned on friends and family they could trust in order to know which strangers they could trust.
DePaul guard Jalen Terry, a rising junior, recently signed with an agency but "As a newbie to it, I really didn't understand the percentages and all that type of stuff," he said, "so I had to sit down and think. I realized I'm worth more than what they tried to give me."
Similar to athletes' taxes, those who are often in the best position to find representation are the ones with parents, or other close friends or relatives, who have experience in the field. Terry turned to his uncle, Ben Cunningham, a CPA who has advised athletes, including NBA players, as to what Terry should look for in an agency.
"He guided me in the right direction," Terry said.
Initially in negotiations, Terry faced a potential arrangement where an agency asked for about 30 percent of his future earnings. "They tried to high-ball him, percentage-wise," said Carly Dressler, DePaul's assistant athletics director for NCAA compliance and leadership.
Will Levis on NIL agency: 'I saw the success that they had with them, I really trusted their ability'
Kentucky quarterback Will Levis, who is among the first quarterbacks listed in 2023 NFL mock drafts, elected not to get involved with NIL last college football season. However, several of his teammates signed with the Lexington-based agency Athlete Advantage. "When I saw the success that they had with them, I really trusted their ability to represent me," Levis said. "They've done a really, really good job for me, mostly just at a local level with companies that really have good ties into Kentucky."
He said he also partnered with an agency that helps him from a national perspective.
Like Terry, Levis said it's important for athletes to do their research, especially regarding industry standards for marketing fees or percentages.
"You got to know what the rate is and you can't get screwed over because you didn't do your research," Levis said. "As long as you find that consensus answer from people that you trust and you're ready to go forward — until you get to that point — you shouldn't do anything."
UCLA QB Chase Griffin: 'I thought no one else would be able to sell me like me'
Two of the most prominent athletes in terms of their approach to NIL are Aquinas College volleyball player Chloe Mitchell and UCLA quarterback Chase Griffin. Mitchell, the co-founder of the marketplace PlayBooked, was named Innovator of the Year at the NIL Summit. Griffin was named Male Athlete of the Year.
What do the NAIA Olympic-sport athlete and the Power 5 quarterback have in common?
Each athlete represents herself or himself, with the help of a parent. Mitchell's parents, whom she praises as entrepreneurial, work in entertainment. Mitchell's mother — "She's a badass," Mitchell said. "She's a mom-ager through and through" — will sometimes serve as a go-between in negotiations with companies.
Griffin said his father has worked in the space, too.
"I thought no one else would be able to sell me like me, and no one would be motivated to sell myself like I am," Griffin. "Plus, all the skills that I'm building and being able to present myself and market myself will be with me for a lifetime."
"That's no diss to agents," he added, noting that he meets them at events such as the NIL Summit. But he knows that agents hope to develop relationships with athletes like him, an aspirational football player who hopes to reach the NFL someday. Sure, he said, there are agents who operate with goodwill and almost treat their work with college athletes as philanthropic, but many see the athlete's future professional payday.
Griffin, the quarterback who strictly engages in cash-only deals so that he can invest his earnings, also wants to invest in himself with the skills he has developed while representing himself.
Mitchell initially signed with Digital Brand Architects, or DBA, a Los Angeles-based agency. "I didn't even understand the magnitude of them wanting to sign with me until I saw who was also signed with them," she said. "I studied. I looked at what my agent was doing. She was taking 20 percent, as an agent does, but that's 20 percent that I also wanted. So I learned the lingo, I learned who I needed to talk to."
When Mitchell's agent pivoted to a new role in January, she offered to help Mitchell find a new agent.
"No, I don't want one," Mitchell told her. "This is like an opening door for me."
"Now I'm my own agent," Mitchell said. "I can proudly say I've closed my three biggest deals in the last year because of said self-education."