College football countable coach rule unlikely to pass for 2023 season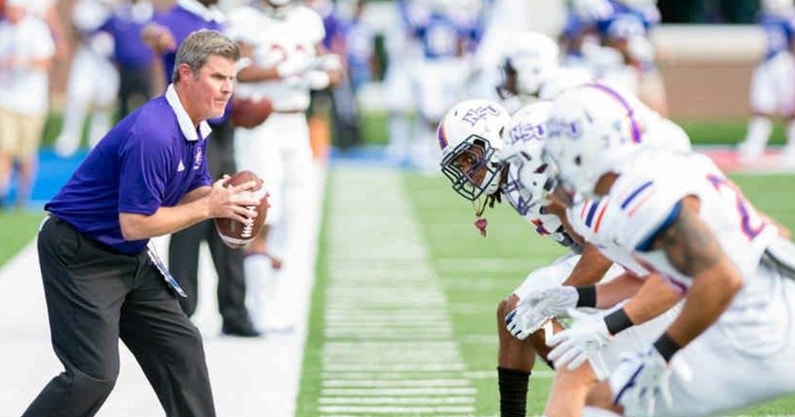 The structure of college football coaching staffs now appears unlikely to change in advance of the 2023 season.
The proposal to allow analysts and other off-field staffers to coach during practice is not expected to pass before the 2023 season, American Football Coaches Association executive director Todd Berry told On3.
The proposal originally had been expected to pass in January and was even advanced by the Division I Football Oversight Committee before being tabled by the Division I Council. Still, there had been an expectation around the college football coaches world that the rule would ultimately pass before this season. It now appears that won't be the case.
"I've told the group that I'm disappointed because we led people to believe that something was going to happen," Berry said. "And not just us, but a lot of entities because there were a lot of conversations kind of going on privately and publicly about that this was likely to happen. And while I know that there's always risk that things aren't going to turn out until they actually happen and you don't do things until they actually happen, we have a lot of coaches that have made moves based off an assumption and now you're talking about their whole career has changed."
Word already has started to reach coaches and team officials. A high-ranking team official from a Power 5 team shared with On3 during the weekend that he'd heard the rule won't pass before this season. There's an expectation, including with Berry, that schools may receive official notice in the near future.
"The rule's not going to pass even though there's overwhelming support for two reasons," the team official said. "One, everyone agrees any staff member should be able to coach during practice but it's somewhat split on anyone coaching during games. Two, schools are preparing for student-athletes to be employees, so trying to have the money to pay them and don't want to have to pay unlimited coaches."
While there was a setback with the football coaching staff proposal, the Division I Council did approve increases for the number of countable coaches allowed in men's basketball, women's basketball, baseball, softball and ice hockey. Baseball, softball and hockey teams will now be able to have four full-time coaches instead of three. Men's and women's basketball teams can add two coaches who can't recruit off-campus.