Alabama coach Nate Oats gives injury update on Brandon Miller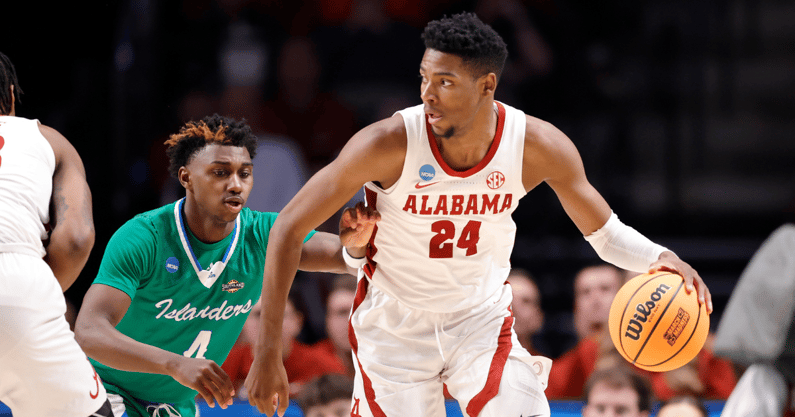 BIRMINGHAM, Ala. — For the first time in his college career, Alabama star Brandon Miller was held scoreless in a game. During the opening round of the NCAA Tournament, the freshman phenom played 19 minutes and had five rebounds and three assists, but no points.
The reason? A groin injury Miller suffered during the SEC Tournament last weekend.
Top-seeded Alabama didn't have any trouble in the first round though. It still beat No. 16 seed Texas A&M-Corpus Christi by 21 points with a 96-75 final score. That was mostly due to some impressive efforts from guys like Nick Pringle (19 points, 15 rebounds), Mark Sears (15 points, 3-of-4 from three) and Charles Bediako (nine points, eight rebounds and four blocks).
Still, Alabama can't continue to survive in this tournament with its best player not contributing in the scoring department. Or maybe it can, but at the very least, things become a lot more difficult. So what is Miller's status ahead of the Round of 32 matchup against No. 8 seed Maryland?
Alabama head coach Nate Oats provided an update on Friday.
"He's getting treatment already this morning," Oats told reporters. "He got it last night. He's going to get a lot more this afternoon. We're holding him out of anything live in practice today, not that we're doing a whole lot of live stuff with the game yesterday and one tomorrow. He'll shoot and do some non-live stuff.
"I think he's going to be alright. He seemed like he was moving alright. It obviously bothered him. He didn't shoot it particularly well, but he seemed like he was moving decent. So he's just got to get his confidence back that he could play with it.
"Hopefully, all the non-live stuff he does today in practice, he can get to where he's moving well, shooting it well, and then be ready to go. It obviously wasn't one of his better games to open, but I think, knowing Brandon and how tough he is, physically, mentally, I think he'll be ready to go tomorrow."
It would be great if Miller was able to go. This Maryland squad has beaten some quality teams this season, including Miami, Illinois, Indiana, Penn State and Purdue. Some of its losses were to Tennessee (56-53), Purdue (58-55) and Penn State (65-64). The Terps are a better team than many give them credit for.
Miller leads Alabama in points (19.1), rebounds (8.2) and three-point percentage (39.6%).
"He's obviously been our most talented, best player all year," Oats said. "If he's not able to go at 100 percent, he's probably still a pretty good player at 75, 80 percent. Hopefully, we can get him playing better than he did yesterday.
"He told me in the second half, 'If you don't need to put me back in, don't put me back in. It's hurting.' So I didn't. But I think he's smart enough to know if he can go or not and help us. If he can't, the good thing about our team is we've got a lot of depth."
If Miller isn't back to 100% on Saturday, we'll see if that depth can step up once again to help the Crimson Tide get back to the Sweet 16 for the second time in the past three seasons. Oddly enough, a 96-77 victory against Maryland is the game that got them in the Sweet 16 back during the 2020-21 season.
This Terps squad currently has 22 wins versus the 17 it had the last time around though.
Not a member? Join BamaInsider!
Have you subscribed to BamaInsider.com? You can sign up now for $29.99, which gets you premium access until Aug. 31, 2023! Or, you can also get monthly access for just $9.99 per month. Get access to premium articles covering the University of Alabama athletics, recruiting content and also join thousands of Crimson Tide fans on the Talk of Champions message board! CLICK HERE!