Clemson Tigers land speedy 2023 WR Nathaniel Joseph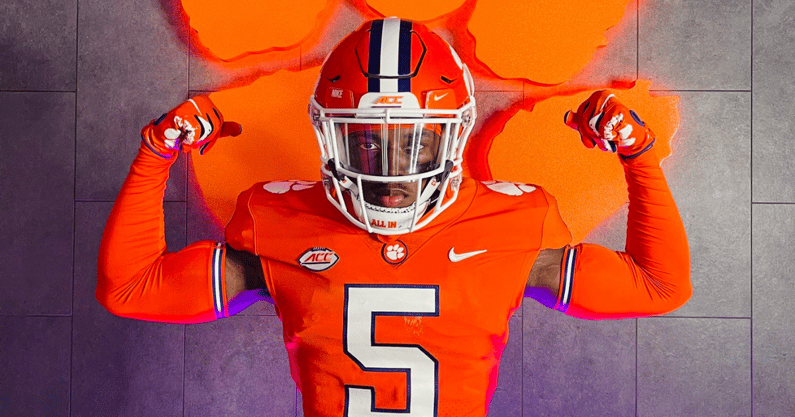 Clemson has once again dipped into Florida to land a coveted wide receiver.
On Friday, Miami Edison pass-catcher Nathaniel Joseph announced his commitment to the Tigers, becoming their first pledge in the 2023 class. Clemson won out over the in-state Florida Gators and Florida State Seminoles, as well as Texas A&M.
Joseph, who visited Clemson on June 11 and received an offer nine days later, knew for quite some time that the Tigers would be his choice. 
"I knew it was Clemson a while ago," Joseph told On3's Chad Simmons when discussing his decision. "Me and my family just had that feel for Clemson… like, I had a lot of offers, but when I thought about Clemson, it was just different. Then, I did my homework on Clemson and the other schools just didn't compare."
Coaches 'pumped up' about commit
With his junior season having begun just two weeks ago, Nathaniel Joseph is still relatively in the early stages of his recruiting process.
He committed with over a year left to go until the Early Signing Period begins, but Joseph felt now was the ideal time to wrap up his recruitment.
"I feel now is the right time for me to commit because I had a lot of talks with coach (Tyler) Grisham, and I see Clemson just missing some speed from the slot position," Joseph said. "It's just a perfect fit for me. My family felt the same way, so I just wanted to lock in."
On Aug. 25, Joseph revealed on Twitter that he was going to be announcing his commitment in September. He said he notified Clemson's coaching staff of his decision either the day before or after.
Grishman was the first one to receive the good news, followed by head coach Dabo Swinney.
"I told coach Grisham that I wanted to commit first and he was pumped up and excited about it," Joseph said. "He told the entire staff about it and it was just great. Then, I talked with coach Swinney and we had a long conversation on FaceTime. He expected my commitment and he was excited."
Speaking of Swinney, Joseph is thrilled about the opportunity to play under a coach who has enjoyed a lot of success over the past decade. 
"I grew up watching coach Swinney on TV," Joseph said. "So, it's just an honor to play for a coach that has been doing it for a long time and who knows what he's doing."
Film breakdown: New Tigers commit Nathaniel Joseph (On3+)
Why Clemson won out for Joseph
As mentioned above, the Tigers have had success when pursuing Florida-based players at Joseph's position. In the past three cycles, they've signed a trio of wideouts from the Sunshine State – Troy Stellato (2021), Ajou Ajou (2020) and Frank Ladson (2019).
Joseph will be yet another Florida pass-catcher to join the fold. He discussed what led to the Tigers winning out for his services.
"I feel Clemson fits me all around," Joseph said. "I feel I can come in and have a big impact in many different ways. I feel like they are missing a speedy guy right now after losing Amari Rodgers to the NFL and it's just a home away from home. They have a lot of love for their players and they just teach you how to become a young man. Life after football skills."
At the next level, Joseph will be a part of a program that has made the College Football Playoff in every season except for the CFP's inaugural year.
So, what does it mean for Joseph to be a Clemson Tiger?
"That's major," Joseph responded. "It's great. It's big to me because Clemson has a lot of history. It's a great school and me being a Clemson commit holds a lot of weight, so it's a great thing to be a part of. Like coach told me, everything I do from now on will have Clemson commit in front of it, so I will represent them the right way."
Subscribe to ClemsonSports for $10 for an entire year and receive access to all of our content.