Four-star EDGE A.J. Hoffler makes things official with Clemson commitment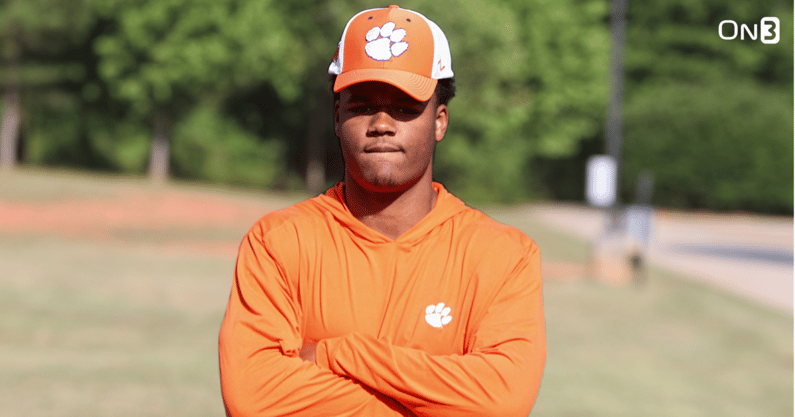 Atlanta (Ga.) Woodward Academy edge A.J. Hoffler has been all Clemson for a while. The No. 272 overall prospect in the On3 Consensus rankings has made his commitment to the Tigers public.
Clemson won over Hoffler and his family pretty quickly. He still remembers his family's reaction to the first visit to the school after the Tigers offered.
"My parents like Clemson a lot," Hoffler said. "That was big for me. They didn't necessarily feel that way about every school. But with Clemson, both of them were like 'this is where you need to be'. They saw that it was a family vibe and it was more than just football. They both were really comfortable with it as were my grandparents. Everyone in my family likes Clemson, so it was easy for me."
Hoffler was so impressed with Clemson that he pushed his commitment up a few months.
It was originally going to happen on his birthday, but he decided to celebrate his mother's birthday with his commitment instead.
"I knew where I wanted to go a month ago," Hoffler said. "I just wanted to make sure that I wasn't rushing it. We prayed about it, talked with all the people in my circle and made sure they were good with it. I told the coaches and they were excited. Right around the official visit, I made it official with the coaches. Now, it's public."
Clemson checks a lot of boxes for Hoffler. The first unofficial visit set the tone.
"I got to experience what everyone said Clemson was all about," Hoffler said of his first visit. "Right after that visit, it was just them and Ohio State. Every other school I'd been to, nothing compared to them."
A.J. Hoffler bullish on Clemson's 2023 class
The Tigers have been on a tear on the recruiting trail. The Tigers have the No. 6 overall prospect in the 2023 Consensus Football Team Recruiting Rankings.
Hoffler thinks that will only continue.
"I think we will have if not the best, at least a top-three class just because of all of the players we're getting," Hoffler said. "We've got really good players that are coming in and announcing their decisions later in the year."