Gators run away with 89-51 win over Stetson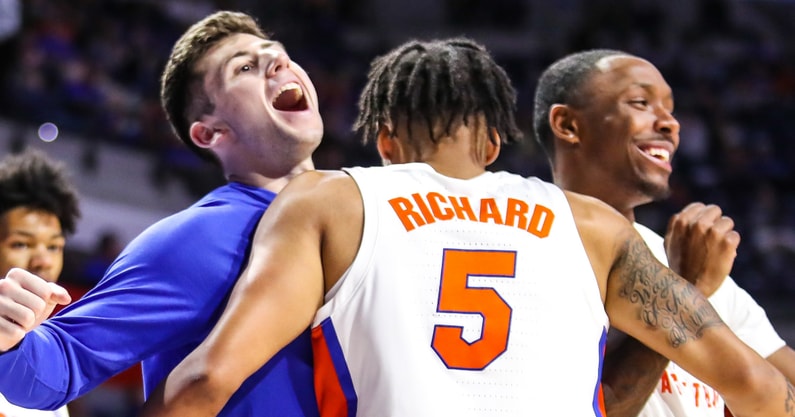 GAINESVILLE, Fla. — The Florida Gators have won back-to-back games for the first time since the opening week of the season, running away with an 89-51 win over Stetson on Sunday in the O'Dome.
The Hatters trailed just 23-20 with three minutes left in the first period, but the Gators stretched their lead to 11 before the break and led by double digits for the entire second half, including 30-plus points over the final eight minutes.
Stetson entered the game shooting .400 from 3-point range and hitting 10.7 3-point field goals per game, and the Gators limited the Hatters to 4-for-17 (.235) from beyond the arc.
"This was the first time all year out there where I felt like this is what our team should really look like in the sense of our guys did an incredible job executing today what we wanted them to, specifically on the defensive end," UF coach Todd Golden said. "I'm very happy because I feel like we're learning how to execute for 40 minutes."
Florida had five players finish in double figures on the offensive end, led by Will Richard with 14 points. He came off the bench and shot 5-for-5, including 4-for-4 from downtown.
"Obviously a very efficient performance by him," Golden said. "Those 3s were big for us because we were struggling to score a little bit at that moment, and he makes everybody's life easier the way he spaces the floor. You can't leave him.
"If you leave him, he's big. He can get it up and more often than not, at this point he's been dropping 'em. He's obviously very comfortable and confident out there. So, for him to come off the bench and gives us that lift was important."
Richard has scored at least 13 points in seven of his eight appearances this year. He's shooting .607 from the field and .586 from 3-point range, with a team-best 17 made 3-pointers.
Kowacie Reeves (12 points), Colin Castleton (11), Alex Fudge (11) and Trey Bonham (10) were also double-digit scorers for the Gators.
Fudge made his first start as a Gator (second career), becoming the eighth different Gator to start a game this season. He shot 7-for-7 from the free throw line and grabbed a team-high eight rebounds.
"I just think he has been a little more productive over the past week or two. He gives us a good lift," Golden said of Fudge getting the start. "To CJ [Felder]'s credit, I thought he played really well in his minutes tonight. He was 3-for-3, provided a good spark offensively for us in the first half when we were having a little trouble scoring.
"But Alex, he's gotten on the glass. Eight more rebounds tonight, three on the offensive end. He's kind of earned the opportunity, 7-for-7 from the line is huge. If we can have both those guys playing well, we're going to be a really good team."
Gainesville native Alec Oglesby had a team-high nine points for Stetson (4-3). The Gators (6-3) are back in the O'Dome on Wednesday against UConn at 9 p.m.