Kyle Lofton ready to showcase skill set on SEC stage with Florida Gators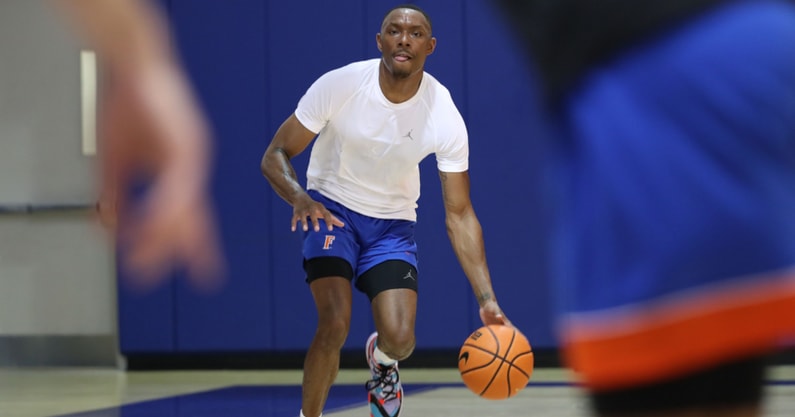 In early May, Florida wasn't even a top school for Kyle Lofton. Now the graduate transfer guard from St. Bonaventure is running point for the Gators in practice.
Lofton met with the UF media Tuesday, one month removed from signing with new men's basketball coach Todd Golden.
Florida hosted Lofton and his teammate Osun Osunniyi for an official visit on May 5, a week after both entered their names into the transfer portal.
Heading into the trip to Gainesville, the Gators weren't high on Lofton's list.
"When I came on my visit, this really wasn't one of my top schools," said Lofton, who added that he was favoring Rutgers, Ohio State, Purdue and Arizona. "But I came here with Osun. He ended up going to Iowa State, but I liked the staff and the goals they had for me. I think this is a great place for me to be."
How did Florida catapult to the top spot for Lofton? He credited Golden and his coaching staff as the deciding factor.
"The staff," he said. "I fell in love with the staff, their goals and where they could take my game. … Just meeting the young staff, they understand players coming up now. Less structure, more up-and-down play. I can showcase my game better.
"That's one of the reasons I came here — the stye of play. It will have more possessions, being in the pick and roll and having the court open."
Lofton replaces former starting point guard Tyree Appleby, who transferred to Wake Forest. Lofton earned All-Atlantic 10 honors each of the past three seasons, starting all 116 appearances throughout his four years with 1,613 points and 604 assists.
Lofton averaged 12.8 points and 5.9 assists last season and played 38.5 minutes per game, despite missing most of December with a high left ankle sprain. He averaged a nation's-best 38.1 minutes per game over the past four seasons.
"It was really big," Golden said of landing Lofton. "We were able to get a lot of data on Kyle. He played a ton of minutes at St. Bonaventure. They won a lot of games. He's a really good point guard, someone who ran that team for a long time.
"So, we knew what we were getting when we got Kyle. We had some really good guards, but I think Kyle kind of completes that group. When I talk about Kyle, Trey [Bonham], Myreon [Jones] specifically, as kind of our smaller guards, all three of those I think are really good players."
Lofton ranked No. 10 nationally in assists last season and his passing ability will be a huge asset to Florida's offense. The 6-foot-3 point guard also posted a .421 field goal percentage and shoots at an .820 clip from the free throw line.
"I think I'm a leader, first off," Lofton said when asked about the strength of his game. "I love winning, and I think skill-wise I can do everything a coach wants me to do, whether it's facilitate one game, score one game, do for my teammates. Whatever my job is, I'm gonna do that."
A native of Hillsdale, N.J., Lofton helped St. Bonaventure to an NCAA Tournament bid in 2021, leading the Bonnies with 23 points in the Atlantic 10 championship game vs. VCU. He has 16 career 20-point games, including a career-high 32 points on two occasions (2/17/19 vs. George Mason, 12/30/19 at Buffalo).
Now Lofton is looking to produce on the SEC stage.
"I can prove that I can do it anywhere, any level, and not just the Atlantic-10. I'm here to show the country," he said. "I mean, SEC is the next step. More athletic guys, longer, so I'm ready for the challenge."