Defensive end Jordan Allen commits to Kansas State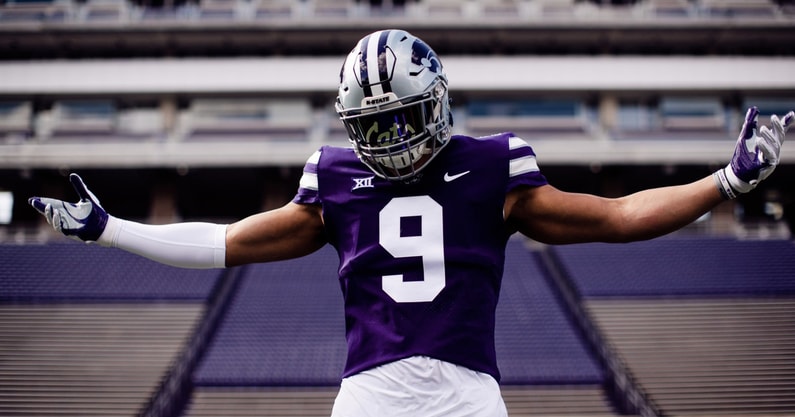 Kansas State scores their first commitment of the 2022 season. 2023 defensive end Jordan Allen of Olathe South picks the Wildcats after an official visit to Manhattan. It was his second trip to the campus in a little over a month. Allen also attended the team barbecue in July.
His first visit to K-State was when they hosted Iowa State last Fall. While that was a loss, Allen watched Kansas State thump South Dakota 34-0 this time around and wasted no time in making the decision to play for his favorite childhood team.
The Wildcats defeated Kansas, Missouri, Illinois, Iowa, Iowa State, New Mexico State, South Dakota, USC and Washington for Allen's services.
He did make three other official visits before checking out Manhattan multiple times. Those were to Iowa, Iowa State and Missouri. Each of those three programs hosted him in June and were hopeful that he was more inclined to make a Summer decision.
Instead, he insisted on remaining firm to his plan of committing during his final season of high school football. Originally, Allen was also slated to take a trip to Los Angeles and enjoy his last official visit by traveling to USC. Lincoln Riley and company have offered.
The edge prospect projects to be a rush defensive end in the odd front that K-State deploys. He could instead potentially back up to the second level and play the 'Sam' linebacker role that was held and occupied by rusher Khalid Duke on Saturday.
Allen is commitment No. 18 for Kansas State and is the third defensive end, joining Minnesota native Chiddi Obiazor and Arizona native Ryan Davis. The in-state push continues for the Wildcats as well. Allen is the sixth verbal pledge from Kansas in the class, joining Avery Johnson, Andre Davis, Camden Beebe, Wesley Fair and Will Anciaux.
Jordan Allen currently has an On3 NIL Valuation of $6,000. The On3 NIL Valuation is the industry's leading index that sets the standard market NIL value for high school and college athletes. The On3 NIL Valuation calculates the optimized NIL opportunity for athletes relative to the overall NIL market and projects out to as long as 12 months into the future.