10 Takeaways from a fun Blue/White Game
[caption id="" align="alignnone" width="2048"]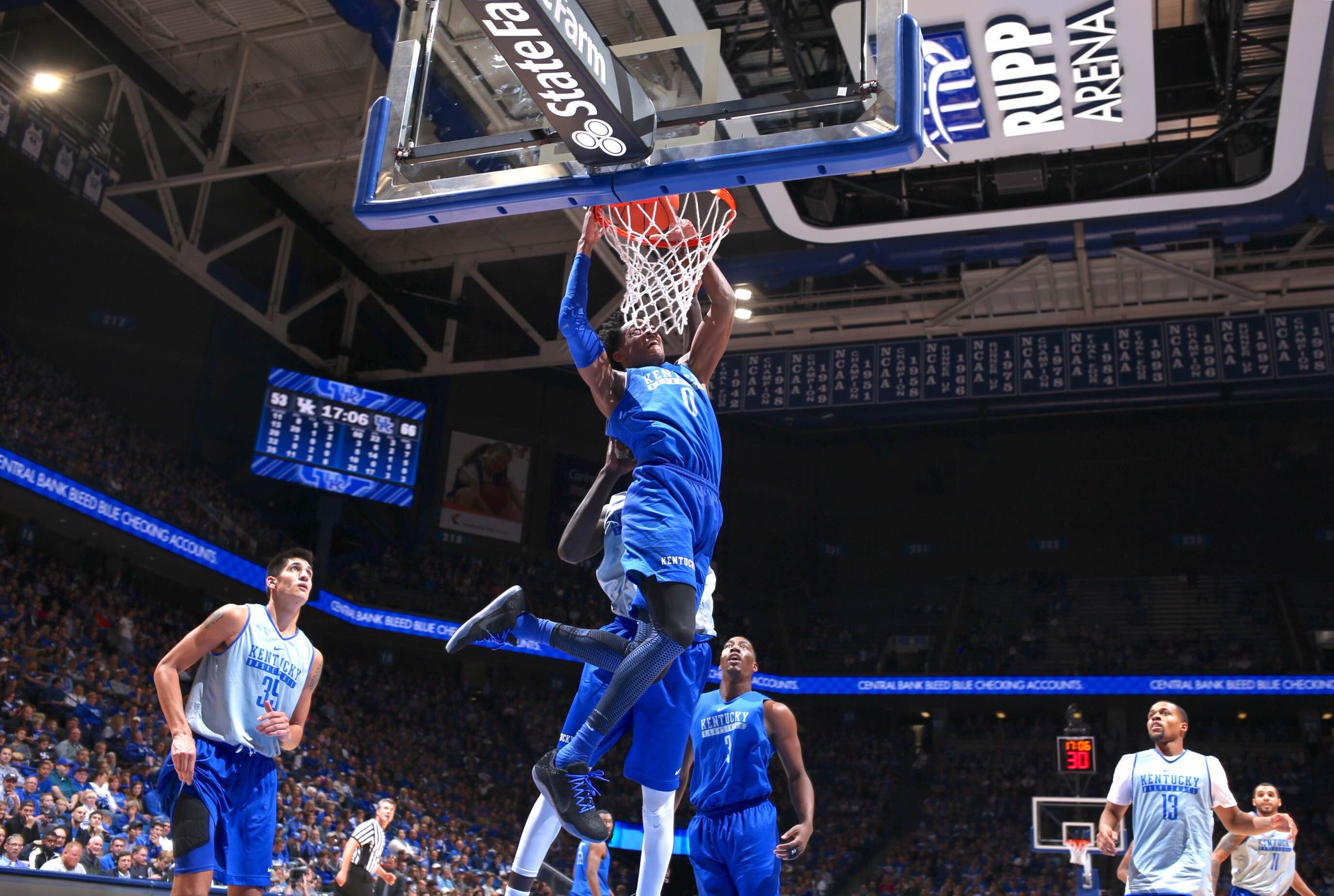 @KentuckyMBB
[/caption] Well, that was fun. Tonight, the Blue team beat the White team by a score of 110-94, but I think we can agree that we're all winners after that spectacular showing of basketball at Rupp Arena. Under Rupp's new bright lights, the Cats shined, with Isaiah Briscoe, De'Aaron Fox, and Malik Monk scoring a combined 96 points. Folks, we are good. Let's break it down before we move on to football tomorrow.
1. These were the starting lineups
| | |
| --- | --- |
| BLUE | WHITE |
| De'Aaron Fox | Isaiah Briscoe |
| Malik Monk | Mychal Mulder |
| Dominique Hawkins | Brad Calipari |
| Wenyen Gabriel | Derek Willis |
| Bam Adebayo | Sacha Killeya-Jones |
The teams changed throughout the game, especially after Bam and Sacha had to go to the locker room with minor face injuries. Neither Isaac Humprhies nor Tai Wynayrd played due to injury.
2. Malik Monk is a highlight reel
We all knew Monk was good, but tonight, he gave the crowd a glimpse of his genius, throwing down several dunks, most notably this stunner in the second half: https://vine.co/v/5wpOrUWejlY One more time from the Rupp Arena scoreboard: https://vine.co/v/5wpMlZ96DqH Shew. Please, Malik, don't hurt 'em.
3. De'Aaron Fox is FAST
Fox finished with 31 points, 12 rebounds, and 6 assists, and sure looked good running the Blue team. Monk's dunks may have stolen the show, but Fox showed off his trademark speed on this play towards the end of the first half:
De'Aaron. Fox. Yowza. pic.twitter.com/9BdqkQ4Wxr

– Scott Charlton (@Scott_Charlton) October 21, 2016
We don't make those John Wall comparisons for no reason, guys.
4.  Isaiah Briscoe was the leading scorer
Who would have predicted that? Briscoe finished with 39 points off 14-30 shooting and 10 assists. In ways, he was the Briscoe of old, bullying to the basket and catching opponents off guard, but he also displayed a new maturity, coaching his teammates on both sides of the ball. We all know how good Calipari's teams can be with talented freshmen, but we know how great they can be with veterans to lead. It's hard to tell from an intramural scrimmage, but Briscoe looked like a leader tonight. The improved shooting didn't hurt, either.
5.  Bam had to leave the first half with an eye injury
Bam disappeared in the first half after taking a shot to the face and reappeared in the second half with a large bandage under his eye. Even a blow to the face didn't stop the big man from doing his thing. He finished with 20 points and 12 rebounds in 31 minutes, and on a few of those plays, looked like he was trying to bring down the rim in Rupp.
6.  Dominique Hawkins finished in double figures as well
Dom had 22 points off 7-9 shooting, and looks like he's ready to pick up where he left off before getting injured last season. Fellow senior Derek Willis did okay, finishing with 13 points off 4-9 from the floor, including 2-5 from behind the arc. Those might not be glamorous numbers, but those two will be crucial for this team to succeed.
7.  Sacha Killeya-Jones had approximately 400 fouls
I had to laugh when, at one point in the first half, Sacha Killeya-Jones had 8 points AND 8 fouls. The scorekeepers at Rupp eventually adjusted SKJ's foul total in his favor, but I'm pretty sure he finished in double digits in fouls to go along with his 15 points, and that's taking into account the fact that he didn't play most of the second half after taking a hit to the face. Coming in, we knew Sacha be a project, but I was pleased with how he cleaned up around the rim.
8.  Mychal Mulder has hops
Before the game, I asked Drew Franklin for one bold prediction, and he said that Mychal Mulder, would steal the show. At the time, I wrote that off as Drew being loyal to his cousin, Mulder's former JuCo coach, but man, Mulder looked good tonight. He finished with 18 points, off both jumpers AND drives to the basket. He'll be behind Derek Willis and Dominique Hawkins on the bench, but it was good to see Mulder's confidence tonight.
"You see a more confident player this year," Calipari said of Mulder afterwards.
9. The new scoreboard is awesome, but...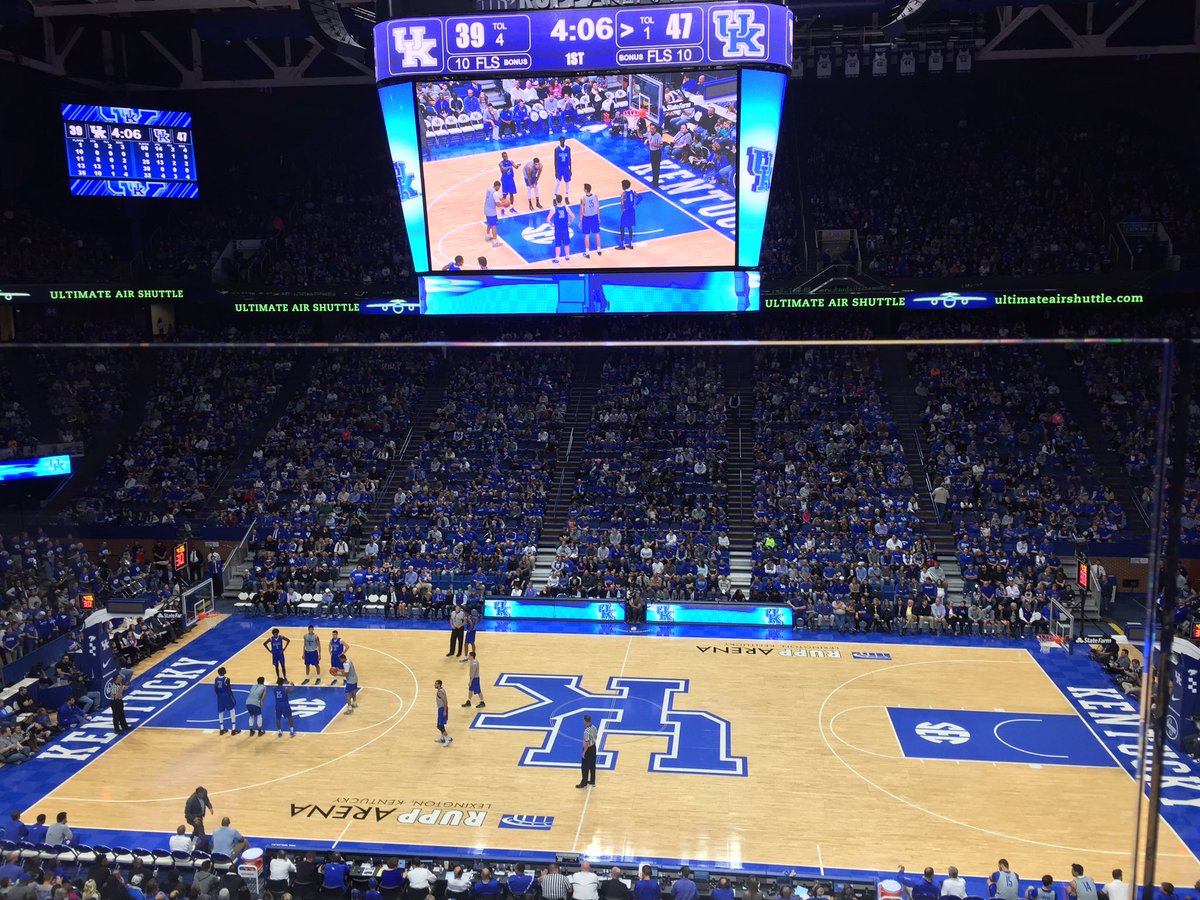 All eyes were on the magnificent new scoreboard at Rupp Arena tonight, and while it was great to have a huge display for the many highlights we saw, I think we can add a little variety to the show. I love the Smile Cam, but can we throw in a Kiss Cam or a Simba Cam or a Oblivious Cam (where they focus on people paying no attention to the scoreboard)? The new board is pretty, but let's shake it up, Rupp.
10.  Tonight was the quietest Calipari has been during a Blue/White game
Usually, Calipari is barking at his team throughout the scrimmage, but tonight, he was happy just roving the sidelines and spectating. This is as quiet as I've seen him during a Blue/White game in several years, but I have a feeling when he gets home, he'll do this in the living room:
As will I.