2017 NBA Draft Fashion Police
One of the best parts about the NBA Draft is breaking down the ridiculous fashions and last night gave us plenty of looks to scrutinize, ranging from great to good to "What the hell were they thinking?". Even though somebody in the comments section last week accused me of having the fashion sense of both a mom and a male college student (because that's not weird at all), I'm going to give it my best shot because it's Friday and I'm having fun.
Here are the best and worst looks of the night, according to this here blogger:
De'Aaron Fox: A-
Fox's suit from JC Penney was a subtle shade of aubergine that didn't really pop on camera; however, he gets major bonus points for the lining, which featured breast cancer awareness ribbons to honor his mother, and his custom shoes:
And the blingtastic watch, which he made sure to show off to the ESPN cameras:
De'Aaron Fox only cares about his watch pic.twitter.com/20tyMe5LzB

– Sports Illustrated (@SInow) June 22, 2017
All in all, a sharp look, but not my favorite of the night.
---
Malik Monk: A
Monk was also outfitted by JC Penney in a similar suit, but his blue suit jacket popped a little better under the lights. Like Fox, he customized the lining on his jacket. His honored "The Woodz," the basketball courts in his hometown of Lepanto:
I'll forgive the camo because these shoes are sick:
---
Markelle Fultz: B-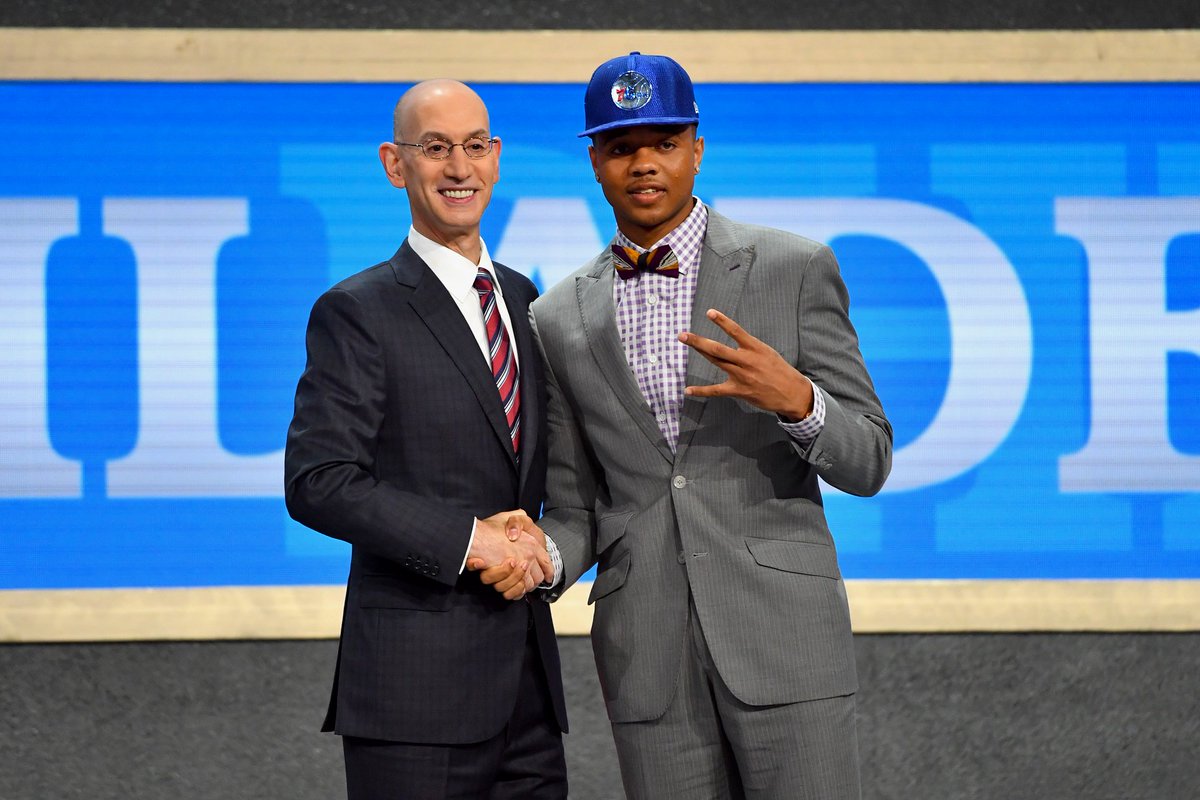 Don't get me wrong, there's nothing bad about the number one pick's suit, but with the plaid shirt and ugly bowtie, it just felt a little too casual for the moment. That being said, I did love the tribute to his family/journey on the lining:
I did not love his shoes, which were made of basketballs: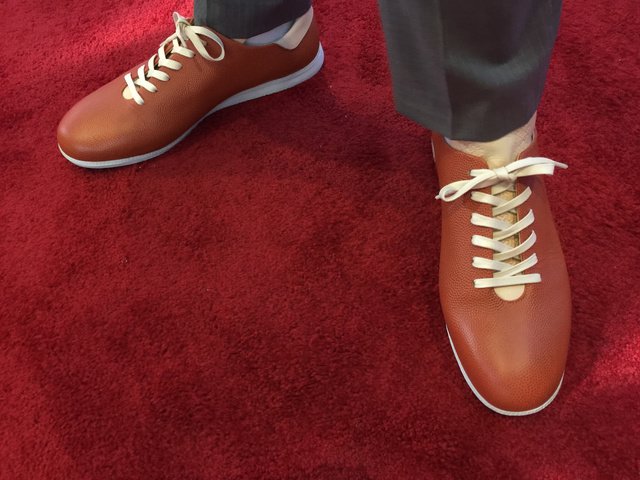 ---
Lonzo Ball: B
You've gotta give Lonzo credit: he dressed the part of a villain, right down to the Big Baller Brand bowtie:
Lonzo's suit was nice, but I'm personally not a fan of the all black look, especially with the chain on top. But hey, Balls gonna Ball.
---
Frank Ntilikina: B+
At first, I hated the Frenchman's look, but the more I study it, the more I have to give him props for pulling off a style few could. The red tartan suit was made in Ntilikina's hometown of Strasbourg and even the bowtie is patterned. That is a heck of a look, but he pulls it off.
---
TJ Leaf: A
If it was a UK guy wearing this suit and not TJ Leaf, they'd be best dressed for sure. I love the bold color and mix of pattern with the tie. The only misstep in my opinion is the pocket square, which is just a bit much for my tastes.
---
Dennis Smith, Jr.: A
The former NC State guard pulls this look off with perfection. It was a bold choice, especially the double-breasted textured coat, but he carries it well, right down to the slippers.
---
Donovan Mitchell: C
The pinstripe suit is fine. Throwing the L up is a regrettable choice, but hey, that's his school and they've got enough going on, so whatever. But the pink/purple shirt with a red paisley tie? C'mon, man. That's doing too much. Especially with those socks:
Nice kid, though. Best of luck to him.
---
Jarrett Allen: B-
Boring. Would have liked to see a pop of pattern with the pocket square (which is very matchy-matchy as is), and some bling via a watch.
---
Justin Jackson: B
The only way Jackson could look more "Chapel Hill" in this picture is if his bowtie was argyle. Roy would be proud.
---
Lauri Markkanen: C
I appreciate the attempt at sticking to a color family, but something just feels off here. Maybe it's the knit tie that's ruining it all. I thought that trend was dead?
---
Zach Collins: C-
The leather tie was the tip of the iceberg for Zach Collins' suit, which honored his hometown of Las Vegas:
What, no poker chip boutonnière?
---
BEST DRESSED: Bam Adebayo
Bam's draft suit was pure class: Glen Plaid trousers and vest with a navy blue suit jacket and tie. The one tiny nitpick I had was his pocket square, which I wasn't a huge fan of, but I admire his attempt to mix in a playful print.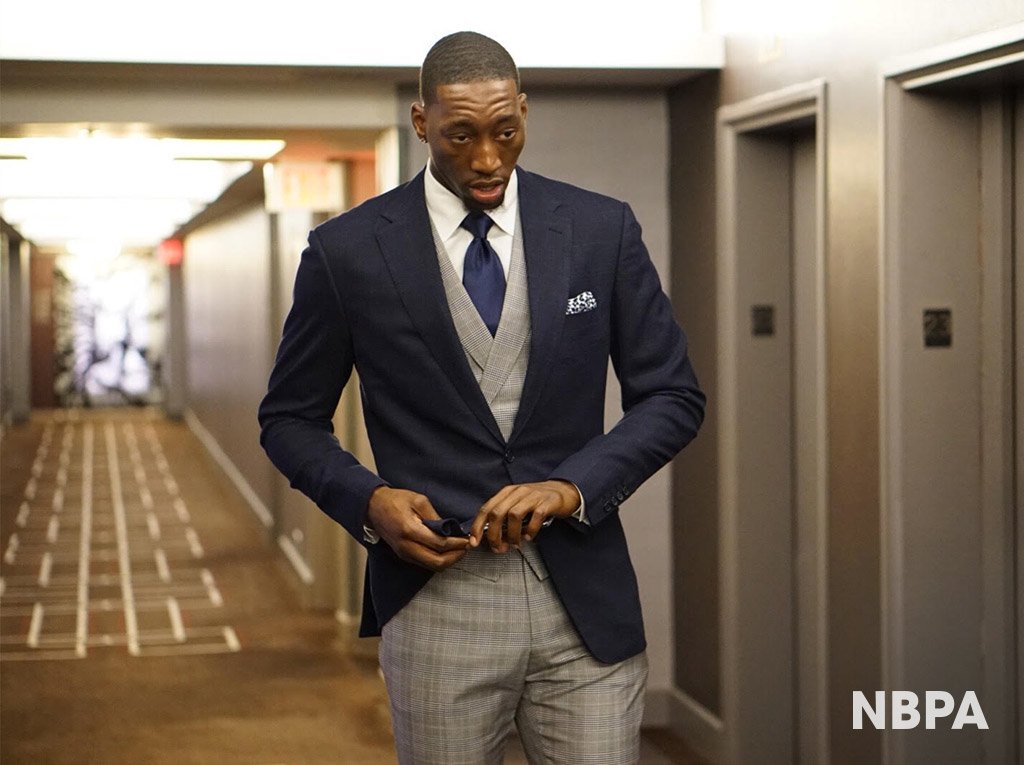 Bam's a big guy, but his suit was tailored to perfection. His stylist, Jhoanna Alba, did an amazing job.
HONORABLE MENTION: Bam's mother, Marilyn Blount
Bam's mom wore a suit to the Draft, which I thought was just awesome. She looked like the total boss that she is.
---
WORST DRESSED: Justin Patton
Again, great, nice tailored suit that's ruined by everything else. The shirt is too casual, the bowtie is ridiculous, and the flower on his lapel? Sigh. I'm all for bold accessories, but that's too much.
What are your picks for best and worst dressed?