2023 Final Four highlighted by three first-time participants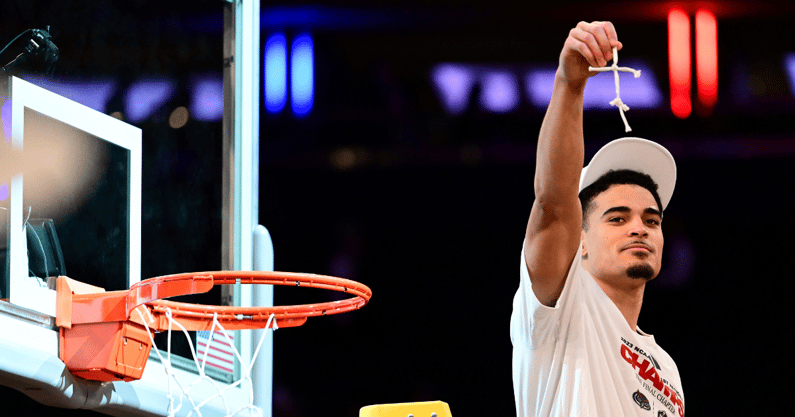 And then there were four…
Following the conclusions of Sunday's two Elite 8 games, the stage is officially set for the 2023 NCAA Tournament's Final Four. So who will be competing for the national championship in Houston next week? College basketball's traditional Blue Bloods, of course: No. 9 Florida Atlantic, No. 4 UConn, No. 5 San Diego State, and No. 5 Miami (FL).
Florida Atlantic and San Diego State (-2.0) will play in the first Final Four matchup on Saturday, April 1 at 6:09 p.m. EST inside NRG Stadium before UConn and Miami take the floor soon after at approximately 8:49 p.m. EST. Both games will be broadcast on CBS. The championship game will be played on Monday, April 3.
FAU and San Diego State will each play in the school's first-ever Final Four. Additionally, this will be only the fifth time in tournament history (and first since 2011) that two teams ranked as a five-seed or lower meet in the national semifinals. On the other end of the bracket, UConn is looking for its fifth national championship (all coming within the last 25 years) while Miami is also set to play in the school's first-ever Final Four after getting bounced in the Elite 8 by eventual champion Kansas a season ago.
Paths to the Final Four
In what has been one of the odder, more unpredictable tournaments in recent memory, all four teams have taken unexpected paths to reach the national semifinals.
Florida Atlantic (35-3): R64 vs. No. 6 Memphis | R32 vs. No. 16 Farleigh Dickinson | S16 vs. No. 4 Tennessee | E8 vs. No. 3 Kansas State
San Diego State (31-6): R64 vs. No. 12 Charleston | R32 vs. No. 13 Furman | S16 vs. No. 1 Alabama | E8 vs. No. 6 Creighton
UConn (29-8): R64 vs. No. 13 Iona | R32 vs. No. 5 Saint Mary's | S16 vs. No. 8 Arkansas | E8 vs. No. 3 Gonzaga
Miami (FL): R64 vs. No. 12 Drake | R32 vs. No. 4 Indiana | S16 vs. No. 1 Houston | E8 vs. No. 2 Texas
If you think you know what's going to happen in next week's game, no you don't…
Discuss This Article
Comments have moved.
Join the conversation and talk about this article and all things Kentucky Sports in the new KSR Message Board.
KSBoard