247 Upgrades Kiyaunta Goodwin to a 5-Star Recruit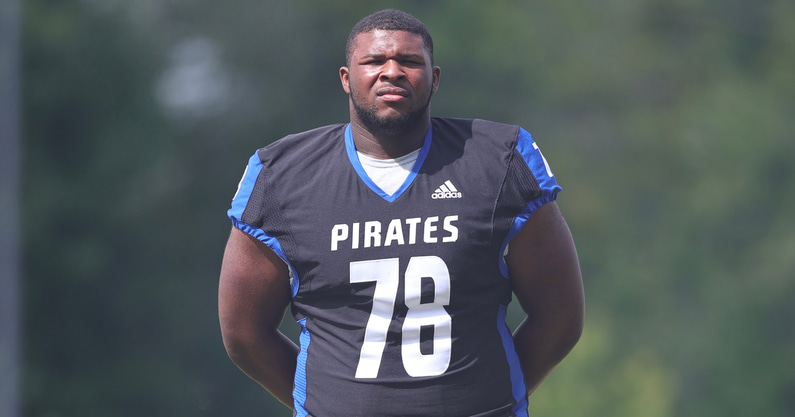 It's about time. 247 Sports is following On3's lead by upgrading Kiyaunta Goodwin to a five-star recruit.
In the latest rankings adjustment, Goodwin jumped from No. 55 overall to No. 13. Chris Singletary cites Goodwin's play this year following his dramatic body transformation for the major climb at the 2022 rankings.
Big Kiyaunta Goodwin has put in the work to reshape his body, from over 400 pounds to a terrific 6-foot-8, 300 pounds. Such a transformation has made Goodwin one of the best players in the country. Possessing unique size, length and, most importantly, athleticism at the tackle position, Goodwin has made his mark this year for Charlestown High in Indiana. Goodwin has unlimited potential; His technique has become better and you add that with his improved movement and flexibility for a 6-foot-8 tackle, you have to be excited.

247 Sports
Goodwin is now the highest-ranked Kentucky football recruit and the first five-star prospect in the 247 Composite Rankings. Landon Young and Matt Elam are the only other Stoops signees that finished as five-star prospects in the Top247.
Goodwin plans to officially visit Alabama this weekend. For the "Wait till signing day" crowd of curmudgeons, it's worth sharing that despite advances from the Alabamas and Ohio States of the world, Goodwin has attended every Kentucky home game this season. You can find him blushing to "KI-YAUN-TA GOOD-WIN" chants at the Cat Walk each Saturday.
Ratings Bumps for Kentucky Recruits
Goodwin was not the only one climbing the 247 Sports ladder. Edge defender Tyreese Fearbry jumped almost 60 spots from No. 196 to No. 138. Kentucky's other edge commitment, Keaten Wade, climbed ten spots to No. 232 overall. The biggest mover was Ohio defensive back Alex Afari, who went from unranked to a four-star recruit at No. 214 overall.
As for the uncommitted UK targets, offensive tackle Aamil Wagner was the only prospect who saw his stock drop, falling from No. 73 to No. 116. Wide receiver Dane Key, who will announce his decision in one week, moved up five spots to No. 226. Nashville wide receiver Barion Brown, the Alabama lean who officially visited Kentucky for the Florida game, went from unranked to No. 111 overall.