3-star OT Grayson Morgan down to Kentucky and Vanderbilt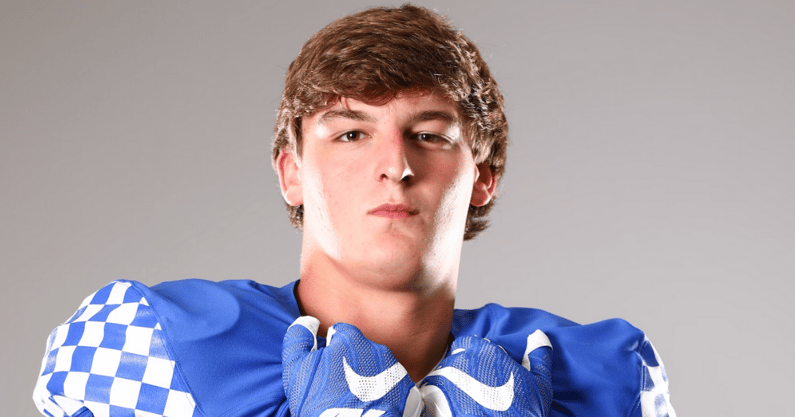 Kentucky already has three offensive linemen locked in from the class of 2022, but if there's one position the Wildcat coaching staff is going to load up on, it's the Big Blue Wall.
Offensive line coach Eric Wolford has been working hard during his first year on the job, but he's far from completing his debut class. There are other high school senior linemen out there that Kentucky is actively recruiting: four-star Aamil Wagner along with three-stars Drew Bobo and Grayson Morgan, to name a few. UK is trending for Wagner while Auburn appears to have the inside track with Bobo, but Morgan is torn between two programs with a third trying to wiggle into the fight.
Morgan, who is a three-star recruit ranked by 247Sports as the 76th best offensive tackle in the nation and 27th best prospect from Tennessee, told KSR on Wednesday that he is currently down to Kentucky and Vanderbilt. The UK staff extended him a scholarship on March 5 and he also holds offers from the likes of Mississippi State, Maryland, Tennessee, Virginia Tech, Duke, Central Florida, Louisville, Wake Forest, Indiana, Kansas State, Virginia, Arizona, and Minnesota. Morgan took an official visit to Maryland over the summer.
The 6-foot-5, 270-pounder from Montgomery Bell Academy in Nashville, TN, made the short drive over to Vandy for an official visit last weekend for the Commodores' 41-23 loss to Stanford. The weekend before that, he was in Lexington to watch Kentucky's big win over Missouri. Morgan also took an official visit to UK over the summer.
"It was good. Great atmosphere," Morgan told KSR on Wednesday about his most recent trip to Lexington. "I know Coach Wolf was talking about how they should have blown them out and everything but still good atmosphere. You saw the o-line fight the whole time and be physical and really started to dominate. But it was a good game."
Morgan's game visits to Vanderbilt and Kentucky answered a lot of questions he had about the on-field product. Vandy is entering a new era under first-year head coach Clark Lea while UK is doing the same on offense with Liam Coen calling plays.
"I was just looking for how that would translate in the game from their practices," Morgan added. "It was what I was expecting. Really good family vibe. Really strong culture that they've built."
He was impressed with the way Chris Rodriguez Jr. was easily finding holes in the run game and making big plays against the Mizzou defense. Morgan believes his athleticism would mesh well with what Coach Wolford is installing.
"I don't want to go to one of these schools that want to get you up to 340 (pounds) and just having you laying on guys," Morgan said. "I don't feel like that's what I do and that's my game. I like using my athleticism and quickness and everything, being able to reach guys and stuff like that."
As for a decision, Morgan is still unsure. He had previously mentioned a September timeline but wants to make sure he's "100 percent sure" before making the final call. He said that UK and Vandy are the two clear leaders, however, Morgan will take an unofficial visit to Mississippi State this weekend for the Bulldogs matchup against LSU. He's looking to see if MSU will make a push, which could extend his recruitment even longer if things go well.
Kentucky is in terrific shape, though. Morgan's relationship with Coach Wolford has been established and remains strong. The line coach clearly wants Morgan in the fold.
"We really talk about anything," Morgan said about Wolford. "Mainly he'll send a text about every day, whether it's a graphic of his offensive lineman, I know they got the really good right tackle (Darian Kinnard), he'll send me stuff on him pretty much every day. Wolf texts pretty much daily if not every other day at a minimum so it's fun to hear from him."
Kentucky is hauling in a historic offensive line class that already includes five-star Kiyaunta Goodwin, four-star Grant Bingham, and three-star Nikolas Hall. Adding Grayson Morgan could be the icing on the cake.