5-star PG Rob Dillingham looking to be a star, win title at Kentucky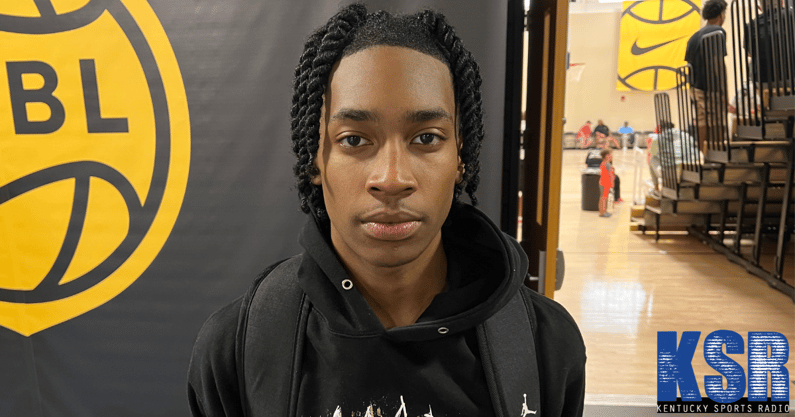 Why Kentucky? For five-star guard Robert Dillingham, that answer was easy — the second time around, at least.
During his initial recruitment, the Wildcats were thought to be a heavy favorite before North Carolina State stormed back late to earn his commitment in December of 2021. Three months later, he decided to open things back up, with Kentucky quickly re-emerging as a top contender.
The Hickory, North Carolina native first prioritized location, preferring to stay closer to home. Then, John Calipari and his ability to win games and put players in the NBA won out.
"Really the first time going around committing (to NC State), I did like Kentucky, but I just wanted to be home," Dillingham told KSR at Peach Jam on Tuesday. "When I decommitted, I already knew I was going to go there, honestly.
"You already know, Coach Cal — my family loves Coach Cal. My mom definitely loves him. That was one of the biggest decisions in my life, so that's where I felt like I needed to go."
What was it about Calipari that made Kentucky such an appealing option?
"(His speech) speaks for itself, you don't even have to ask that," he told KSR. "Just look at all the players that came to Kentucky, even the ones that wasn't supposed to go to the NBA, they all have better positions than a lot of people that went one-and-done. …
"He told me I can be whatever I want in his system. It's really up to me. However much work I put in and I show him, that's what I can be with him."
He wants to be a pro, sure. That's every basketball player's dream. For Dillingham, though, his dreams start with a national title in Lexington. From there, he hopes to become a star in the NBA.
Playing at Kentucky will help get him there, he says.
"(My goals are) definitely to win a lot of games and to bring them a national championship, for sure," he told KSR. "In my year there that's all I want. … Going to Kentucky, winning a championship, going to the NBA, and really being a star in the NBA (are my goals). I don't just want to be one of the players that get there and just be regular. I want to be a star because that's what I've been doing my whole life."
As talented as Dillingham is, he won't be able to do it alone. That's why he's recruiting the nation's best to join him in Lexington.
"The Dream Team would definitely be DJ (Wagner), Justin (Edwards), Aaron (Bradshaw), maybe a few more people. We already know Reed (Sheppard) is there," he told KSR. "Honestly not a super team, but a team that can win a national championship because Kentucky hasn't won it in a minute. That's what I hope to bring there, that's my goal."
Individually, Dillingham made it clear he's ready to put in the work once he arrives on campus. He plans to leave it all on the table before his time as a Wildcat comes to a close.
"I'm gonna give you my all, I'm gonna put in the most work I can," he told KSR. "Kentucky is gonna get all of me."
Dillingham is rated as the No. 3 overall prospect and No. 1 point guard in the latest On3 player rankings for 2023. He's planning to prove his hype by leading the charge on a national championship run when he arrives in Lexington.