8 Things You Missed from UK Spring Football During March Madness
[caption id="attachment_253304" align="alignnone" width="1200"]
@UKFootball
[/caption] While you were busy losing your mind over the Kentucky Wildcats' run in the NCAA Tournament, the Kentucky football team was putting in work on the gridiron. To help prepare you for next Friday's spring game, here's what you missed through the first ten practices.
1. Stoops is Losing his Hair
Kentucky's head coach is building a brand new secondary. While four or five defensive backs prepare to get drafted, Stoops only has two sure things in spring practice, Davonte Robinson and Jordan Griffin. The safeties have some in-game experience. The same cannot be said about his cornerbacks. How will he find the right fit? "
I'll lose a little more hair, get a little more gray
," Stoops said Monday. Right now there's a rotating cast of characters vying for playing time. Jamari Brown, Cedrick Dort and JUCO transfer Quandre Mosely are just a few names in the mix. The one that's wowed Terry Wilson the most is Brandin Echols. Unlike Mosely, who played safety in junior college, Echols has JUCO experience playing on an island. "He's been flying everywhere," Wilson said. "He's been making big plays. He's really fast and I'd say he's a ball-hawk. He's always where the ball is. He's really fast. You can tell he knows how to play his position." I can personally confirm Wilson's endorsement. While watching one practice, Echols was one of the few that could consistently keep up with Lynn Bowden.
2. Bowden's Hair is Gone too
Mark Stoops said, "I didn't recognize him for a second," when Bowden strolled into his office one afternoon. The difference is striking.
As Lynn watches his old teammates sell themselves to NFL administrators, he's making some changes to secure the bag. "
I'm just working on my image
," Bowden said. "I really didn't feel like I was presenting myself good for the fans with my hair, so I'm just trying something new." Bowden's also taken steps to become one of Kentucky's vocal offensive leaders. Maturity has never been one of his strengths, but this year it's all business. "He's really engaged in what we're doing," said offensive coordinator Eddie Gran. "We're using him in a lot of spots so he's gotta know a lot. He does and he gets guys lined up. He's coaching. Being in his third year now, he's a better receiver. He's getting in and out of breaks different. He's understanding leverage from defensive backs. He's seeing coverages a little bit better. He's still gotta get better, but you can see the progress with him." Gran is being modest. Bowden is moving at a different speed than everyone else. His routes are crisp and his cuts are clean. Huncho is going to be a bad man this fall. "If I do get the ball to him and there's two guys in front of him, he's going to make somebody miss," Wilson said. "It's a good feeling knowing that I can trust him."
3. Emerging Pass-Catchers
Terry Touchdown can't throw every pass to Bowden. Luckily, others are stepping up. Redshirt freshman tight end Keaton Upshaw has received a ton of praise for his ability to make plays in space and use his big body to catch passes over defenders. Josh Ali is the most consistent outside receiver, safely securing a spot as Wilson's No. 2 target. There are quite a few young wide receivers that have made jaw-dropping plays, yet for each high, there's an equal low. Between Clevan Thomas, Allen Dailey, Bryce Oliver and B.J. Alexander, at least one will play a significant role in the offense. Who will separate themselves from the pack will be determined in preseason camp. https://www.youtube.com/watch?v=us1Qe8FNYps
4. No Serious Injuries
Ahmad Wagner has unfortunately not been able to consistently participate, missing practices on and off with a lingering hamstring problem. Upshaw is dealing with a hammy, Kash Daniel has not been full-go and Bowden and Kavosiey Smoke were sidelined during practice ten. There have been quite a few guys "banged up," but luckily nothing serious. One player returning from a serious injury, Landon Young, has been excellent. "
He hasn't missed a rep
. That's pretty good for coming off that injury," said Gran. "It's like nothing ever happened to him. He looks stronger."
5. Creating a Cohesive Offensive Line
John Schlarman now has a healthy Landon Young at left tackle, but he lost an All-American and a four-year starter on the right side of the line. Luke Fortner, Mason Wolfe and Darian Kinnard all have plenty of talent and game experience, but continuity only comes with time. "The talent is there.
We just have to get those guys to gel
," said Drake Jackson. "The thing with O-line, it's not all about talent. It's not all about speed and size. You gotta be able to work well with each other."
6. A Dominant Defensive Line
Josh Allen isn't rushing passers off the edge, but
Stoops believes the middle of his defensive line is the best he's ever had at Kentucky
. It all starts with Quinton Bohanna. Hampered by injuries last season,
the nose guard is transforming
into one of the most talented interior defensive lineman in the SEC. Alongside Bohanna, T.J. Carter and Calvin Taylor provide consistency. Phil Hoskins and Josh Paschal are explosive athletes. Kordell Looney and Marquan McCall are fighting for playing time too, giving Stoops' defensive line at least six solid contributors.
7. "Tuesday's with C.J." Lives On
C.J. Conrad is no longer with the program, but the Kentucky Children's Hospital is still hosting Kentucky football players each week. Max Duffy and Grant McKinniss have taken the mantle and rebranded it as "Specialists Visiting Special Kids." [caption id="" align="alignnone" width="529"]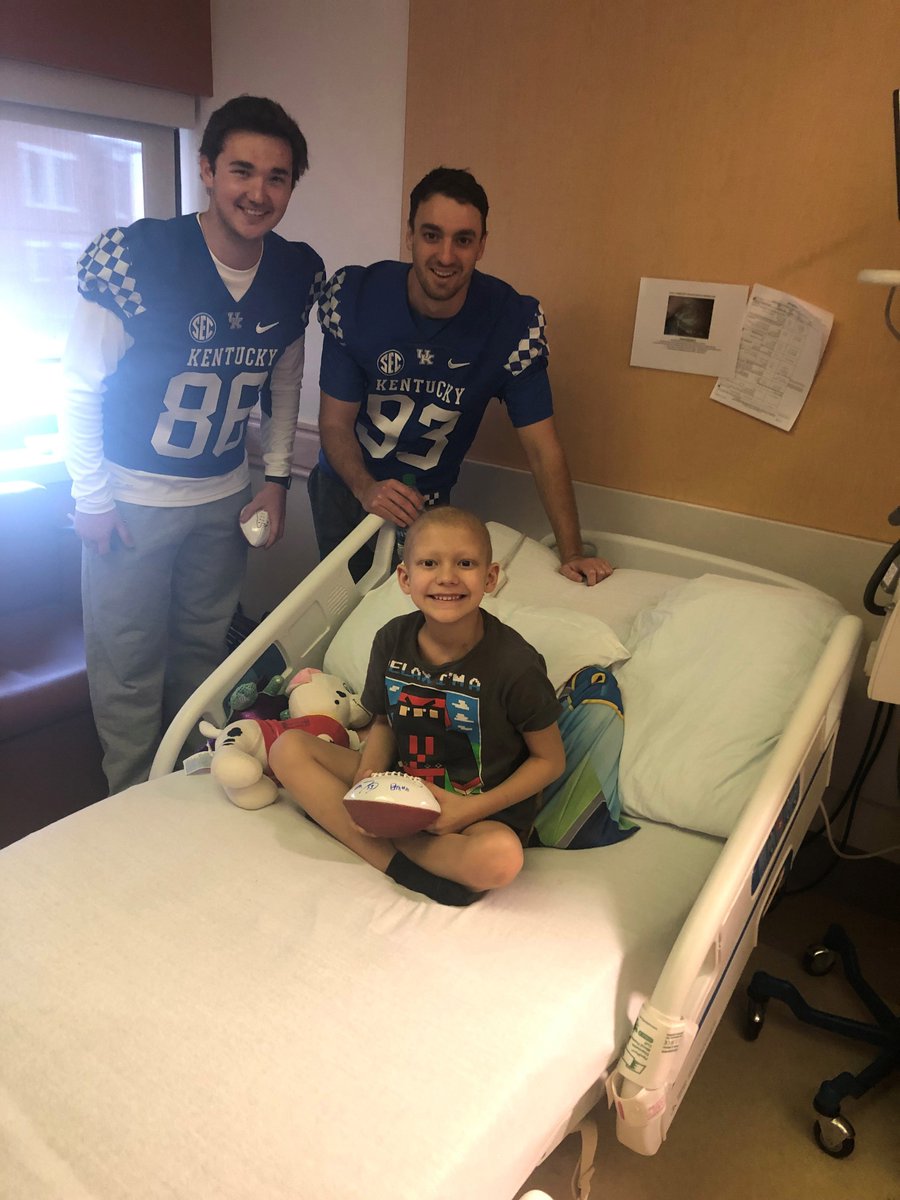 @UKFootball
[/caption]
 8. Terry Wilson's Growth
A year ago Terry Wilson was just trying to learn the offense. This year he's learning how to make the offense he led to ten wins more explosive. "I think
Terry is definitely making improvement
. We got a long way to go, but you can see it," said Gran. "The biggest thing is now we're trying to get the ball downfield, so there is some new stuff. That's what you can do in the spring. He just looks more comfortable back there. He's not moving around and stepping up when you've got stuff coming; he's sitting there. He's able to make some plays a little bit quicker and making decisions quicker." Without Benny Snell in the picture, Kentucky's offense is changing. A.J. Rose, Chris Rodriguez and Smoke can handle their fair share of carries, but most of the offensive production will fall on Wilson's shoulders. This spring Terry Touchdown is embracing the challenge to prepare for another successful fall campaign. [mobile_ad]