A case for Kentucky's Chris Livingston to stay and go...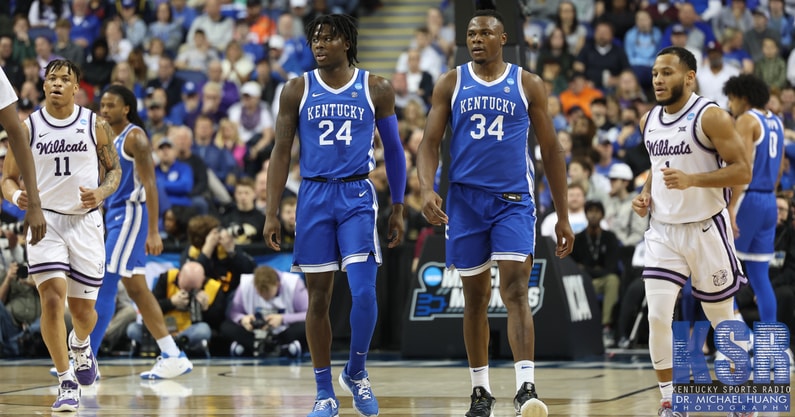 Chris Livingston didn't register 30 minutes in a game for Kentucky until January 31, fewer than 25 minutes in 19 of 21 games up to that point. From February 7 on, the freshman forward played at least 32 minutes in 11 straight games to close out the season.
In that 11-game stretch, Livingston hit the double-digit scoring mark five times and registered at least five rebounds on nine occasions. He scored at least three baskets in eight of 11, two double-doubles. Essentially a non-factor the first two-thirds of the season with minimal usage, he was one of the team's most crucial pieces in the final third. And opportunity was a big reason for it.
But his late production wasn't a product of unleashing his box of tools, exploding as a shooter or playmaker. Livingston simply crashed the glass for putback looks, finished at the rim, knocked down open shots and defended. As teams tried taking Oscar Tshiebwe out of the game, he took advantage of clear driving lanes and empty space around the basket. He just outworked the competition.
That's what makes his upcoming decision such a difficult one. Of all the players weighing their options on the Kentucky roster, he's probably the only one with three realistic choices: return, pro or transfer. And he's weighing all three.
Let's look at all three sides of the decision as the offseason begins.
Return
Livingston came in as a top-10 recruit and a potential lottery pick and found himself essentially out of the draft conversation entirely by year's end. He finished the year averaging 6.3 points and 4.2 rebounds in 22.4 minutes per contest, shooting 42.9% from the field, 30.5% from three and 72.2% at the line — OK, but nothing to turn heads. If there was ever a surface-level 'needs to return' prospect, the 6-foot-6 forward fits that mold perfectly. Ball handling, shooting, mobility, hand strength, all of it must improve before he's seriously considered a first-round guy. He's just not close right now, especially considering the role questions. What is he at the next level?
But there was something to build off of to close out the year, tangible production. He's a ball hawk on the glass and a solid finisher around the basket, comfortable taking runners and turnaround jumpers from the mid-range, and he improved quite a bit defensively. There's a lot to work with there.
Consistency is necessary, but part of that comes with opportunity. He would fit in nicely with Kentucky's incoming freshman class, a complementary physical piece to more finesse guys elsewhere in the lineup. A pretty clear role that could allow him to make a leap — it wouldn't be hyperbole to say an All-SEC season is on the table if he can put it all together. And he'd get the NIL opportunities to compensate for falling short of the one-and-done dreams he had coming in. If all goes according to plan, he's back in the first round of a historically poor draft class. Both sides win.
Transfer
The reality of the situation is Livingston's freshman year not only fell short of his own personal expectations, but especially of those around him. Role gripes were made clear, pushing back on the idea that he's a small-ball four while stressing he's better suited as an on-ball wing (or guard). Prior to the late-season spike in playing time, a transfer out of the program was not only on the table, but the expectation.
And then he started playing and the production followed. Those rumblings died down to close out the year, but never totally vanished, nor are they totally gone now. He saw the floor, but his positive impact came as a result of energy and motor, not an expanded role. That's something to keep in mind as he weighs his options. And how Klutch Sports Group, his agency, helps him through the process.
Klutch wants Livingston to be a pro, sooner rather than later. If they feel Kentucky isn't putting him in position to make that happen, they'll explore what options can and will. That includes the portal, a path that would allow him to find a spot willing to make him the star of the show. Lexington may offer the biggest spotlight, but the touches and shots are readily available elsewhere, other high-profile programs willing to offer that in hopes of turning him into their own version of a one-and-done.
Pro
The end goal for Klutch is and will always be the NBA, getting guys to the league immediately. LeBron James' agency, among countless other superstar athletes, has significant pull. Rich Paul knows exactly what he's doing, for better or worse.
Livingston may not be a first-round pick, but it'd be naive to think teams couldn't be convinced to take a shot on him in the second round on Klutch's word. And that may be enough for the Kentucky freshman to bet on himself, hoping to achieve his professional dreams now. It's very much on the table, an option that will be taken seriously.
KSR Intel
Livingston has the toughest decision on the roster, three realistic options that will all be considered. If he returns to college, role will matter above all else, looking for his best shot at a path to the first round. That may be at Kentucky and that may be elsewhere. If it were up to him and him alone, a return to Lexington would be the likely choice, but that's unfortunately not the reality of this situation. Klutch has significant pull and will do what they feel best puts their client in position to get to the league now or a year from now at the absolute latest.
The process will start with Livingston putting his name in the NBA Draft while retaining eligibility for a potential return to school. He'll explore that path thoroughly before his side comes together to make a final decision.