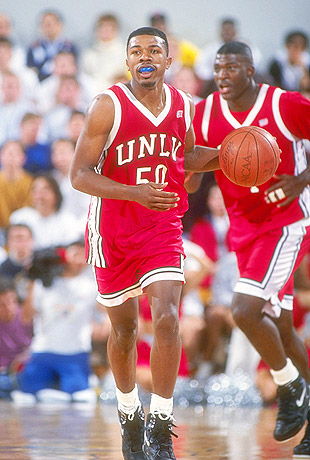 Think about those UNLV teams from the early 90s. You remember the guys, Grand Ma-Ma, Stacy Augmon, Anderson Hunt and a point guard named Greg Anthony. Those teams sure seemed dominant, but did you ever really believe that they
could produce a top-notch college basketball announcer?
Well it turns out they did, as Greg Anthony burst onto the stage this weekend, calling the Indiana-Kentucky game, and making viewers everywhere say, "gosh Billy Packer isnt nearly as negative, sour....or white!" Anthony did a great job breaking down the game, showcased an in-depth knowledge of the programs he was watching (especially UK) and gave viewers a lively, exciting experience during his first college broadcast. Kudos all around. So then here is the question. With Packer gone, and Greg Anthony now on the rise, who takes the place as the most hated announcer? It cant be Dick Vitale....he is simply a loud goober....no I want to know, who is the guy you love to hate and you groan at his very sight. Go ahead and answer below, and I will be putting on my old school UNLV kicks.....