Abby Steiner wins 200m final, crowned national champion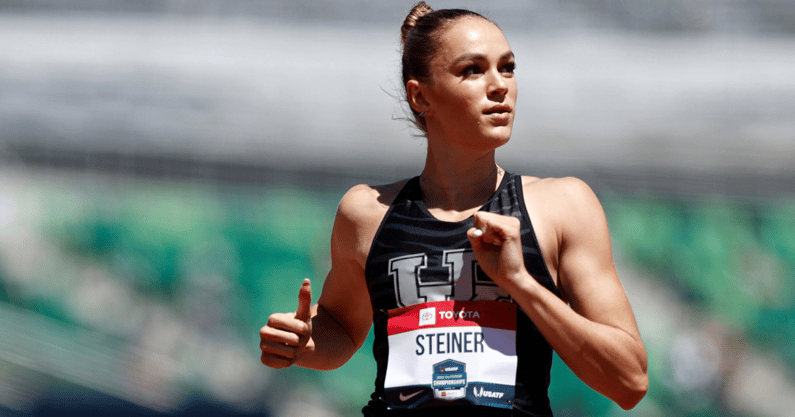 Kentucky track and field superstar Abby Steiner was crowned a national champion on Sunday afternoon as she continues her year of unbelievable dominance.
Steiner won the 200-meter women's final at the USA Outdoor Track and Field Championships, posting a personal-best time of 21.77 seconds while running into a slight headwind. That time is also the fastest by any woman in the world this year. With the victory, the Wildcat senior has qualified for the 200m world championships, which will be held July 15-24 at Hayward Field in Eugene, OR where she will represent the United States.
"Everything," Steiner said in between breaths about what this win means. "Coming off a collegiate season, a lot of people want to put limitations on you, say you're gonna be burnt out. But me and my coaches trusted the process. I couldn't be more excited."
Tamara Clark (Adidas) finished second with a time of 21.92 while Jenna Prandini (PUMA) came in third with a time of 22.01
Steiner set the previous collegiate record, 21.80 seconds, in the 200m on the same track at the NCAA Championships earlier this month. That's a full second faster than the qualifying standard time of 22.80 and was the fastest time of any runner in the world this year before her run on Sunday.
In the past week, Steiner has won the Honda Sport Award for track and field and was named National Women's Track of the Year Athlete of the Year (indoor and outdoor seasons) and a semifinalist for the Bowerman Award. The finalists for the Bowerman Award will be announced on Monday, June 27.
Steiner was forced to sit out last year's world championships due to an Achilles injury. This time around, she's fully healthy and looking to dominate the field.