Adou Thiero's first high school points came against Oscar Tshiebwe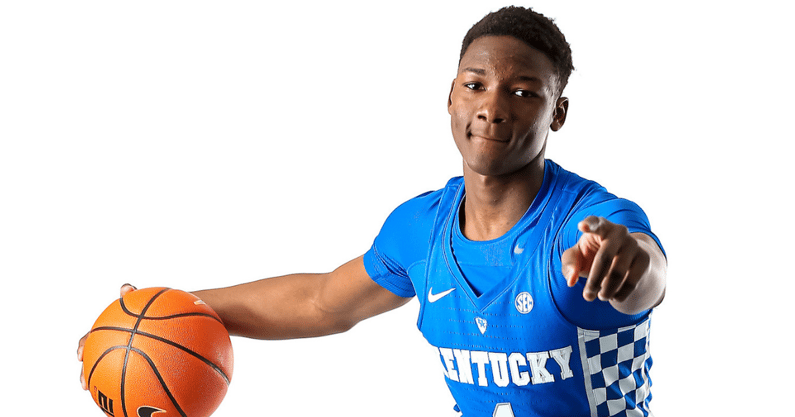 Four-star guard Adou Thiero is a newcomer on Kentucky's roster, but he already has some history with the Cats' biggest star. In an interview with Tom Leach this morning, Quaker Valley coach Mike Mastroianni said Thiero's first points as a high schooler came against Oscar Tshiebwe. Prior to the start of Thiero's freshman season, Quaker Valley scrimmaged Moon Area High School, John Calipari's alma mater, and Kennedy Catholic, whose roster featured 6'9″ 250 lbs. senior center Oscar Tshiebwe, who would later be named a McDonald's All-American.
"We don't start Adou in the first quarter, but in the second quarter we throw him in as a 5-10 guard," Mastroianni said. "His first couple of plays, he went against this senior guy that's the best player in the state of Pennsylvania, this guy named Oscar. Made a couple of buckets as a little guy so we knew he was fearless and had all these intangibles at 5-10."
Thiero didn't stay 5'10" for long. A growth spurt last year shot him up to 6'5″, and when all is said and done, doctors believe he could reach 6'9″. Thiero was already a talented ball-handler and shooter. With his new height, he also started to make his presence known on the glass. As a senior, Thiero averaged 23.3 points, 10.3 rebounds, 5.9 assists, 3.9 steals, and 2.3 blocks per game.
"He was mainly a shooter for us," Mastroianni said. "Outstanding shooter as a sophomore. In one stretch he made 40 straight foul shots. Just a really good stroke. And then he grew into his body this last year, over the summer here, his growth spurt, he shot up to 6'5″, 6'6″ and he carried those ball skills so his game changed and evolved into a number of other things."
"What he did for us defensively, he actually rebounded at a really high level…The scoring is something that we needed but he actually distributed the ball and rebounded at an extremely high level. For a guard, he's able to defensive rebound, which I think with his size is a nice advantage that he'll bring to the college game."
High intangibles, outstanding character
In his senior season, Thiero led Quaker Valley to its first state finals in over 20 years. John Calipari, who coached Thiero's father Almamy at Memphis, was in the stands for the Class 4A championships, where Adou finished with 18 points, 10 rebounds, and three blocks. A scholarship offer quickly followed. On Sunday, Thiero announced his commitment to Kentucky, calling it the opportunity he's been working toward his whole life.
"Ever since I went to my first Kentucky men's basketball camp I've wanted to go to Kentucky," Thiero said. "My whole life I've been working to get here and when I got this opportunity, I knew I was going to take it because I just liked how Coach Cal is able to develop guys into pro players. He has always been great to his players and my dad played for him, so he had great things to say about him. I know Coach Cal and the staff will be able to help me get to where I want to be. This is a once-in-a-lifetime opportunity and I can't wait to get on campus and work to improve my game and help make this team better."
Because he didn't play on the AAU circuit, Thiero flew under the radar but was recently bumped up to a four-star by Rivals. Even though Thiero doesn't have the same hype or accolades as fellow freshmen Cason Wallace and Chris Livingston, Mastroianni believes Kentucky is getting an "outstanding young man" and quality roster piece for years to come.
"Obviously, you don't get offered a scholarship to Kentucky unless you've got the ball skills but I think what Adou brings and he's brought that since he was a very young player, is he has very high intangibles in terms of knowledge of the game and understanding how to share. He's well-rounded in all areas of the game, above the curve as a high school player, and obviously moving forward, that will afford him well as he gets to the high level that Kentucky has."
To listen to the entire interview, visit TomLeachKY.com or download The Leach Report wherever you get your podcasts.