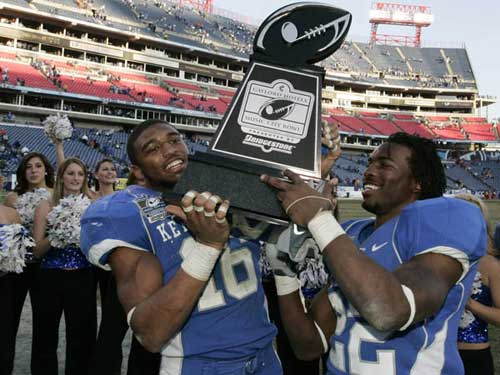 As I've made it blatantly obvious several times throughout this season (and last),
I think Kentucky's football team overachieved this year
and deserves all the praise in the world for what they accomplished in winning seven games and earning a fourth-straight bowl berth. There's a list of reasons longer than Willie Williams' rap sheet why they could have won 4 or 5 games and sent us all frantically worrying about if we had just witnessed a three-year fluke. This team, however, exceeded all (reasonable) expectations or, at worst, sits exactly where we hoped they would before the season started. But, having said all that, I think it's equally fair to say that
I'm not the least bit intrigued by the bowl possibilities
and - even if childbirth wasn't looming over my head right now - I still don't think I'd travel to the proposed bowl destinations. As of this morning, Sports Illustrated projects the Cats playing in the Independence Bowl against Iowa State and both of ESPN's prognosticators, Mark Schlabach and Bruce Feldman have Rich Brooks' crew facing off with UConn in the PapaJohns.com Bowl. Does it make me a bad fan if neither the opponents nor the actual bowl inspire even the slightest excitment? And, I wouldn't be surprised if I'm not the only one. But, why? Kentucky got doubly
spoiled in its first two berths of this streak
. Not only was the fan base ready to unleash just under a decade of bowl-less holidays, the Cats benefited from playing against two historically strong teams with star power - Clemson and Florida State. They each featured a big name coach with a team that made national headlines as recently as that season and had a few big names on their side of the ball. Plus, it didn't hurt that the game was in Nashville. Even last year, East Carolina at least offered the buzz of some early season upsets that garnered national attention. If the Cats land in either of the proposed contests above, it's only natural for there to be a bit of an underwhelming feeling. How many Cats know even a single player's name on Iowa State or UConn? How many even know who the coach is or what they'll do on offense? Do most fans even know where the Independence or PapaJohns.com Bowl are located? My guess is that a healthy handful of money-spending UK fans and alums just answered "no" across the board. So, yes, I can stand before you and say that my name is Thomas Beisner and I'm damn proud of my football team this year. However, I'm not too intrigued by a couple of the post-season prospects.
Does that make me a bad fan?
I hope not.
***Now, it's only fair to point out that CBS projects UK in Nashville again, this time against Butch Davis (star power!) and his North Carolina Tar Heels (national buzz!), which would again offer the Cats a matchup that would make the fans say "oooooh". Let's hope for that.