Anonymous scouts skeptical about Shaedon Sharpe following NBA Combine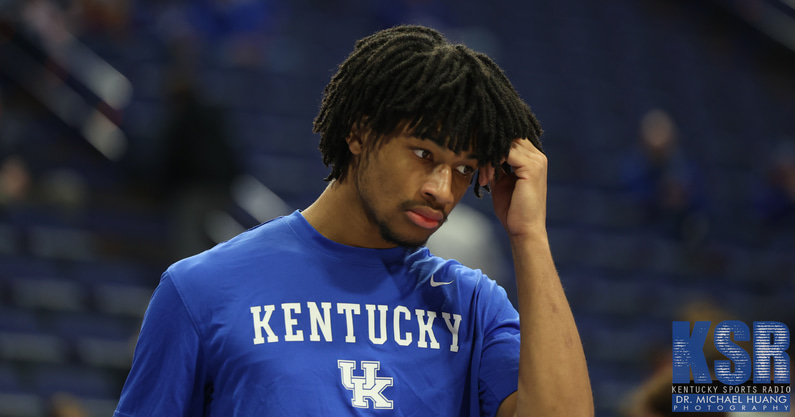 It wasn't all positive for Shaedon Sharpe at the 2022 NBA Draft Combine. Despite continued buzz from national media about the Kentucky guard's growing stock and rise on the draft boards, scouts remain skeptical one month out from draft day.
According to NBA Big Board Director of Scouting Rafael Barlowe, Sharpe's minimal body of work at Kentucky and throughout the draft process has teams hesitant, if not turned off entirely.
"I wouldn't take him in the top 10," one anonymous scout told Barlowe. "It's too small of a sample size. Someone's gonna get burned."
"I'm not a big fan of pro days but we have to watch and see guys like Sharpe. You can see he has all the tools, great body, he's athletic and can shoot it. But he hasn't played and that scares me," another scout added.
Sharpe went through testing at the NBA Combine and hosted a workout, one dedicated entirely to individual work. He did not participate in the scrimmage portion of the event. A third scout said the Kentucky guard's continued absence in high-profile settings leads to questions about those advising him, with the mystery appeal quickly wearing off.
"He barely practiced at Kentucky," the scout told Barlowe. "Didn't want to play in games and he didn't want to play at combine. Who's advising him? He can't hide forever. Does he want to play in summer league?"
The Athletic's John Hollinger and Sam Vecenie had similar things to say about Sharpe and his workout for teams, with his shot-making abilities and athleticism standing out, but the lack of competition leading to more questions than answers.
"A lot of what came through from sources was that absolutely nothing was done at game speed, with most of the drills in terms of his handle being executed more slowly than what he'll face on an NBA court," The Athletic shared Monday. "He didn't do anything complex. For a player who few have actually seen at high-level game speed much, the workout didn't provide any insight into the actual questions to which decision-makers would like some semblance of an answer before potentially selecting him on draft night.
"It was a prime example of why these pro days can be so frustrating."
Sharpe has participated in just 42 total games across nine events since 2019, averaging over 20 minutes per game in just four of those events. His biggest event sample sizes came in at the 2021 Nike EYBL (12 games) and during the 2020-21 Grind Session season with Dream City Christian (12 games). He averaged at least 18 points, five rebounds and two assists per game during both stretches of play.
Despite the lack of viewing opportunities, Sharpe is seen as a consensus top-six pick in the latest draft boards by ESPN, Sports Illustrated, The Athletic and CBS Sports, among others. The idea is that the 6-foot-5 guard's elite scoring potential will push one team to take the risk of selecting him in the early picks of the draft. It's a boom-or-bust scenario, one that could make you look brilliant or get you fired.
Looking at hope for a return to Kentucky? Sharpe killed much of that optimism in a sit-down with NBA insider Shams Charania. When asked about what he needs to hear from teams prior to the withdrawal date of June 1 to keep his name in the draft, the scoring guard hinted that he may have heard enough already.
"Just getting the info back from teams that I want to hear," he said. "I feel like that really convinced me and pushed me to stay in the draft and declare."
Sharpe committed to Kentucky back in September and enrolled in January, but did not play a single game as a Wildcat. He announced on April 21 that he was declaring for the draft while maintaining his eligibility, with John Calipari insisting a return to Lexington was still on the table for the prized recruit.
"All I can tell you is he may do this, but it's not done," Calipari said. "… Shaedon knows I want to coach him. Shaedon knows that Oscar (Tshiebwe) is coming back. Don't let all of the negative stuff affect your decision. If you want to come back, that should play no part. Let that alone. He's another great kid. He's a great kid, man."
Players have until June 1 to make their final stay-or-go decisions, followed by the NBA Draft taking place on Thursday, June 23.
One way or another, the Shaedon Sharpe saga is nearly over.