Anthony Davis in the Rafters?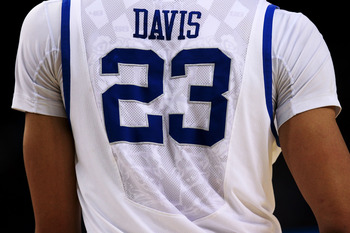 One of the most common debates among Kentucky fans centers around which jersey(s) should make it into the Rupp Arena rafters next. Many have argued that we are overdue for the addition of another jersey, and they are probably right. The case has been made for players ranging from Tayshaun Prince to Tony Delk. In the days following Kentucky's national championship, some of the Kentucky faithful have pleaded the case for Darius Miller's jersey to hang in the rafters someday down the road. Clearly, the current Kentucky players will not make the rafters before a few others have the chance, but someday they might.   In ten years we might be discussing whether or not Darius Miller's jersey--a Kentucky born and bred player, a Mr. Kentucky basketball winner, a 4-year guy who played in more Kentucky games than anyone to wear the uniform-- deserves to be placed in the rafters. The debate will be heated, to be sure. Some will say that he didn't do enough statistically to warrant inclusion. Others will say that his contributions to Kentucky basketball, and his journey in general, stretch beyond what can be measured by statistics.
I'm not here to argue whether or not Darius Miller should be placed into UK glory for the rest of time. I'm here to throw another name into the mix. Anthony Davis. 
  Barring a small miracle, Anthony Davis will more than likely declare for the NBA draft in the very near future. Davis is a projected consensus #1 pick and would be hard pressed to find a reason to pass up on that opportunity. In all likelihood, Davis' Kentucky career will begin and end with his freshman season. What a freshman season he had though.
Anthony Davis is arguably one of the best, if not the best player to put on a Kentucky uniform. He is the first Kentucky player to haul in all 6 major National Player of the Year awards. He will go down in NCAA history as one of the best defenders to play the game.
Davis' effect on the defensive end of the court on every single play of every single possession was something you don't often see in college basketball. On top of all of that, he helped lead Kentucky to a national championship. Not to mention the first in 14 years. He was the best player on one of the best Kentucky teams of all time. He won MOP honors in the championship game, even though he only hit one field goal.  
I know it may be hard to consider someone for a spot in the rafters when they were only part of the program for a single year, but could Anthony Davis be the exception? I'm hard pressed to find reasons not to include him.
Discuss amongst yourselves...