Antonio Reeves leads wounded Kentucky to 75-66 win over Ole Miss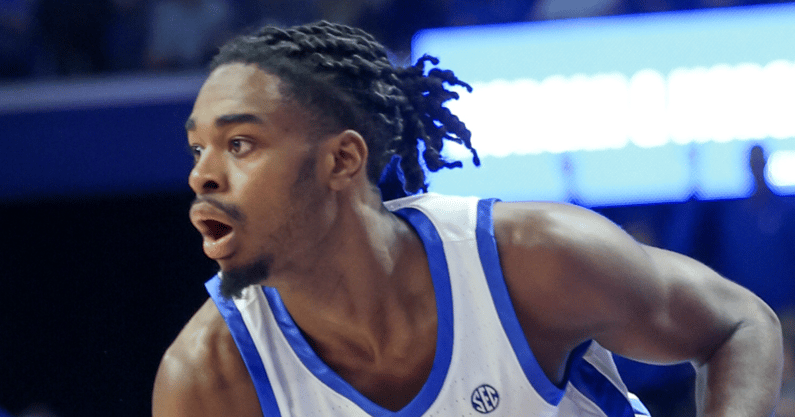 Have yourself a game, Antonio Reeves.
On Tuesday night in Oxford, Kentucky men's basketball (15-7; 6-3 SEC) took care of the Ole Miss Rebels (9-13; 1-8 SEC) by a final score of 75-66 thanks to a huge night from Reeves and an efficient second-half performance from the Wildcats as a whole. Kentucky shot 48 percent from the field throughout the night and went 19-23 from the free-throw line.
Despite falling to Kansas over the weekend, UK has now won five straight SEC games.
Reeves finished his night with a season-high 27 points on 8-12 shooting, including a lights-out 6-7 clip from beyond the arc. He was aided by 18 points, three rebounds, and four assists from Jacob Toppin while Oscar Tshiebwe added 14 points and 11 rebounds for his 13th double-double of the season. Sahvir Wheeler, who took over point guard responsibilities for an injured Cason Wallace, contributed four points, four rebounds, and nine assists with just one turnover.
With Wallace out due to a minor leg injury, Wheeler received the start after coming off the bench in his previous four appearances. Despite a slow start, he wound up being a vitally important piece for Kentucky. But the story early on was about Ole Miss guard Amaree Abram, who lit up the 'Cats throughout most of the opening half. Nine quick points from the freshman had Ole Miss ahead 13-8 at the first media timeout.
But Kentucky, led by Reeves, would quickly turn it up on offense. A trio of 3-pointers in rapid succession from the Illinois State transfer gave the 'Cats a 21-17 advantage at the midway point of the opening half. The Rebels would go down by as many as six before slowly chipping away at the UK lead. Ole Miss would even retake the lead 32-30 with roughly 75 seconds left until the intermission.
A jumper from Toppin made it 32-32 heading into the break, but not before Wheeler was seen limping to the locker room after appearing to suffer an ankle injury. Luckily, he would return to the court out of the break and go on to play every second the rest of the way.
The second half started off slow for Kentucky before Reeves found his rhythm once again. The sharpshooting senior poured in 11 points across a four-minute span that pushed the 'Cats ahead once more, this time for good. A spectacular fastbreak dunk from Tshiebwe ballooned UK's lead to double-digits with time beginning to run out on the Rebels.
Ole Miss would try once more to make a comeback, but Reeves put an end to that with a timely triple that made it 63-51 in favor of Kentucky with about six minutes left in regulation. The Rebels never got the score within eight points from there. When the final buzzer sounded, UK walked out of The Sandy and John Black Pavilion with a must-have nine-point victory.