AP tabs Mark Stoops as SEC's top head coach through 1st half of season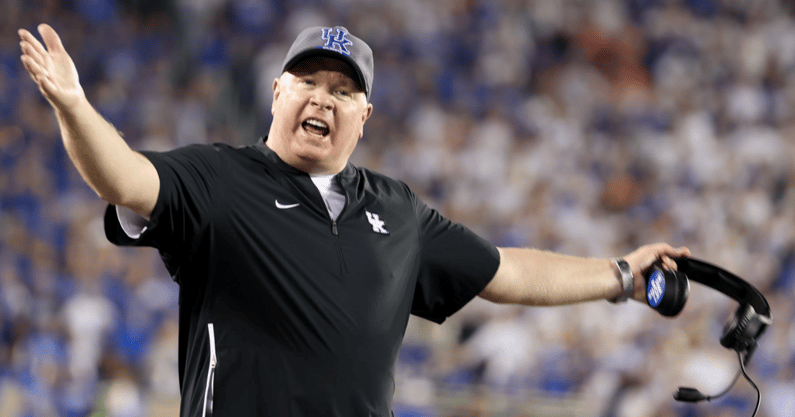 The Big Blue Nation doesn't need anyone to tell them that Mark Stoops is making a tremendous case for SEC Coach of the Year (and possibly National Coach of the Year), but it's always fun to hear it anyways.
Over at the Associated Press, a team of sportswriters from the outlet gave their thoughts on the Southeastern Conference as we reach the midway point of the 2021 season. Topics included best Offensive Player of the First Half, best Defensive Player, best Freshman, and so on.
But there was one honor, in particular, that gave a great deal of praise to what Stoops has done in year nine as Kentucky's head coach. The AP named him the Coach of the First Half for his 6-1 start, which included two critical wins over Florida and LSU.
Mark Stoops, Kentucky: Kentucky opened 6-0 for the first time since 1950 before last week's 30-13 loss to No. 1 Georgia. Even so, the Wildcats remain on track for one of the best seasons in program history.

Associated Press
Stoops earned the honor over Georgia's Kirby Smart and Ole Miss' Lane Kiffin.
Mark Stoops had Kentucky off to its best start in 70 years, eventually falling to No. 1 Georgia on the road last weekend, but the opportunity for a special season is still very much alive. UK has a significant chance to finish the year 11-1 with a shot at making the College Football Playoff still technically alive. Stoops has taken the program to heights never thought attainable–and he's still yet to reach his peak as a coach.
But Stoops wasn't the only Wildcat mentioned by the AP. Kentucky running back Chris Rodriguez Jr. was named an honorable mention for "Most Surprising Player". The junior leads the SEC in rushing yards with 775; although calling him a surprise player feels like more of a call out than an honor. Rodriguez Jr. was already one of the most efficient backs in all of college football during the 2020 season. But hey, recognition is recognition.
Now finish the year strong and take home the full season awards.