Arkansas fights off Auburn comeback to survive and advance in Nashville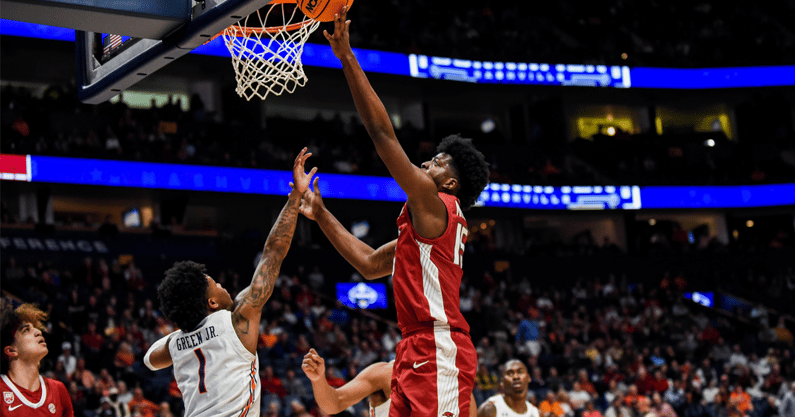 For most of the first game in the SEC Tournament's Thursday night session, it looked like the Arkansas Razorbacks would cruise to the quarterfinals with a stress-free win over Auburn. Arkansas led by 15 points with 14 minutes to go in the game and a comeback by the 7-seeded Tigers seemed very unlikely.
But then the unlikely happened and Auburn flipped the script with nine straight points by KD Johnson to cut into the lead. With three minutes to go, the Arkansas lead was down to two. Then one. Then Allen Flanigan put Auburn ahead with 39 seconds to go, completing the improbable comeback effort, at least for a moment.
Auburn's lead was short-lived, though, because Nick Smith Jr. responded with a dagger to retake the lead on the other end. Two Arkansas free throws later and Auburn had one last look to force overtime, but Wendell Green's last-second look out of a timeout did not hit its mark. (A great play, though.)
So Arkansas advances, 76-73, to play Texas A&M in the quarterfinals. The winner of that one will play the winner of Kentucky's quarterfinal game against Vanderbilt/LSU.
Other Thursday evening notes from the SEC Tournament
— The crowd was awesome for the game. Both Arkansas and Auburn were well-represented, but fans from the other schools were also very enthusiastic during Auburn's comeback and then the back-and-forth at the end. The turnout here has really impressed from the beginning when last night's session seated over 13,000 fans for the four worst teams in the conference. Tomorrow night should be madness.
— I can't speak to the Broadway atmosphere on Thursday, but social media tells me blue already got very in. Late afternoon rain kept everyone off the streets for a couple of hours but I think the early bar scene and the early attendance at Bridgestone are setting up an exciting weekend in the Music City.
— Vanderbilt and LSU are tipping off now. The Commodores and Tigers have a big act to follow in the late one. Remember, Kentucky gets the winner tomorrow night in the same time slot. So do some scouting.
— I will not be scouting because KSR's own Shannon The Dude brought his band to Nashville for a Thursday night concert. We'll show you some of the scene at The Green Light when we're not previewing the game tomorrow. It'll be on social media tonight too.
— Tin Roof at 9 a.m. central if you're in Nashville. See you there.