Ashton Hagans has career night in G-League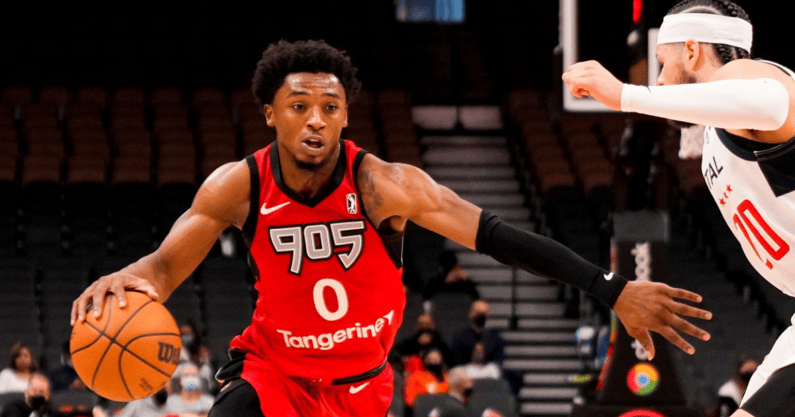 Ashton Hagans left Kentucky for the NBA at the end of the 2019-2020 season. Since then, he has yet to find himself a permanent home. In his latest stop with Raptors 905, the G-League affiliate of the Toronto Raptors, he had one of the best games of his young basketball career.
In a team-high 41 minutes of action against the Lakeland Magic on Sunday, Hagans recorded 24 points, 11 assists, seven steals and six rebounds.
Hagans always flashed the potential to be an all-around point guard at UK. He showed off the defensive prowess we all remember him for at UK, recording seven steals. The stat line is even more impressive when you see he shot 7-13 from the field and 4-4 from three. For a guard who shot 43.2% from the field and 26.5% from three at Kentucky, that's quite the leap.
After going undrafted, the Minnesota Timberwolves signed him to a two-way deal. He played just two games for the Timberwolves before being sent to play with the Iowa Wolves. Soon after, the team suspended and waived Hagans for violating COVID-19 health and safety protocols while with the G-League affiliate.
The Toronto Raptors waived him to start this season after he participated in training camp and preseason games with the franchise. This led to Hagans landing with the Raptors 905. In his three games with the team this season, Hagans is averaging 18 points, six assists and three steals.
905's roster is full of familiar faces for Kentucky. This game alone featured Louisville guard David Johnson, Ole Miss guard Breein Tyree, Mississippi State forward Reggie Perry and Kentucky's own Jodie Meeks.
A near quadruple-double is impressive at any level of basketball, but it's good to see Ashton succeeding now that he's found his way back onto a roster.